While Friday was expected to be her last day, the network announced that the "GMA" host would make her final appearance on Thursday. Roberts will then fly home to Mississippi to be with her mother and family who were impacted by Hurricane Isaac.
As planned, Roberts will temporarily leave the show to prepare for and undergo a bone marrow transplant after being diagnosed with MDS, a rare blood and bone marrow disorder.
On Thursday, "GMA" dedicated the majority of the 8:00 a.m. hour to Roberts. The "GMA" host told viewers that she was "about to embark upon a journey." She added, "This will be my final morning for a while." She read a quote that she described as really resonating with her.
"Life provides losses and heartache for all of us. But the greatest tragedy is to have the experience and miss the meaning," Roberts said, reciting the quote. "I'm determined not to miss the meaning."
The show played a video in which Roberts brought viewers inside her journey of receiving a bone marrow transplant from her sister. Roberts then sat down with her sister and doctor in studio to further discuss her medical leave.
Roberts' doctor detailed the transplant process, saying that Roberts' immune system will rebuild in the first 30 to 100 days after the procedure. Her doctor urged her to avoid putting a timetable on her recovery or her return to "GMA." Roberts' sister said that her heart was with her.
Roberts and her "GMA" co-hosts announced a long list of names who will fill in for her while she's on medical leave. Hosts including Diane Sawyer, Barbara Walters, Katie Couric, Kelly Ripa, and Oprah will keep Roberts' seat warm.
The "GMA" staff gathered around Roberts and her fellow co-hosts to listen to Martina McBride sing her song about cancer recovery. Roberts, along with "Today" host Hoda Kotb (also a breast cancer survivor), appeared in McBride's music video. The staff presented her with a book of messages.
Roberts opened the scrapbook and was surprised to see the handwritten notes. "They're real messages!" she excitedly announced. "This is like handwritten!"
Her co-host George Stephanopoulos, who was in Tampa with Sawyer covering the GOP convention, presented her with a bell to ring while she's in recovery. Sawyer said her gift to Roberts was private and would be coming soon.
Tears filled the "GMA" set in New York City and in Tampa. Co-host Lara Spencer said that her colleagues were not crying tears of sadness. "We're crying because we wish we could take this on for you," she said. She then presented matching pajama sets to Roberts and her sister.
As the program came to a close, Roberts said, "This is just see ya later. See ya soon. I'll get back as soon as I can."
Related
Before You Go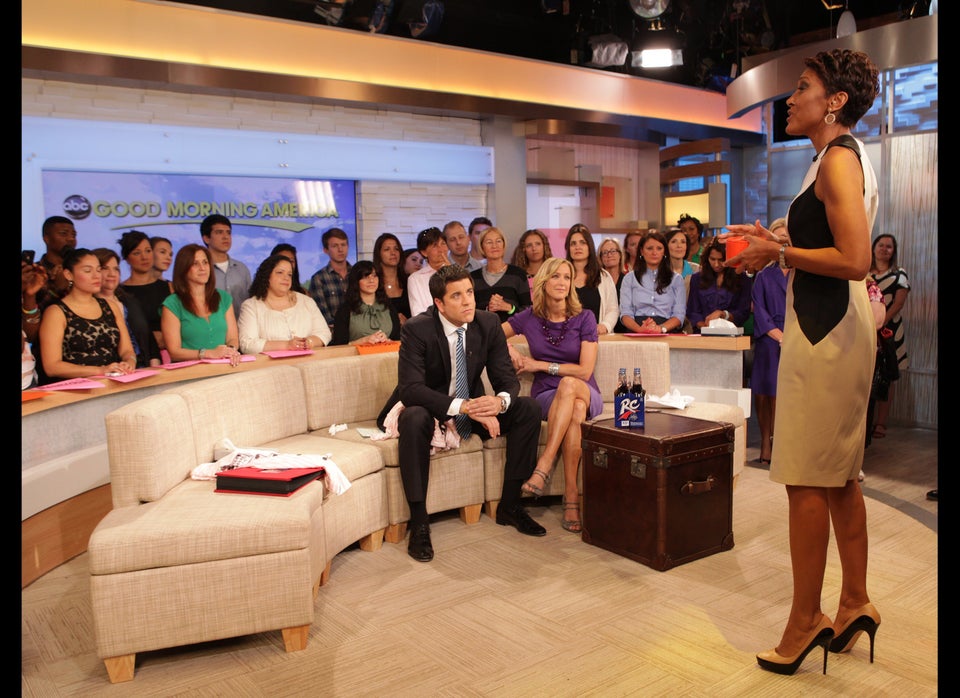 Gallery
Popular in the Community