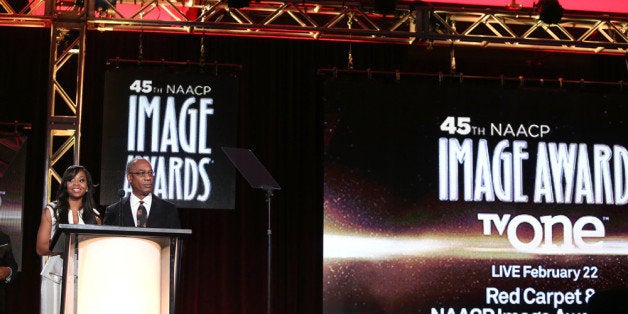 In 1942, NAACP Executive Director, Walter White, worked with politicians and studio executives to establish an ad hoc committee with the major studios to monitor the image and portrayal of African Americans on the screen. In 1955, the Mississippi Branch of the NAACP, led by Medgar Evers, filed a complaint with the Federal Communication Commission (FCC) that the local television affiliate, WLBT, presented the local news in a racially biased manner that did not serve the public interest.

Finally in 1969, the FCC revoked WLBT's broadcast license. This, after years of litigation, marked the only time in FCC history that a television station's license was revoked because of racial bias in programming. This sent a powerful reminder to the rest of the television industry - that we as citizens own the public airwaves.

In1966, under consistent legal pressure from the NAACP, "The Amos & Andy Show" was taken off the air, and a year later the NAACP Hollywood Branch created the NAACP Image Awards. Now a primetime live special, the NAACP Image Awards is the nation's premier event celebrating the outstanding achievements and performances of people of color in the arts, as well as those individuals or groups who promote social justice through their creative endeavors."

-- From the NAACP Image Awards website
This is how the organization sees itself, not how I may assume or romanticize its mission statement.
Accordingly, if we can agree this is how the NAACP Image Awards bills itself, then we should be in agreement that on these merits it should be judged and measured.
The latest slate of nominees includes four for singer Robin Thicke. That would be the VMAs Miley Cyrus booty-grinding Robin Thicke of falsetto fame, just in case you were unclear.
Outstanding Male Artist
Outstanding Duo, Group or Collaboration -- "Blurred Lines"
Outstanding Song -- "Blurred Lines"
Outstanding Album -- "Blurred Lines"
In truth, there is only question to be asked (and answered). What message are you trying to send us, NAACP Image Awards? That's the question at the heart of the matter, though I have other questions on my mind.
Given the recent announcement of a settlement being reached between Sony and family members of Marvin Gaye, it is anything but "settled" that Thicke did not cross the music interpolation line, hijacking the musical legacy of Marvin Gaye.
How should I or anyone else familiar with the stated mandate of the NAACP Image Awards look upon these 4 nominations for Robin Thicke, all directly connected to the song, Blurred Lines?
Somewhere in the great beyond, Marvin Gaye is laughing uncontrollably at the idiocy.
Given that the New York Daily News (and dozens of other reputable news sources) had highlighted the questionable lyrical content of the song, suggesting it glamorized date rape, what message are you trying to send us, NAACP Image Awards?
From the Daily News article:
Thicke responded to inquiries about the record and his creative thinking behind the production of it. 

"We tried to do everything that was taboo," Thicke told GQ on May 7, "bestiality, drug injections, and everything that is completely derogatory towards women."
What message do 4 "Image Award" nominations send to the rest of the world, beyond just black people in America? What does this suggest about the priorities of this supposed "image-conscious" award show? What "social justice" is being promoted through Thicke's creative endeavor? A better argument is to be made that such misogyny promotes greater social INjustice.
Somewhere in the great beyond, Medgar Evers is sobbing inconsolably.
The aformentioned questions may have been presented in a rhetorical manner but actually they're not rhetorical in the least. The questions need to be answered publicly by the Hollywood Bureau of the NAACP. The body should be forced to answer publicly for the horrendously flawed process which allows to bestow such honors on Thicke or his music without consequence.
And before you go there...
It doesn't matter that Robin Thicke is white. Fellow nominee Justin Timberlake is a fabulous continuation of the Michael Jackson musical legacy and Timberlake also lent his voice publicly in support of Trayvon Martin, after the Zimmerman verdict. That alone is consistent with "promoting social justice through their creative endeavors."  Justin Timberlake is a fine addition and his success this year isn't inextricably linked to twerking, date rape lyricism or music arguably stolen from Marvin Gaye.
It bears mentioning again; this is not about Thicke being white. It's about the NAACP Hollywood Bureau being "yellow"... as in cowardly.
As a former employee of NARAS (The Grammy Awards) who worked on the show annually, I understand intuitively how certain artists and their popularity can be a ratings boon for a televised event. I'm not ignorant of the business considerations being made.
Conversely, the Image Awards were supposed to be what the Grammys, AMAs, People's Choice Awards et al. were not. The Image Awards (allegedly) required more of its nominees. Not because I said so...but the Image Awards said so. It is how it bills itself and how it should be judged and measured.
Now, at the drop of a hat, the organization wants to suggest to you and me that Robin Thicke is worthy of consideration along those lines, four times over. Somewhere, Harry Belafonte and Sidney Poitier are likely shaking their heads in sad disbelief. Maybe it's time to update the Image Awards website to include a picture of Amos & Andy as part of its logo, for we have truly come full circle.
Again, I'm not ignorant of the business considerations which are being made here, but as well, I'm not ignorant of the definition of selling out. I'm completely clear as to how the exaltation of Robin Thicke indicts the contemporary relevance of the NAACP Hollywood Bureau.  I'm clear, and so too should you be.
Don't glue chicken feathers on a chinchilla and try to sell it as part of a two-piece and biscuit meal at KFC.  Don't try. Robin Thicke is what he is; unworthy of being honored in such a manner by the NAACP Image Awards.  Not because I say so, but because the mission statement of the organization itself says so.  Given that the present Hollywood Bureau disagrees, maybe it's time to end the honors altogether.
Morris W. O'Kelly (Mo'Kelly) is host of "The Mo'Kelly Show" on KFI AM640. The Mo'Kelly Report is a syndicated politics and entertainment journal. Contact him at mo@themokellyshow.com and all commentary is welcome.
REAL LIFE. REAL NEWS. REAL VOICES.
Help us tell more of the stories that matter from voices that too often remain unheard.