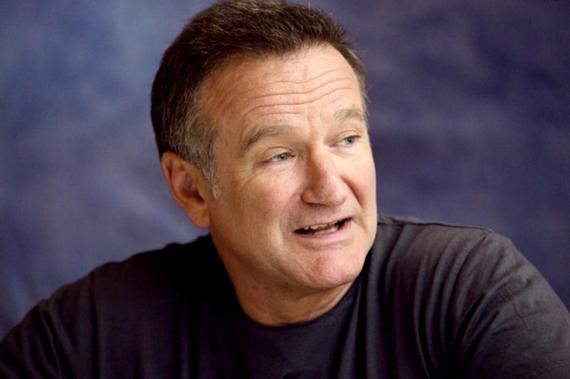 Robin Williams. So much will be written about the man in the coming days in the aftermath of his sudden death on Monday. Mr. Williams was a legend, after all; he was a resilient actor and a comedic genius like no other.
Robin Williams? Dead of apparent suicide? How can it be so?
I heard the news just moments after stepping out of a Bikram Yoga class in Bloomington, Indiana, where, earlier, I had visited The Kinsey Institute at Indiana University for a potential article. (A kind of comedy in and of itself, I must admit.) Needless to say, it was challenging to find that much yoga "peace" after the news hit. Later, in a nearby coffeehouse, laptops were open and many of the patrons were plowing through the Internet to learn more, to understand what had happened to Williams, to make some sense of it.
The mood: solemn. The atmosphere: still.
We've all been here before, of course. Cherished celebrities have passed and ... we mourn. I debated not writing anything at all about the man. "Why go there?" I thought. "The web will be crawling with everything and anything on Williams on this particular Tuesday!" And then, Williams' courage and pluck flashed through my mind like an amped-up HuffPost slideshow -- stand-up, Mork & Mindy, Comic Relief, Good Morning, Vietnam, Mrs. Doubtfire, Jumanji, the Genie's voice in Aladdin, the Good Will Hunting Oscar -- and I thought, "Well, why not?" I've been given the gift of assembling thoughts and commas and apostrophes and periods together -- and a gaggle of em dashes to boot. Why not? This sort of thing is my "gift." Why not go by way of Williams just step into the moment.
(Relax: This won't take long. I'm not sure I have that much spark in me today.)
So, where to begin? And what can we learn?
We all have our own particular fondness for Williams. When I think of the man, several things immediately come to mind. Few artistic beasts were able to grab lightening, stuff it into a bottle, break the bottle open and then wrestle with the lightning before swallowing it whole and leaping back onto his feet for another comedic feat.
That was Williams. On the outside.
But on the inside, the Chicago-born creative genie battled demons. He had been open about his severe cocaine and alcohol addiction during the 1970s and 1980s. He had relapsed in 2003 and went into treatment for alcohol. And over the past decade, reports continued to surface about his bouts with severe depression. These were more than your garden-variety mood swings, of which I sit on and tend to swing on more than I care to admit. Let's face it, professional mood swingers all know that the wind pressing against your back on the way down is devastating, but the breeze rushing across your face on the way up -- that's what we all live for.
The point is this. If we can learn just one thing from Williams' passing -- beyond that wonderful gift he left us of, perhaps, being more bold and adventurous and allowing our creative spirit to play and soar -- it is that depression is not something to be taken lightly. Yeah. We've heard that before but I would suspect that we -- oh, how deliciously human we are -- forget. And these days, with our communication gadgets and an ever-growing yearning to find our latter-day gods bestowing wisdom in a Facebook and Twitter feed, we are rarely communicating that effectively with each other at all.
Williams' death also made me wonder: How often do we ask our comrades how they are doing -- really? How often do we take the time to really talk? Truly communicate? What are we so busy doing? Work? Life? About that: We've been given a life to live but are we destined to just keep living it on the surface? There's a rich internal river of emotions stirring within each and every one of us. But how often do we pay attention to it? (Like, really look at what's motivating us.) And how often have we been asked about that inner world? How often do we ask about the "inner" in another?
Maybe that's what therapy is for. Actually, let's go by way of Dionne: That's what friends are for. And hey -- go to therapy, too. It can be extremely important and beneficial during challenging times and times of transition. I'm not knocking it. Better still, I tell people to read what others are writing about the subject of depression in all its forms. It sheds light on this under-reported issue.
In the meantime, as I ruminated on Williams' passing, I recalled a Television Critics Tour, which I attended in Pasadena back in 2009. Williams had joined forces with HBO again at that time for the filming of his stand-up comedy special and I was to write about him as the featured cover story in a cable magazine. I decided to search my notes for some additional illumination. Well, I just stared at the title of that HBO special in disbelief: Robin Williams: Weapons of Self-Destruction.
Perusing the transcripts of the panel discussion for the special, I was reminded that it has been well over 30 years since Williams first appeared on HBO's 1977 comedy special Young Comedians. He headlined several other romps for HBO -- in 1978, 1983, 1986, and 2002. And there was, of course the nine -- count them, nine -- Comic Relief All-Star Charity Benefits, which he co-hosted, along with Billy Crystal and Whoopi Goldberg to help the nation's homeless.
My eyes fell upon one of the first questions directed at Williams, which asked him how he felt about looking over a clip real of his life and career when he was still alive.
"It's wild to see stuff from 30 years ago and go, 'Wow, that's so long ago,' and to realize, 'Yes, I'm not dead, but yet they're showing a clip reel,'" Williams joked. "And it's pretty strange to see the transition over the years and to see that ... marks different time periods. Like the one in Vegas was after getting out of rehab."
Another question was directed to Williams' health. In 2009, the performer underwent open-heart surgery at the Cleveland Clinic. Two heart valves were replaced and his heartbeat was regulated. Many reports reveal that after major heart surgery, a patient often experiences depression, which, according to the Cleveland Clinic, can sometimes prevent somebody from "leading a normal life."
Was this one of the factors that contributed to Williams' death? According to Williams' publicist Mara Buxbaum, the actor was recently battling "severe depression."
Williams had joked about the surgery, but you can sense that, underneath, something darker lingered. (To be fair, he may have been trying out new material here):
"You go into [surgery], and they really tell you that you're going to get a cow valve. And I went, 'Wow, that's great. The grazing is easy.' And the idea of, you know, coming back out of it, and you think, 'I'm going to be fine.' And then the first few months, you're like, 'Not really.' Sex with a cow valve is kind of like a duel to the death between your penis and your heart. It's your heart going, 'That's it!' and your penis going, 'No!' Basically it's like a Civil War reenactment in a wheelchair."
Another question for Williams stood out: What would you say to that young guy in the suspenders that we saw there back in '77? To which Williams answered:
"Brace yourself. It's going to be a long run and that it's going to be an interesting thing. It's been a roller coaster. I mean ... it's been pretty wild. There's nothing I regret and I've learned a lot over the years, especially from the people I get to play with, like with Billy, and Richard Pryor. And the first HBO, the first Comic Relief was ...

"George Carlin walked out, and it was amazing And that was a great memory for me. He opened up by saying, 'Anorexia. Why do I give a shit if some rich cunt won't eat?' And then we went, 'Our lines are open. 1-800-Comic-Relief. Please call.'"
"None," Williams was quick to answer.
Like Jumanji, perhaps we all are these living, breathing yet oh-so-complex puzzle games.
Williams is survived by his wife Susan, his three adult children -- sons Zachary Pym, 31, and Cody Alan, 22; and daughter Zelda Rae, 25.
Robin Williams. Dead at 63. But, oh, still so, so alive.
REAL LIFE. REAL NEWS. REAL VOICES.
Help us tell more of the stories that matter from voices that too often remain unheard.