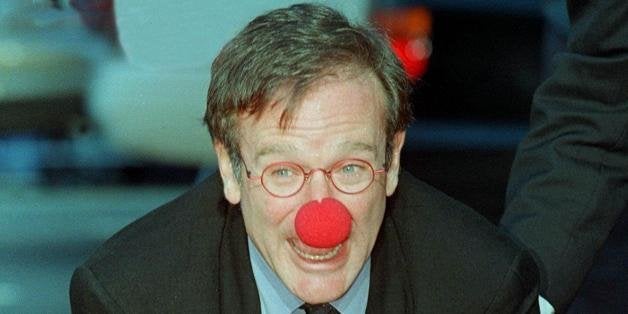 "You're only given a little spark of madness. You mustn't lose it."
Robin Williams lived an amazing life before his death one year ago today, August 11. In the beginning of his career, Williams struggled as a street mime in front of New York's Museum of Modern Art; by the end, he was the type of performer who could lift the spirits of a long-time friend in the hospital to our nation's troops in Afghanistan, Iraq and Kuwait and everyone in between. Moreover, once Williams reached the top, he remembered to look back on where he came from: The actor famously helped Jessica Chastain become the first person in her family to go to college, funding her full-ride scholarship to Juilliard when she was just starting out herself. Below are some of the little known moments of Williams' inspiring career.
1. Robin Williams improvised most of Genie for "Aladdin."
Apparently, the Academy Awards rejected the bid for "Aladdin" in the Best Adapted Screenplay category because so much of Williams role ended up being improvised. According to producer and director John Musker, Williams ended up improvising about 70 impressions to be used in the film as well. In a Reddit AMA, Williams explained:
Initially they came in and I was just doing the scripted lines and I asked 'Do you mind if I try something?' and then 18 hours of recording later, they had the genie. I just started playing, and they said "just go with it, go with it, go with it." So I improvised the character. I think that in the end, there were something like 40 different voices that I did for that role.
Williams was known for improvising most of his iconic roles in some way or another.
2. Robin Williams dressed in scrubs and surprised his friend Christopher Reeve in the hospital following his career-ending accident.
Reeve and Williams became good friends when they both attended The Juilliard School together. Williams claimed at the time that Reeve was "literally feeding me because I don't think I literally had money for food or my student loan hadn't come in yet, and he would share his food with me." In his book, "Still Me," Reeve wrote about Williams visiting him in the hospital:
Then, at an especially bleak moment, the door flew open and in hurried a squat fellow with a blue scrub hat and a yellow surgical gown and glasses, speaking in a Russian accent. He announced that he was my proctologist, and that he had to examine me immediately...it was Robin Williams...for the first time since the accident, I laughed. My old friend had helped me know that somehow I was going to be okay.
Williams later surprised Sharon Osbourne in a similar way after she was diagnosed with cancer.
3. During the filming of "Schindler's List," Robin Williams called Steven Spielberg to tell him jokes and lift his spirits.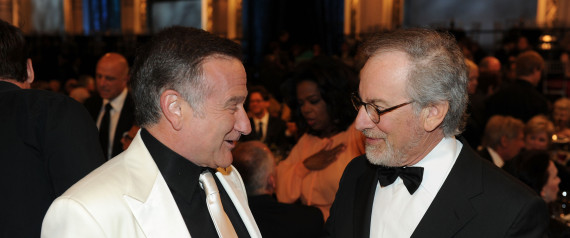 Spielberg called these "comic care packages over the telephone."
I think I only called him once, maybe twice. I called him when I was representing People for the Valdheimers Association. A society devoted to helping raise money to help older Germans who had forgotten everything before 1945. I remember him laughing and going 'thank you.'
4. In high school, Robin Williams was voted by his classmates as the "Least Likely To Succeed."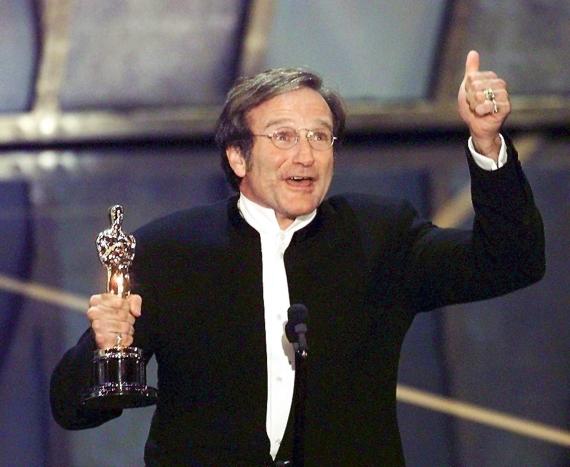 Later in life, Williams would win five Grammys, two Emmys and an Academy Award.
5. Robin Williams' favorite childhood book was "The Lion, the Witch, and the Wardrobe," which he'd read to his kids.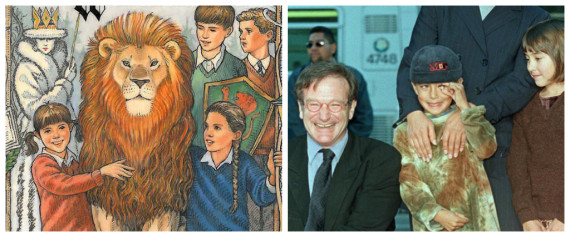 Growing up, it was The Lion, The Witch and The Wardrobe - I would read the whole C.S. Lewis series out loud to my kids. I was once reading to Zelda, and she said "don't do any voices. Just read it as yourself." So I did, I just read it straight, and she said 'that's better.'
All images Getty unless otherwise stated.
Calling all HuffPost superfans!
Sign up for membership to become a founding member and help shape HuffPost's next chapter
BEFORE YOU GO
PHOTO GALLERY
Celebrities Mourn Robin Williams