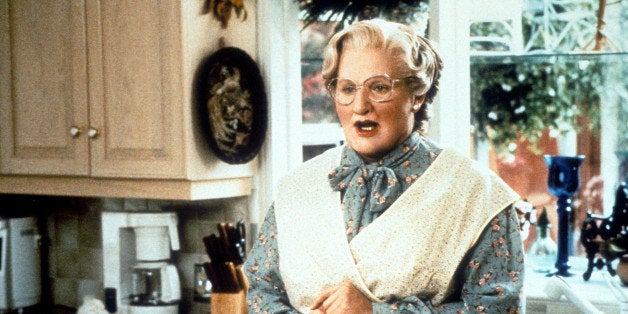 I was finishing a run in the park when I heard the news. An old man walking his Schnauzer yelled to a couple of grey-haired gentlemen sitting on a bench, picking through the day's Times. I'd seen these men every day, but never heard them speak.
"Just got a text from my daughter," the man said, boyishly excited to break the news to his friends, "Robin Williams dead." "Oh jeez," one of the seated men said. "How sad," said the other. A brief moment of shared sadness; then the bearer of bad news continued: "I know he had checked into rehab a few weeks back, but who knows."
The "who knows" seemed generous. An ellipsis that allowed for the vague grief to return and beat away the speculation that would soon inevitably come. Celebrity death is often grotesque -- the picking and prodding; the always changing revelations born from new details; the publishing of unverified claims from friends or estranged loved ones; the horrific photos not meant to be seen by the family let alone the general public; the claque of mourners. Yet there is something true and distilled in the visceral reaction to a celebrity death: instant emotional purity.
In phone calls, Facebook postings, Gchats and Tweets is the collective coping of the masses, now brought to tears by an actor whose sole duty was to make unreality real, briefly. To trick us. But Robin Williams tricked us like few others, and his death may be mourned by many, but, perhaps, no more than those of two disparate generations: the Baby Boomers and their children, the Millennials.
In the New York Times, critic A.O. Scott captured Williams's cross-generational appeal:
Part of the shock of his death on Monday came from the fact that he had been on -- ubiquitous, self-reinventing, insistently present -- for so long. On Twitter, mourners dated themselves with memories of the first time they had noticed him. For some it was the movie "Aladdin." For others "Dead Poets Society" or "Mrs. Doubtfire." I go back even further, to the "Mork and Mindy" television show and an album called "Reality -- What a Concept" that blew my eighth-grade mind.
Mr. Williams's acting stretch from Dead Poets Society in 1989 to his Oscar-winning role in Good Will Hunting in 1997 was more than simply a great performance run, it sketched a line for the early Baby Boomers and their children, the Millennials, to trace along. From the high school melodrama of Dead Poets Society, where no leftover emotion was too tedious or great, Williams's next defining role for the two generations would be Hook, a film about the inhibitions of reality and the responsibility of parents and children alike to partake in imagination. If Williams's middle-aged Peter Pan told a younger generation that their parents were, too, once kids, it told those kids' parents the very same thing. From Hook to Aladdin, and FernGully in between, Williams solidified himself as the soothing yet flawed conscience for a generation of young people. But it's Williams's 1993 role in Mrs. Doubtfire, perhaps, that proves most defining in this light.
That he would take on the role of a cross-dressing nanny in a family film now seems preordained, but it's that role that marks Williams's long, seemingly undefined influence on two generations: a stand-in for emotionally confused and stunted Baby Boomers and an imperfect shepherd for Millennials. That Jumanji, a return to childhood whimsy confronted by tired adult indifference would be followed by The Bird Cage shows a level of cultural prescience on Williams's part. His Armand Goldman would be the first portrayal of a gay man -- let alone a gay family man -- for a whole swath of developing and sheltered prepubescent teens. And after compiling a collection of coddling characters interspersed with rude, trailblazing cultural interrupters, Williams managed to subvert his audience's expectations once more, as the blunt but bruised therapist Sean McGuire to the acerbic Will Hunting in Gus Van Sant's Good Will Hunting. Against a character walled up with repression and intellectual showmanship, Williams's McGuire stripped away the facade of young adulthood with a few simple words: "It's not your fault."
In hindsight, everything about that eight-year stretch seems unmistakably blueprinted -- the roles and scripts seemingly designed with the sole purpose of carrying along a generation of children and their parents into adulthood.
Mr. Williams's electric presence, comic genius and comforting fallibility made him not only a great actor -- there are many great roles this post fails to mention -- but, perhaps, an emotional bridge from which the Millennials and their parents, the Boomers, could come together, better aware of their collective imperfections and differences. In the coming days, many will come out to mourn his passing -- in the form of essays, blog posts, interviews and listicles -- few more emotional, I suspect, than those of these two interlinked generations.
REAL LIFE. REAL NEWS. REAL VOICES.
Help us tell more of the stories that matter from voices that too often remain unheard.