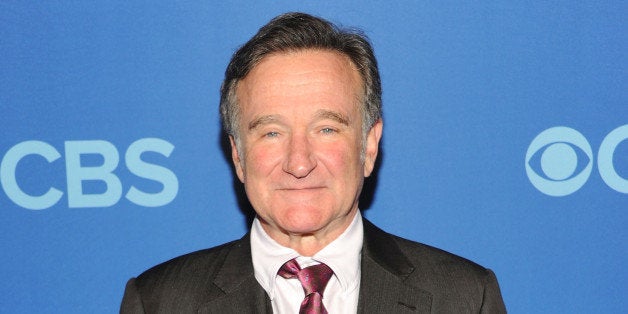 In 2004, I was working in a fabulous jazz club here in New York. When we first opened, each of the staff named a celebrity whom we would love to meet at the club. According to our agreement, if that person came in while you worked, they were yours to look after. The day my celebrity came in for the first time, I approached his table with such excitement, I'm pretty sure I chasséd.
"Mr. Williams, I'm Erin. When we first opened, we named who we wanted to look after some day, and you were my choice." (Quite certain I sounded like a gushing teenager.)
"Did you know what you were getting yourself into!?!" he replied. "WHY?"
"My brother and I used to act out scenes from Mork and Mindy when I was a child. I loved that show!"
With the trademark sparkle in his eye, and a great deal of comic flare, Mr.Williams picked up the egg shaped lamp at the table, and coached me through the famous scene. He then told me that we should be on a first name basis: "I'll be Mork, you can be Mindy!"
The next time Mr. Williams came in, he was in the middle of greeting me with a hug (Oh, Mindy! I'm so glad you're here!) when the woman at the table next to his interrupted with a distinctly southern: "OH MY GAWD!!!!!!!! YER ROBIN WILLIAMS!" Without breaking our embrace, he reached over my shoulder to grab the mink stole hanging from her thick neck.
"OH MY GAWD! You brought your dog with you to see jazz!" True to form, Mr. Williams broke into a mink inspired schtick, making the stole bark and having it "lick" my face.
I took care of Robin Williams at least four more times after that, each time he introduced me to his guests as his "Good friend, Mindy."
The night of the club's Hurricane Katrina fundraiser, Robin was hyped up. He was busy working with Comic Relied to raise funds for those displaced during the storm; he did a bit for the main-stage act, and then came into Dizzy's Club Coca Cola, the smaller venue at Jazz at Lincoln Center, for the after hours gathering. It was a star studded event. While many of the celebrities in attendance associated with one another, Mr. Williams chatted it up with us servers and bartenders. He shared with me (well, the Mindy me) how angry he was with everything that was happening. A few moments after sharing his thoughts, he jumped on the bar and started to sing his blues song commenting on Hurricane Katrina. The main refrain was: "BLACK BEANS AND CONDOLEEZZA RICE!" and the audience was in an uproar.
After the fundraiser, he took the staff out for cocktails, where I told him about my plans to leave the following week to work in Africa. I told him that I felt guilty leaving my country to work with refugees when we had our own refugees tallying up in New Orleans. "We got this covered here," he said. "You go on and do your work there. You have to follow your heart. Just be sure to tell me all about it when you return." And then true to form, he broke the moment with another joke. Even in a moment of darkness and sadness, Robin Williams brought laughter into our hearts.
That was the last time I saw Robin Williams in person, and though I know that I am just one of millions of people who have been moved by him, I can't help but smile every time I see him on screen, feeling as though I am seeing my old friend from the club.
So long, old friend. Safe journeys, Mr. Williams. And thank you for all that you brought to the world. Your sparkle will be missed.
Calling all HuffPost superfans!
Sign up for membership to become a founding member and help shape HuffPost's next chapter