Robin Williams and Monty Python were brothers-in-comedy-arms
Just as the Beatles (especially John) found a kindred spirit in singer-songwriter Harry Nilsson -- so did the Python members find a joyous soulmate in Robin Williams.
It was love at first laugh. And it was a fully-consummated mutual admiration.
The Pythons immediately recognized Robin's comedic genius on first encountering him. And Robin was exhilarated by the Pythons both collectively and individually. He loved their humor and he would delight pals by occasionally breaking into frenzied renditions of Python skits with his own Robin-esque twists.
As well as socializing together over the decades, there were several projects that Robin undertook with Python members. He was stunningly brilliant -- revealing new depths of poignancy in his acting -- in Terry Gilliam's The Fisher King and in his role as the King of the Moon in The Adventures of Baron Munchausen; he made an hilarious cameo appearance in Eric Idle's Rutles sequel Can't Buy Me Lunch. And his last-ever movie work was his vocal performance for the forthcoming Terry Jones film Absolutely Anything (to be released in 2015) a combination of live action and CGI in which Robin's voice co-stars with the voices of four Pythons - Cleese, Palin, Jones and Gilliam. A mutual joy to be in the same film together.
Our paths crossed at various industry and charity events over the last 35 years -- and I was privileged to work with Robin on occasion and get to know him a little socially. He performed impromptu sets at several benefit shows I emceed. There is very little to compare with the thrill of introducing Robin on a stage such as the Improv in L.A...
He was also a very dependable and generous contributor to memorial tributes that I organized saluting mutual friends who had passed away such as Graham Chapman (of Monty Python) and Peter Cook. His words were invariably as kind as they were funny. He memorialized his departed pals with loving comments that touched the heart and teared the eyes and soul simultaneously.
Robin's warmth and personal kindness was as rich an experience as his comedic genius. He had that rare gift that made every person he conversed with feel special. His eyes didn't wander as he spoke with you. His eyes engaged... and you felt that his heart and head were in unison. For a man who by his own rueful admission had consumed substantial quantities of various substances and libations, he had a remarkably good memory for faces, names and past conversations.
I will never understand how he managed to juggle the vast and continually effervescing creativity in his mind with the astonishing social demands (because he was so beloved by his friends), and the unceasing attentions of the fans who adored him. He remained accessible in a way that few performers in our industry ever are. There are no stories of him snubbing fans or being rude to people. That just wasn't Robin.
His work for multiple charities and good causes was prolific. It was in his very nature to give back. And the causes that were dearest to him all had humanity at their heart.
He and I shared a caring for Amnesty International and its vital work for human rights.
Robin had seen the films of the Secret Policeman's Ball benefit shows for Amnesty starring many of the Pythons and Peter Cook that I'd produced back in the 1970s and 1980s and he became attuned to the human rights cause. He was keen to follow the Python suit and make his own contribution.
Terry Gilliam's beautiful recollections of Robin on BBC TV
He got his opportunity in 1986 when Amnesty was celebrating its 25th anniversary. As part of the commemorations, Amnesty USA presented a short US concert tour called A Conspiracy of Hope - produced by its then Executive Director Jack Healey. It was the first in what became the Human Rights Concerts series. Jack worked with a marvelous Oscar-winning filmmaker named Bill Fertik to shoot a series of public service announcements to run on TV in conjunction with the tour. They were also screened at the concerts. These PSAs featured a veritable who's who of actors and musicians including Meryl Streep, Glenn Close, Jamie Lee Curtis, Shelley Duvall, Keith Richards, Elvis Costello and Carly Simon.
But the star who made the greatest impact in the series was undoubtedly Robin Williams.
A couple of months before the filming, I had given Robin a VHS tape of a "coming attractions" theatrical trailer and a TV commercial I'd made with Graham Chapman to promote one of the Amnesty benefit movies back in 1982. In the clips, Graham pretended to be the head of a reactionary organization called the ORAL Majority who wanted to stamp out the Pythons and their film. Robin loved what Graham did in those clips and in his totally brilliant way he sparked off them and reinvented the concept in his own work for Amnesty.
He came up with the character of a demented and amusingly effete South American dictator who railed against Amnesty for complaining about his policy of torturing his subjects! The words all tumbled spontaneously out of Robin's fertile, febrile brain in a stream-of-satirical consciousness that was like a fusion of James Joyce and Jonathan Swift.
Robin Williams' brilliant promotional messages for Amnesty International - inspired by Monty Python's support for Amnesty
The above video clip presents a montage of some of those sequences. The full-length clips are included as a bonus selection on the recent DVD box-set of the Human Rights Concerts.
As a point of reference to give an indication of the brilliance of Robin's mind, here is one of the 1982 Graham Chapman performances that were an inspiration for Robin's tour-de-force-of-nature.
Graham Chapman's "Oral Majority" theatrical trailer for Amnesty International (1982) - a clip that inspired Robin
The grief that is felt by Robin's family, his closest friends, his industry colleagues, those who were lucky enough to know him a little -- and the vast millions who were touched by his work -- is profound. No words can salve that wound. Everyone who his humanity and his work touched aches inside. If only... if only... if only... we could have reached out and given him MORE love, MORE appreciation perhaps we might have been able to persuade him to stay just a little longer. But what took Robin away from us was apparently a demon of depression that gripped him with a vengeance even stronger than all our combined love.
Our response must be to rejoice in the huge legacy of work that he left behind. And to emulate the spirit of his generosity and his deep love of humanity. And we must also do our best to gain much deeper understanding of the terrible diseases of addiction and depression -- and work towards better detection, support and treatment for all who are afflicted by those dastardly illnesses.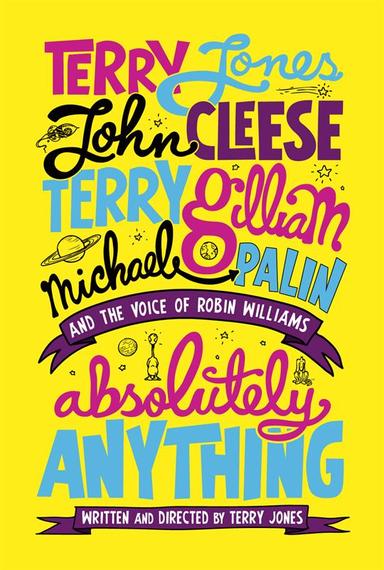 Early poster for the last movie featuring Robin Williams - to be released in 2015. Appearing alongside his Monty Python pals...
We know that the gift of laughter and poignancy he gave the world is even richer because of his example of giving and caring for the human spirit. And that is a gift that will endure as long as the world needs laughter and enlightenment.
Rest in very well-deserved peace Robin... It was a privilege and a joy to have known you...
The last words rightly belong to Robin. Here he is performing in London for Prince Charles' 60th birthday in November 2008. Introduced by Monty Python's John Cleese...
Popular in the Community