NEW YORK -- Robin Wright recently demanded to be paid the same as co-star Kevin Spacey for her work on "House of Cards," the 50-year-old actor told a roomful of activists, philanthropists and media on Tuesday at the Rockefeller Foundation.
"I was like, 'I want to be paid the same as Kevin,'" said Wright, who plays Claire Underwood, the sinister counterpart and co-conspirator to Spacey's President Frank Underwood on Netflix's popular show. Wright is a producer and occasional director for "House of Cards."
"It was a perfect paradigm. There are very few films or TV shows where the male, the patriarch, and the matriarch are equal. And they are in 'House of Cards,'" said Wright, who had been talking about the problem of equal pay for women more generally.
"I was looking at statistics and Claire Underwood's character was more popular than [Frank's] for a period of time. So I capitalized on that moment. I was like, 'You better pay me or I'm going to go public,'" Wright said with her trademark blinding-white grin. "And they did."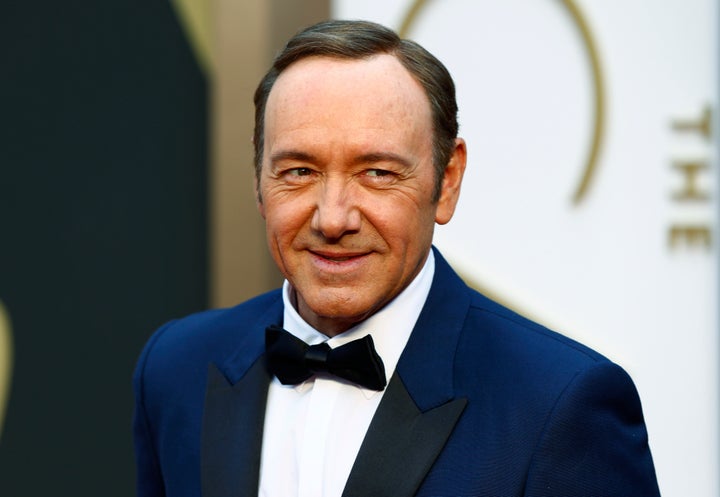 Clad in towering, strappy black heels that would do her fictional counterpart proud, Wright covered a wide range of topics -- from equal pay and conflict minerals in Congo to politics and parenting -- during an hourlong conversation with Judith Rodin, president of The Rockefeller Foundation. The event was the first in a series the foundation is hosting called "Insight Dialogues," conversations with thought leaders and activists hosted here in New York. The Huffington Post is a media partner on the series.
Spacey was reportedly making $500,000 per episode for his work on the series back in 2014, before season 3 of the show debuted. At the time, insiders said that number might move up to $1 million, making him one of the highest-earning TV or streaming actors. Last year, Forbes reported that Wright made $5.5 million for her work on the show, which would be around $420,000 an episode.
The fourth season of the series debuted in March and delved even more deeply into Claire's character. She truly seemed to strike out on her own, sparring with her equally formidable mother and plotting behind Frank's back in her quest to become a political force in her own right. What's more, Claire seems never to remove her four-inch stilettos, sparking an avalanche of think pieces across the Internet.
Wright joins a growing group of women in Hollywood who are becoming more vocal on the issue of equal pay. Last year, Jennifer Lawrence drew widespread attention for speaking up about making less than her male costars on "American Hustle," and since then she's been a forceful advocate for pay equity.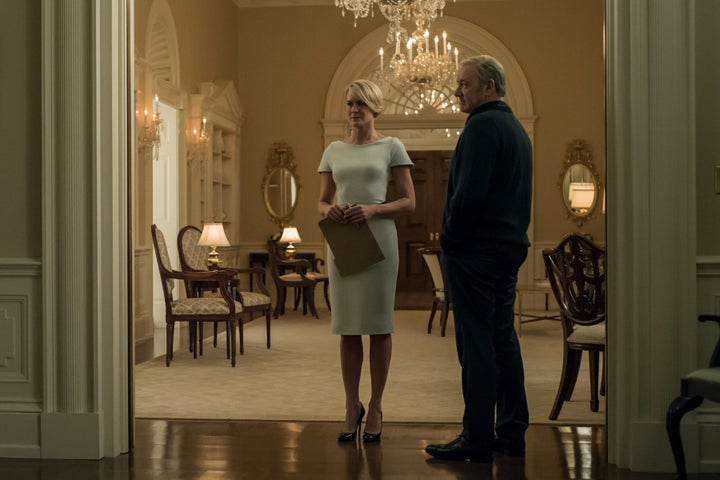 Wright told her personal story after Rodin asked her what barriers she faced as a woman in Hollywood. The actor, who shot to stardom after playing Jenny in the iconic 1994 movie "Forrest Gump," said her career trajectory later fell off track after having children with then-husband Sean Penn. Her two kids are now in their 20s.
"Because I wasn't working full time, I wasn't building my salary bracket. If you don't build salary bracket with notoriety and presence, you're not in the game anymore. You become a B-list actor. ... You're not box office material," Wright said. "You don't hold the value you would have held if you had done four movies a year like Nicole Kidman and Cate Blanchett did during the time I was raising my kids. Now I'm kind of on a comeback at 50 years old."
Wright was in New York promoting a documentary she co-produced and narrated about the tragic situation in Congo, a country being essentially looted by corporations for the minerals that go into making consumer electronics. The film, "When Elephants Fight," premiered Sunday night. It takes its name from the proverb "When elephants fight it's the grass that suffers."
"When I learned of this crisis almost 11 years ago, I was so disappointed for not knowing," Wright said Tuesday. "I held my cell phone to say goodnight to my daughter and realized the minerals in the Congo were housed in this device. I was holding war in my hand."
Related