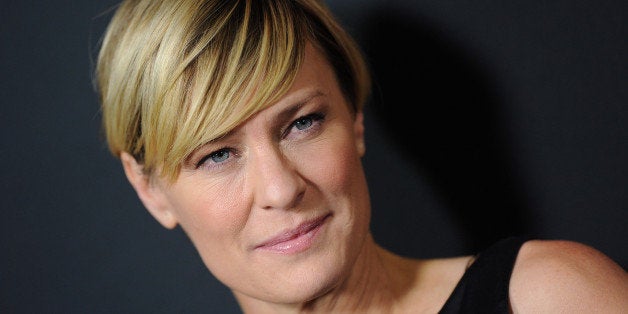 NEW YORK -- Political maneuvering is her speciality on Netflix series "House of Cards," where she plays feminist anti-hero Claire Underwood, but actress Robin Wright has a very different political agenda in real life.
Speaking at the UN Headquarters in NYC on Thursday night, Wright delivered a call to action on ending rape and sexual violence against women in the Democratic Republic of Congo, calling it a "moral obligation" to get involved.
"Everything that was mentioned tonight is needed, and that's overwhelming. So go pick your battle -- pick your poison," Wright told HuffPost after an Enough Project panel discussion that included US Ambassador to the United Nations Samantha Power and UN Special Representative of the Secretary General on Sexual Violence in Conflict, Zainab Bangura.
In 2012, one study estimated that there were a staggering 48 rapes per hour in the DRC. But Wright was adamant that, even though the problem isn't in our own backyards, "every single one of us on this earth is directly related to this problem that we've heard about tonight."
The 47-year-old actress, who has traveled to the DRC as part of her activist work, revealed that she initially struggled on how to help directly when she first encountered the issue in 2011 when she first met a young woman who had been raped and was carrying her baby -- the child that was conceived in rape -- in her arms. "You feel so helpless in that moment, because this is not the feel good topic of the year," Wright admitted.
But today, Wright doesn't balk when it comes to how to get involved. The actress has a "mantra" for all her Hollywood friends who ask her how they can help.
It's a one answer that I have -- it's sort of the mantra. I say go to RaiseHopeForCongo.org because once you log-on to there and they introduced me to this issue, this crisis, they took me there. Everything that you could ever know want to know, everything that you could ever choose from to do proactively is on that website.
Rape and sexual violence has long been a weapon of choice in warfare in Congo as it is in countries around the world. The UN estimates that more than 200,000 people have been raped in the country since 1998. And there is no end to the violence on the horizon. Since December 2013, a growing number of rebel attacks have struck the North Kivu province to the east of the country, where the UN-backed Congolese army has been waging a defensive war against an Islamist militia group, the ADF-NALU.
US Ambassador to the UN Samantha Power echoed Wright's sentiments, and discussed the major challenges that still exist when it comes to ending violence against women - including state weakness and state failure. Power also highlighted positive steps forward, including Congolese "mobile courts" that travel rural areas to hear stories of sexual violence from women, but said more had to be done on a national and international level.
But the issue isn't a unique problem of the DRC alone. Zainab Bangura, UN Special Representative of the Secretary-General on Sexual Violence in Conflict underscored the discussion with a very sad but accurate statement: "No continent has a monopoly on sexual violence".
About the Enough Project: The Enough Project is a project of the Center for American Progress to end genocide and crimes against humanity. Founded in 2007, Enough focuses on the crises in Sudan, South Sudan, eastern Congo, and areas affected by the Lord's Resistance Army. Enough conducts intensive field research, develops practical policies to address these crises, and shares sensible tools to empower citizens and groups working for change. To learn more about Enough, go to www.enoughproject.org.
Calling all HuffPost superfans!
Sign up for membership to become a founding member and help shape HuffPost's next chapter
BEFORE YOU GO
PHOTO GALLERY
Surviving In Numbers: Stories Of Sexual Assault Survivors