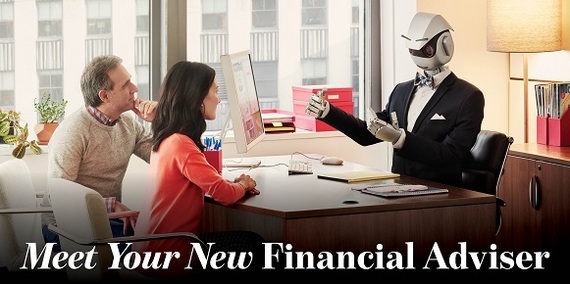 If you've avoided wealth management services in the past because they were expensive, cumbersome and time consuming, welcome to the world of the online robo adviser. As the new alternative to human financial planners, robo adviser-based investment platforms are making automated portfolio management accessible, affordable, and amazingly convenient.
The robo adviser industry is young but growing, with some companies already managing in excess of $2 billion dollars in assets. Effective algorithm-driven investment software typically allows robo advisers to offer customers low account minimums, customizable portfolio constructs, and fully automated account management features like rebalancing and reinvestment - all of which is great news for the less experienced and seasoned investor alike.
From ETFs to alternative investments, here's a brief look at some of the top robo adviser companies that are working to turn the pain and uncertainty of the traditional wealth management relationship into a high-tech, low-maintenance love affair.
As one of the largest and fastest growing US-based robo adviser investment services, Wealthfront "combines world-class financial expertise and leading edge technology to provide sophisticated investment management at prices affordable for everyone." They manage personalized, online accounts that are fully diversified and automatically rebalanced.
Wealthfront offers a traditional approach to asset allocation with a focus on US, Foreign, Dividend Stock and Municipal Bond ETFs.
What really sets Wealthfront apart is their unique approach to automated tax-loss harvesting that's designed to lower the investor's tax burden, while maintaining the integrity of their portfolios in terms of risk and return. Wealthfront requires a minimum investment of $500 and typically charges an annual management fee of 0.25% of assets over $10,000, in addition to the average fee of 0.12% that's embedded in their ETFs.
A new leading start-up robo adviser platform in the UK, invest.com, specialises in once hard-to-access alternative investments, making them available to everyone for the first time. With high return potential and low market correlation, the company's suite of fully automated alternative investment strategies can profit even when markets go down.
Invest.com's robo adviser enables customers to invest in fully customised portfolios comprised of strategies or they can quickly and conveniently build their own portfolios. Minimum investments are 1,500 and 500 pounds, respectively.
Some of the key advantages offered by invest.com include transparent portfolios that feature full, penalty-free liquidity, and complete flexibility in terms of opening, adjusting, and closing multiple, automated portfolios. invest.com's annual management fee is paid monthly and ranges from 0.99 - 1.5%, while their quarterly performance fee is 15% only paid on total profit.
Based out of New York, Betterment is a self-described "goal-based" online investment platform. Launched in 2010, the company's claim to fame rests on their low fees and personalized approach to customer service and financial advice. Betterment's well-designed and easy-to-use online tools and automated platform completely do away with the time and complexity demanded by traditional investment accounts. And their automated services feature built-in "behavioural guardrails", designed to help investors make the smartest and most rational financial decisions possible.
Passive investing, coupled with a globally-diversified portfolio of low cost index funds is what Betterment is all about. The company charges no trade, transaction, or re-balancing fees, and they have no minimum balance requirement. Betterment's management fees typically range from 0.15 - 0.35% annually, depending on the investor's account balance.
Related
Popular in the Community