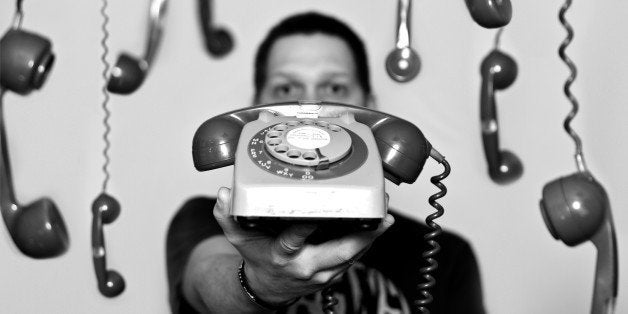 Aaron Foss thinks he may have built a better mousetrap when it comes to ending all those scam calls that ring up your landline. The 36-year-old contract programmer split a $50,000 prize in a crowdsourcing competition staged by the FTC -- you know, those nice people who run that totally ineffective Do Not Call Registry.
Foss' idea was to build a free web application called Nomorobo. It works for those with VoIP (voice-over Internet Protocol) on their phones. Nomorobo basically diverts the scam call from your phone to theirs. "Basically, we hang up for you," said Foss, who lives in New York.
Actually, Nomorobo does a bit more than that. Nomorobo has intercepted millions of calls and analyzes them. The results are scary, and underscore how the most-likely targets are the elderly and the vulnerable. Foss described one popular calling scam making the rounds: The caller tells people that their son or daughter -- or doctor -- just ordered them a Medic Alert system. The caller says that the "good news" is it's already been paid for and only shipping costs are owed. Once they have your credit card information, a monthly amount gets billed for "monitoring" this device that no one actually ordered in the first place.
The FTC gets millions of complaints about unwanted annoying calls, and while there have been a few legal challenges, the agency acknowledges that the problem has escalated beyond its control. Hence, the crowd-sourcing competition for a solution. Foss says that 21 percent of all calls to land lines are robocalls. The Do Not Call registry keeps the legitimate guys in line, said Foss. But many of the robocallers are scammers.
Where the public pressure needs to be applied, says Foss, is on the carriers themselves. The carriers thus far haven't been willing to solve the problem, he says. Here are a few of his suggestions to make sure you aren't taken advantage of:
* If you have VoIP, enable Nomorobo. If you don't have VoIP, call your carrier and request that they support the Nomorobo feature.
* Don't answer calls from numbers you don't recognize. Foss says that scammers have gotten more sophisticated and now use technology that will post numbers from your area code or local exchange to make it appear like a local call on caller ID.
* If you do pick up a robocall and you're asked to make a numeric selection, don't. If you do, you are confirming to them that a human has answered the phone.
* If you do answer a robocall, don't give your name or credit card information. Ever. Put them on the offensive by asking for their name, company name, agent number and/or call back number.
* Make sure your number is on the National Do Not Call Registry (www.donotcall.gov). That will at least help with stemming calls from the legitimate companies.
* Report telemarketer numbers to the FTC (www.donotcall.gov). Foss says, "You'd be surprised, but it does help!"
REAL LIFE. REAL NEWS. REAL VOICES.
Help us tell more of the stories that matter from voices that too often remain unheard.
BEFORE YOU GO
PHOTO GALLERY
10 Tips From The Better Business Bureau To Avoid Online Dating Scams