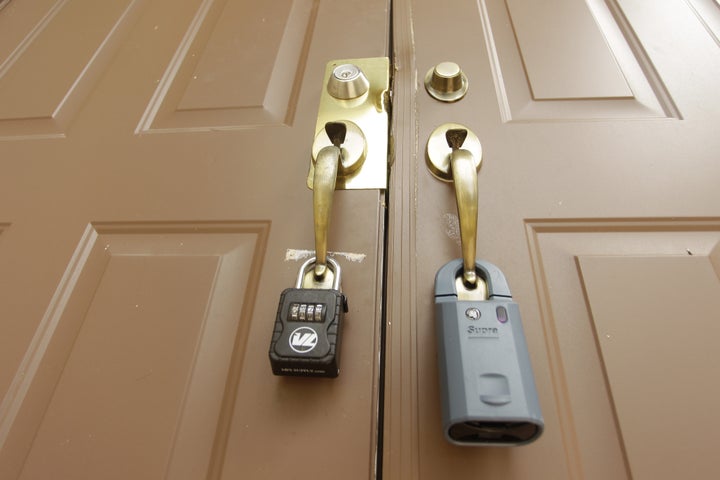 This story was updated at 11:30 a.m. and 4:10 p.m. ET to include more information.
The ongoing "turmoil" roiling megabanks and their faulty home foreclosure practices may represent deeper, more systemic problems regarding the origination, transfer and ownership of millions of mortgages, potentially putting Wall Street on the hook for billions of dollars in unexpected losses and threatening to undermine "the very financial stability that the Troubled Asset Relief Program was designed to protect," a government watchdog warns in a new report.
Recent revelations regarding mortgage companies' use of "robo-signers" when processing foreclosure documents "may have concealed much deeper problems in the mortgage market," according to the Tuesday report by the Congressional Oversight Panel, an office formed to keep tabs on the bailout.
Disclosures by big banks that they employed people whose sole job was to essentially rubber-stamp foreclosure documents without reading them or verifying basic facts led firms like JPMorgan Chase, Wells Fargo and Bank of America to halt home repossessions beginning in late summer and early fall.
In turn, all 50 state attorneys general, federal prosecutors and a host of federal agencies began probing exactly what went wrong, and whether the use of robo-signers represented a one-time mistake or if they're emblematic of broader legal shortcuts taken to cut costs and disguise other shortcomings. The industry is fighting to calm regulators, investors, and members of Congress by arguing the revelations represent isolated cases that are quickly being resolved.
But the oversight panel, led by former Senator Ted Kaufman, a Delaware Democrat who replaced noted consumer advocate Elizabeth Warren when she left to form a new federal consumer protection agency, has misgivings.
In the best-case scenario, "embraced by the financial industry," the panel's concerns "may prove overblown," it notes. The scandal could end up being nothing at all, Kaufman acknowledges.
In the worst-case scenario, however, the "robo-signing of affidavits served to cover up the fact that loan servicers cannot demonstrate the facts required to conduct a lawful foreclosure," the panel said in its report. "In essence, banks may be unable to prove that they own the mortgage loans they claim to own."
The results of this would be "severe," according to academics, industry experts, regulators and the panel's report.
"If such problems were to arise on a large scale, the housing market could experience even greater disruptions than have already occurred, resulting in significant harm to major financial institutions," the report states.
From underwriting fraudulent mortgages; to shuffling it through the mortgage securitization chain without following proper legal procedures like the simple act of passing along paperwork; to concealing or doctoring basic facts when securitizing the mortgages and selling them to investors, large lenders and their partners on Wall Street could face hundreds of billions of dollars in losses by being forced to buy back faulty mortgages, some of which have already defaulted, from misled investors.
Analysts from Compass Point Research and Trading LLC pegged potential losses for 11 global banks to reach $179.2 billion, the Washington-based firm said in an Aug. 17 report.
Investors bought mortgage-linked securities with the promise that the underlying mortgages conformed to basic underwriting standards, and that proper procedures were followed in the chain of securitization. Steep losses on those investments and the discovery of potentially fraudulent activity pushed investors to force banks to buy them back.
The Federal Reserve Bank of New York and government-controlled mortgage giant Freddie Mac are among a group of bondholders demanding that Bank of America buy back some $47 billion worth of distressed home loans packaged into securities. Freddie and Fannie Mae also have billions in outstanding repurchase requests big banks have yet to act on. Their government overseer, the Federal Housing Finance Agency, recently issued 64 subpoenas seeking information from Wall Street. Private investors have scores of outstanding requests and have initiated numerous lawsuits.
The discovery of robo-signers, the oversight panel argues, could simply be the tip of the iceberg. If so, more revelations could only increase the pressure on large banks. Their potential exposure to losses could skyrocket.
Using financial analysts' estimates, the panel said that the nation's four largest banks by assets -- BofA, JPMorgan, Citigroup and Wells Fargo -- face about $52 billion in losses from repurchase requests. The figure is derived from $5 trillion worth of mortgage-backed securities sold from 2005 to 2008, which could result in $882 billion in losses. Of those losses, investors will likely request that banks buy back $240 billion in loans, of which only $103 billion will likely be successfully put back onto the banks. The banks will then suffer losses on half of that, the panel reasons.
The Obama administration argues that it has not found any evidence to date that would pose a systemic risk to the nation's financial system. But while some 11 different federal agencies are investigating the matter, it's unclear just how hard they're looking. The administration has withheld critical details that would shed light on their efforts, experts say, such as the number of people assigned to the review, what documents officials are examining, or whether investigators are combing through individual loan files to ensure that lenders, mortgage servicers and other players in the securitization chain followed the letter and spirit of the law every step of the way.
"We strongly believe that the reported behavior within the mortgage servicer industry is simply unacceptable, and servicers who have failed to follow the law must be held accountable," Treasury Department spokesman Mark Paustenbach said in a statement.
Federal officials haven't been on top of this issue.
A separate Monday report by the Government Accountability Office notes that "mortgage servicers' practices...have not been a major focus" by bank regulators at the Office of the Comptroller of the Currency and the Federal Reserve.
"[T]he extent to which servicers' management of the foreclosure process is addressed in regulatory guidance and consumer protection laws has been limited and uneven," the GAO noted. Examinations by the OCC, which oversees the nation's largest banks, which are also the biggest mortgage servicers, "were generally limited to reviews of income that banks earn from servicing loans for others and did not generally include reviewing foreclosure practices."
The Fed reserved just "a few pages" related to mortgage servicing in its manual for bank examiners, according to the GAO. Like the OCC, it included reviewing the income from these operations, "but did not otherwise address in detail foreclosure practices."
"[F]ederal banking regulators had not regulatory examined servicers' foreclosures practices on a loan-level basis," the GAO noted.
Bank regulators reversed course after allegations of robo-signing became a national scandal. They're now reviewing servicers' practices. In a Nov. 10 letter to Rep. Alan Grayson, a Florida Democrat who recently lost his bid for reelection, the interim head of the OCC, John Walsh, said that OCC examiners "are reviewing samples of individual borrower loan files where foreclosures have either been initiated or completed to determine that all applicable laws have been followed."
The credit ratings agency Fitch Ratings said Nov. 4 that it may downgrade the entire U.S. sector of mortgage servicers due to concerns about their ability to process foreclosures.
The oversight panel said in its report that "Treasury so far has expressed relatively little concern that foreclosure irregularities could reflect deeper problems that would pose a threat to financial stability." It urged Treasury to step up its oversight and tell the public what it's finding, a demand previously voiced by bankruptcy and mortgage experts and academics like Adam J. Levitin of Georgetown University Law Center and Katherine M. Porter, a law professor at Harvard Law School on leave from the University of Iowa.
In addition, the oversight panel implored Treasury and the Fed to conduct another round of "stress tests" to gauge whether big banks can withstand tens of billions in potential losses.
"Widespread [mortgage repurchases] could destabilize financial institutions that remain exposed and could lead to a precarious situation for those that were emerging from the crisis," the panel said. A stress test would "illuminiate the robustness of the financial system and help prepare for a worst-case scenario."
The federal watchdog also recommended that lenders and servicers should not foreclose on any homeowner "unless they are able to do so in full compliance with applicable laws and their contractual agreements with the homeowner."
"If legal uncertainty remains, foreclosure should cease with respect to that homeowner until all matters are objectively resolved and vetted through competent counsel in each applicable jurisdiction," its report said.
The panel's chairman, however, stopped short of endorsing a nationwide moratorium on foreclosures.
*************************
Related
Popular in the Community