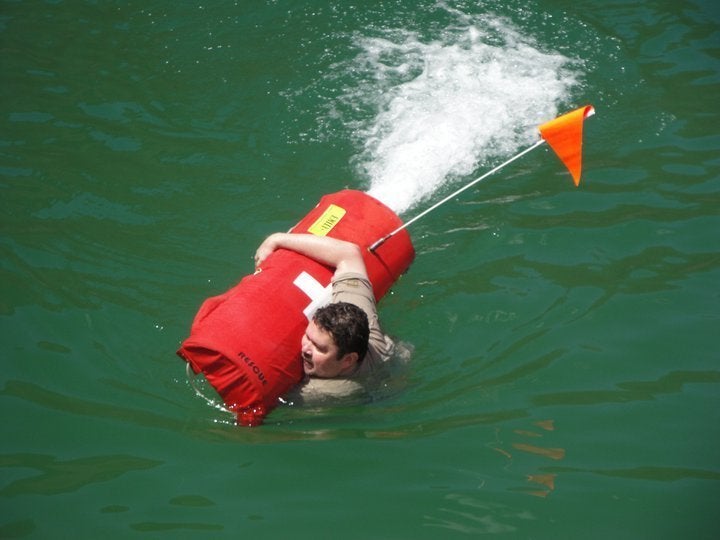 Forget slow-motion visions of hunky lifeguards racing to the shore. This summer, the beach's most effective rescue tool could be a robot.
Called "E.M.I.L.Y." (Emergency Integrated Lifesaving Lanyard), the remote controlled-robot wil soon be racing to a shore near you. Los Angeles County lifeguards have been deploying the machine in practice rescue missions at Zuma Beach this summer, reports KTLA, and the results so far have been impressive.
The little red robot can cut through waves at up to 40 miles per hour for up to 35 minutes, and it can patrol at five miles per hour for over 500 minutes before needing a recharge, according to the manufacturer's site. It only weighs 25 pounds, and can be a floatation device for up to six people.
LA County Fire Department Lifeguard Capt. Remy Tobias explained Emily's application to lifesaving techniques to KTLA. "We may be able to use it like if we have a large group of people caught in a rip tide," said Tobias. "We can send Emily out to stabilize and have the lifeguards come in and bring them to shore."
Emily can race to a drowning swimmer up to six times faster than a lifeguard can, and it can even be dropped from helicopters onto the site of a rescue mission, according to ABC News. It's an especially crucial tool this season, says ABC's Diane Sawyer, as more than 100 people die in rip currents every summer.
Watch ABC News's video report to see Emily in action:
Invented in 2009 by developer Tony Mulligan, the rescue bot was named after 13-year-old Emily Rose Shane. In 2010, Shane was fatally struck by a speeding driver on the Pacific Coast Highway in Malibu. Shane was close friends with Mulligan's daughter.
Popular in the Community