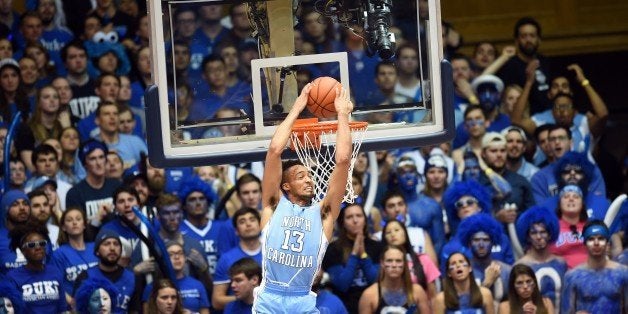 There's a South Carolina vs. Clemson baseball game on. You check for score updates online. You click on a story from The Associated Press.
In a few months, there's a good chance that story will have been written by a robot.
The Associated Press is once again teaming up with technology company Automated Insights to bring its "robot" journalism to NCAA college sports, AI announced Wednesday. Starting this spring, the AP will crank out automated sports stories on Division I baseball, and will gradually begin to include Division I women's basketball, Division II and III men's basketball and Division II and III football within the next two years.
AP and AI joined forces in July to produce quarterly earnings reports for business stories faster and more efficiently. The new focus on college sports will allow the AP to use game statistics provided by the NCAA to produce thousands of college sports stories, bringing coverage to "every college sports town."
"Our goal is to be fully live with stories generated automatically when a game is over and onto AP wires and, in this case, NCAA sites," AP's Vice President and Managing Editor Lou Ferrara told The Huffington Post in an email.
Ferrara said the decision to bring robot journalism to its sports coverage comes from the high quantity of data involved in sports reports, as well as the general lack of certain types of sports coverage available online.
"At AP, we have been looking at automation with anything involving data, as we did with corporate earnings reports," he said. "Sports have been in our DNA for a long time and automation for certain sports seems like a logical move, particularly for sports not receiving much widespread coverage yet in demand in certain markets."
AP has used automated technology to report sports stats before. Most of the company's sports agate uses automation, and has for several years. Ferrara told HuffPost that AP has worked a bit with AI on football rankings online, but this is the first time, however, that full-text game stories would be produced.
Furthermore, AI's James Kotecki told HuffPost that the company looks forward to growing their relationship with AP, adding that their tools are also used in areas outside of journalism including finance, personal fitness and marketing analytics. The Associated Press also recently hired an automation editor as it explores new ways to use the technology.
That's because it's paying off. After partnering with AI to write breaking business stories and earnings reports last summer, AP has been able to go from writing 300 reports to 3,000 reports each quarter, and many of those without any human intervention at all.
Of course, critics continue to question whether or not the use of such technology will one day replace real-life journalists. In the past, both AP and Automated Insights have assured readers that no jobs have been lost or threatened due to the introduction of automated articles. Still, AI said in January that the stories written by robots "contain far fewer errors" than those that had been written by humans.
Ferrara echoed this idea to HuffPost, adding that the only potential for error comes from humans.
"We are always concerned about accuracy," Ferrara said. "But for automation the only error potential, in general, is the result of data being entered incorrectly upstream in the process. And that would be by a human."
Related
Popular in the Community