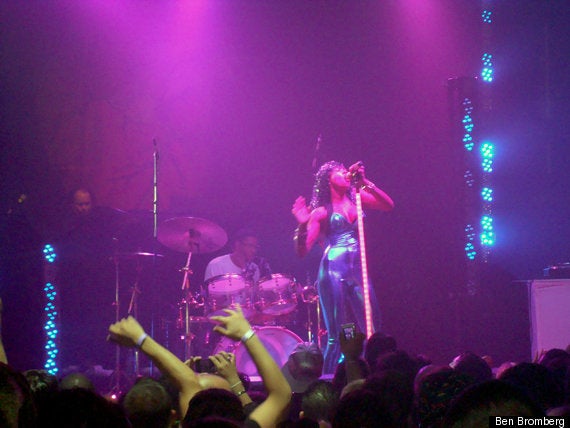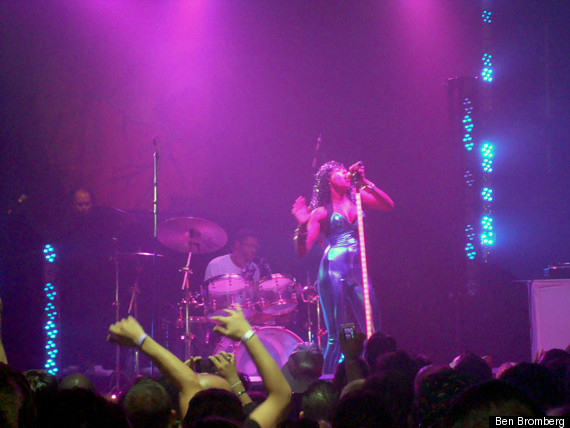 This Thursday marked the last date in Robyn and Kelis' "All Hearts" tour, going out with a bang at the second of two shows at Webster Hall. The crowd was packed in the venue, providing little breathing room between what were probably 75% muscley, sweaty, young men, loudly announcing their anticipation for the girls to get on stage.
When Kelis appeared before the microphone under flashing lights and a cloud of smoke, she was decked out in a cleavage-filled shiny latex one-piece and a shimmering Cleopatra-esque wig. She held her arms in the air and requested her audience repeat a mantra back to her, that they had come here to dance, and that they would do just that. When the first house beat dropped, all hands were in the air.
Kelis stuck mainly to songs off her newest album, including hit single "Acapella", and one thing I noticed about these new songs is how often they brought Kelis into her lowest vocal range, a range she stayed in for almost the whole night, constantly playing the disco diva. When she did play songs off of old releases, she stuck to uplifting anthems and R&B slow jams, avoiding hip hop almost completely. The one time she did steer in that direction, when of course, she had to play "Milkshake", she did so over the beat of Madonna's "Holiday", even singing Madonna's chorus, drawing the loudest cheers out of the audience for the whole night. After one verse, she dropped the original "Milkshake" beat and rapped the chorus one more time -- but she then proceeded to do her own "milkshake" as the DJ shifted into Webster Hall-favorite dancehall banger "Pon de Floor" by Major Lazer, and the audience again went into hysterics.
While Kelis's performance was almost an exercise in tribute to New York house, Robyn brought something truly original to the stage, evoking just as much excitement in her audience. Robyn too has fame indebted to a period in her life when she was making slightly different music -- like say, 90s Billboard hits "Show Me Love" and "Do You Know What It Takes", neither of which made an appearance Thursday night -- but in the past decade Robyn has taken some surprising directions, crafting a more electronic sound and garnering an indie-er audience. And while some of Robyn's choruses have a certain generic poppy-ness to them, her particular brand of electropop sets her apart, putting her in select company with other indie pop frontrunners La Roux and Annie. And on Thursday she made a pretty convincing argument that she was still leading the pack.
Robyn kept the crowd hyped all night at Webster Hall. She too was playing only from her post-reinvention catalogue, which includes 2005's self-titled LP and this summer's Body Talk Pt. 1. She mostly stuck to her latest, opening the show with new single "Fembot", and the hit "Dancing On My Own" a few songs later. Robyn is an energetic performer, going into little dance fits during instrumental sections and keeping the audience moving. During "Don't Fucking Tell Me What To Do", the opening track off of Body Talk, a "Technologic"-esque number that features a track of Robyn's voice robotically repeating "My [fill in the blank] is killing me" (with blank-fillers such as "boyfriend" and "drinking"), Robyn herself didn't have anything specific to do. Luckily, she thought of a number of things to entertain her audience, from stoically eating a banana, to dramatically interpreting the lyrics of the track behind her, to finally breaking out in violent, robotic dance moves. When the track came to its dramatic conclusion, Robyn finally shouted into the mic, "Don't fucking tell me what to do!" and the whole crowd shouted it back to her. At this moment it was clear, Robyn had established herself as a new breed of pop star, proving in the year 2010 there is a market for originality in pop music.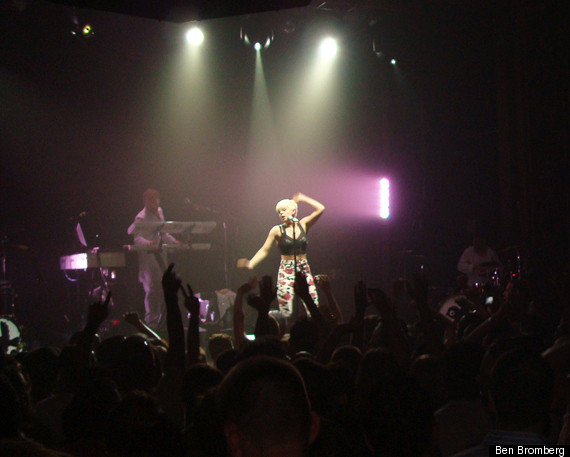 Calling all HuffPost superfans!
Sign up for membership to become a founding member and help shape HuffPost's next chapter