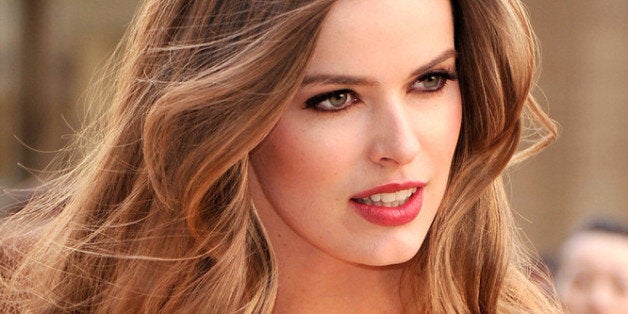 Ralph Lauren campaign star Robyn Lawley may be a plus-size model icon -- but you'd better not call her one. In an interview with the Guardian on Friday, the size 12 stunner reveals thats she's loath to endorse any label, big or small.
Robyn thinks that celebrating a so-called plus-size shape can be damaging to thin women as well as larger ones. "People use me as a [plus-size] figurehead," she says, "and to me that misses the point and is blatantly offensive to thin women." She continues:
"Curves don't epitomise a woman. Saying, 'Skinny is ugly' should be no more acceptable than saying fat is. I find all this stuff a very controlling and effective way of making women obsess over their weight, instead of exploiting their more important attributes, such as intellect, strength and power. We could be getting angry about unequal pay and unequal opportunities, but we're too busy being told we're not thin enough or curvy enough. We're holding ourselves back."
Many industry insiders have been advocating to cut size distinctions from our vocabulary -- including Dana Oliver, HuffPost Style's senior beauty editor, who argues that "pushing... women of all sizes into unrealistic body type categories further perpetuates this warped standard of beauty that exists within the fashion world." And more institutions like the JAG Model Agency are popping up, attempting to bridge the gap between plus- and straight-size models by representing both in the same space.
Lawley has a point. Perhaps if we work to shift our focus away from body labels, we can instead improve on the plus-size designs that critics like Tim Gunn have dubbed "devastating." After all, size is nothing but a number, and fashion should not "hold [women] back," as Lawley mentions, but empower them to project their most confident selves instead.