"Label Robyn Lawley a plus-size model if you want. Or, why not go with our preferred adjective -- hot."
We couldn't have said it better ourselves, GQ Australia. The magazine has picked Lawley, one of fashion's most recognizable and successful plus-size models today, as its Girl Of The Week, placing her alongside Rosie Huntington-Whiteley, Shanina Shaik, Mila Kunis and other stunners spotlighted by the men's mag.
And Lawley's photo shoot is just as sexy as the rest. The pics, shot by Pierre Toussaint, feature the Aussie model in pared-down basics like jeans, a chambray shirt and an unzipped gray hoodie, plus the inevitable "hand bra" topless pose (you know, when your hands act as a bra).
In the interview, which appears in the November 2013 issue, Lawley tells GQ Australia frankly, "I've got big hips and a big body. I'm double, triple the size of other models –- and I embrace that, I own it."
We adore her for it... and we adore GQ Australia for giving Lawley the shoot she deserves. How long until an American men's magazine puts a plus-size girl in its pages?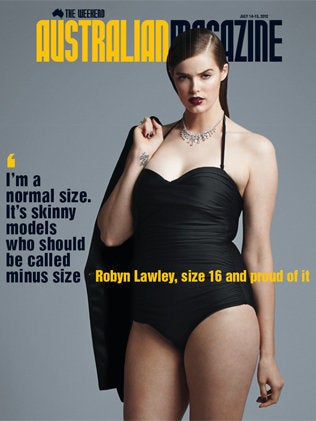 All Things Robyn Lawley
Related