 In the search for food, mobile-savvy eaters often turn to applications like Yelp!, Zagat and Open Table. Now there's another app that offers diners the chance to make sure the eatery they choose is not only delicious, but ethical as well.
ROC United, an organization aimed at improving wages and working conditions for restaurant workers, recently released its 2013 diners' guide to ethical eating, along with a handy mobile app to go with it. The app, which is available on iPhone and Android, allows users in nine major cities to search eateries on a map and find out how they measure up in categories like paying their workers a living wage or giving them paid sick days.
Diners particularly concerned about a restaurant's working conditions can even tweet at the eatery, directly from the app.
Check out photos of the app below: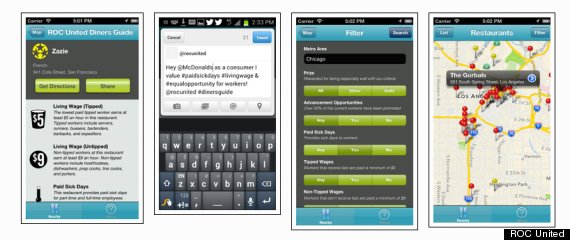 The plight of employees working in the restaurant industry has received renewed attention in recent months, as the owners and managers of some eateries have stated publicly that they would take steps to avoid Obamacare provisions that require employers to provide health care for employees working more than 30 hours per week.
Papa John's CEO John Schnatter said he likely would reduce workers' hours or boost the price of his pizzas to cover the cost of Obamacare to his business. Darden Restaurants, the owner of Red Lobster and the Olive Garden, recently backed off a test plan aimed at limiting health care costs by reducing workers' hours because of subsequent backlash.
Fast food workers' low wages have received increased scrutiny as well. Fast food workers took the streets in New York City last month to demand better pay. At the same time, their employers are making big bucks of their cheap labor; two-thirds of low-wage workers are employed by largely profitable companies, many of which are in the fast food industry.
BEFORE YOU GO
PHOTO GALLERY
Fast Food Restaurants Where Workers Are Striking