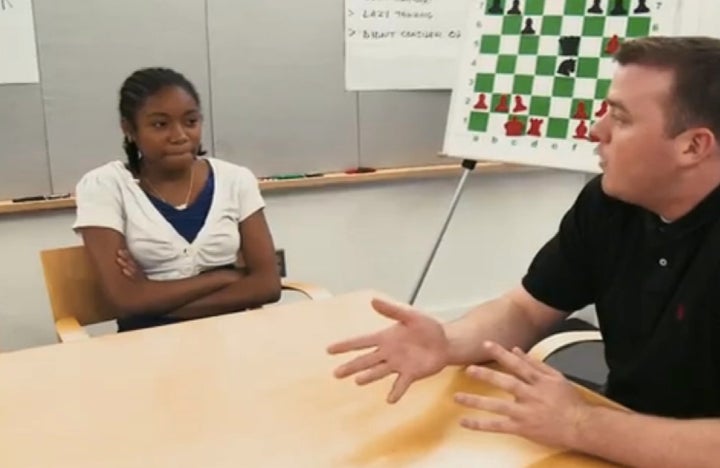 At the I.S. 318 middle school in Brooklyn, 65 percent of students live below the federal poverty level. Yet despite the odds, the school has the highest ranked junior high chess team in the country and holds almost 30 national championships—more than any other school in the nation. A new documentary takes a close look at how a few select students, including Rochelle Ballantyne, excelled at the game. Rochelle's the only girl featured in Brooklyn Castle, and she has her sights set on becoming the first African-American female master in the history of chess. It's been four years since filming of this documentary commenced—Rochelle is now a high school senior—but her name is still at the top of I.S. 318's list of best players. We spoke to her about competing against mostly male players and making plans for college.
What motivated you to start playing chess? "My grandmother taught me to play when I was in the third grade. I was really active as a child, and she wanted to find a way to keep me relaxed and get my brain going."
When did you begin to take chess seriously? "The first time that I won a national tournament when I was in the fifth grade. I won fourth place at the Girls National Championship and that's when I thought, I could really be good at this."
What's driving you to become the first African-American female master in the history of chess? "My grandmother. When I first started playing, she introduced to me the idea of being the first African-American female chess master. I didn't think about it much because for me it seemed like an impossible feat, and I didn't think it could happen. I wasn't as focused and dedicated as I am now. I didn't think I was a good chess player—people told me I was, but it wasn't my mentality at that moment. But then after she died, that really affected me, because she was the one person that always had confidence in me. She never pushed me, and she always respected me for who I was. I have to reach that goal for her."
Are you still competing against mostly boys? "I would say no because I like the idea of being the only girl! Winning is just that much more glorious because everyone expects me to lose. But many more girls are getting involved in chess, and I like that. The girls who play chess and go to national tournaments with me are my support system. The boys that I play with don't understand."
How does it feel to have your story broadcasted to the public through the release of this documentary? "I'm really happy that my story is being told because it's inspirational. I don't want to sound over-confident, but we're really awesome kids and I hope that people see the film and follow suit. The biggest message is that you can achieve anything you want to achieve if you work hard for it. We're living proof of that."
Does it increase the pressure to win? "With the documentary coming out, the pressure is going to increase. It's a bittersweet feeling to be a girl and one of the top players. To maintain that number one spot and excel in other aspects of life besides chess puts a lot of pressure on me. But I don't want to reach the mark of becoming the first female African-American chess master for other people; I want to reach it for my grandmother and me."
Before you play, what do you do to calm your nerves? "I usually listen to music. I put my iPod on shuffle and whatever plays, plays."
How does playing chess impact your academic life? "Chess makes me think. It helps me in school, and it can really help in the college applications. It motivates me and makes me push myself harder."
What about your personal life? "Chess is emotionally burdening, but when I win, it makes me feel a whole lot better about myself. I feel like I can accomplish so much more, and so that's helped me through the years."
You're about to graduate high school. Do you have plans to attend college next year? "I really want to go to the University of Pennsylvania or Stanford. I applied through QuestBridge, which is a scholarship program that has a partnership with those schools."
One of the issues raised in this documentary is that I.S. 318 is facing budget cuts, and the chess program is in jeopardy. What do you want audiences to know? "Kids have achieved so much because of the chess program at I.S. 318, and now because of budget cuts, that program might not be there anymore, and that's really horrible. It's so sad that you can take out money from schools because education is what allows you to succeed in life. My brother goes to I.S. 318 now, and the chess team might not be able to go to nationals. When people watch the movie, I want them to see how important the school is to all of us, and how it molded our lives. We have to pave the way so that other kids can achieve what we've achieved."
How awesome is Rochelle's story? Sound off in the comments below or tweet @HuffPostTeen!
Calling all HuffPost superfans!
Sign up for membership to become a founding member and help shape HuffPost's next chapter