Being a lifelong Los Angeles artist hasn't been solely torturous. The social network of amazing artists all over town has its perks. I get to know so many great artists -- you have no idea! -- which makes my arsenal of Artists Worth Writing About totally endless.
Here is my opportunity to expose the artists that are doing something entirely unique and perhaps a bit alternative. There is a line that blurs between the outsider artist, the self-taught, the academic, and the exploration into a childhood feature that began to take shape sometime ago, and all the while the purists on all sides of their fences stand fierce to protect their territory. Try as they might, we all know that art emerges organically and bends all rules, thank God. It's part of what seduces our innards to look deeper, find meaning, or just allow ourselves to be viscerally swept away by its impact.
I was first introduced to mixed media artist Rochelle Botello by a mutual friend, artist, and curator Marshall Astor, who, at the time had taken over my previous studio space in San Pedro and turned it into a Gallery Space called Walled City. He was showing a collection of her drawings on paper and I had to get one for myself. I fell in love on the spot. She had just received her Masters in Sculpture and Installation Art at Claremont Graduate University, which is a school I can usually count on to produce artists that stay true to their voices. I didn't yet know about her sculptures, but I followed her work from 2004 and I was along for the ride each and every time.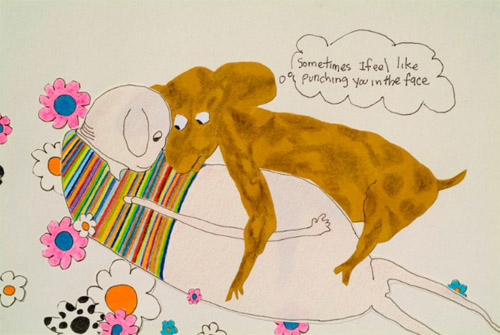 Sometimes, 2007. 10 x 11inches. Ink, color pencil, cut outs.
Botello creates mixed media collage drawings on paper, but they can also be accompanied by tape and fabric sculptures that create a kind of empathy and wonderment I don't dare to exactly define. Botello herself points out that there isn't a particular narrative in her work. It engenders a kind of visual poetry that the written word lacks.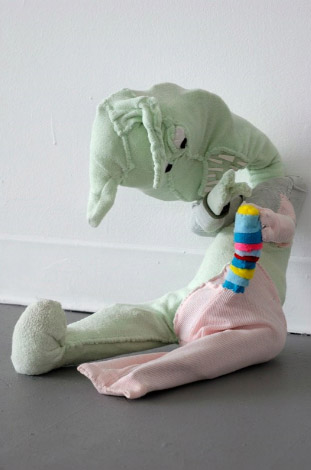 Don't Worry I Won't Let You Down, 2007. 24 x 15 inches. Fabric, Felt, Cardboard.
I recall a sculptural work entitled, Oh Dear, which was a dead, cerulean blue dog/deer that had been either shot in the stomach, or conceivably bitten open. Its colorful, magic innards spilled out from its open wound in the form of preciously printed circular swatches of fabric all over the gallery floor like an overlapping pool of imaginary fluid. One could ask themselves, "Is this blood and guts, or is it candy? Because it seems yummy!" Nearby, a nappy-headed child in a pink dress seems to be lying down on the ground and lapping up the spill like it is some kind of divine benediction. One of my favorite things about Botello's work is that it is both absurd and disarming.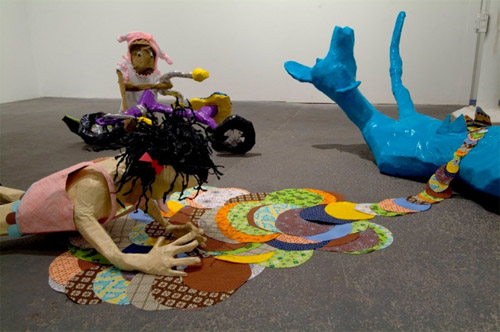 Oh Dear, 2007. 28 x 90 x 76 inches. Cardboard, paper, masking tape, duct tape, fabric, felt.
Her characters lack the specificity of gender, and often species. They are placed in situations and environments that are not meant to be understood, as they are most likely left to an imaginary dream-like state taken from the far away fragments of childhood memories, or a primitive, subconscious psyche: the inborn parts of ourselves we don't necessarily want to be familiar with because perhaps they truly are ridiculous.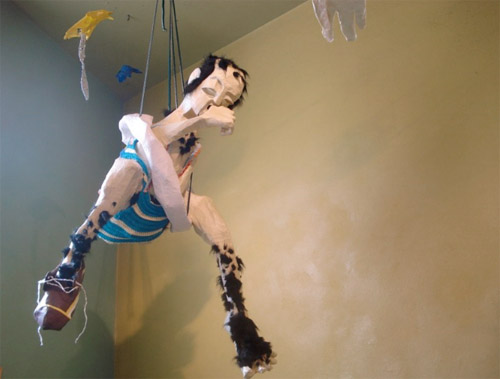 Holding on Too Long, 2008. 120 x 48 inches. Masking tape, fabric, paper, faux fur.
These sculptures can easily be mistaken for papier-mache, yet the process is much less controlled. My other favorite aspect of Rochelle's work: the handmade factor, and her sculptures have it in spades. It is begun by tearing and molding empty paper towel rolls by hand. A lot of squishing, unraveling and bending is involved, and she knows not what form these skeletons will take on. That's the way she prefers it. Different colors of tape create a surface and help mold the remainder of the form. She tends to use fabric and knits, fiber, fur, and plushy remains. Contact paper on cardboard, felt, crochet, and just so many ingredients are incorporated, but it's organized into environments that seem to cultivate these elements as their habitat.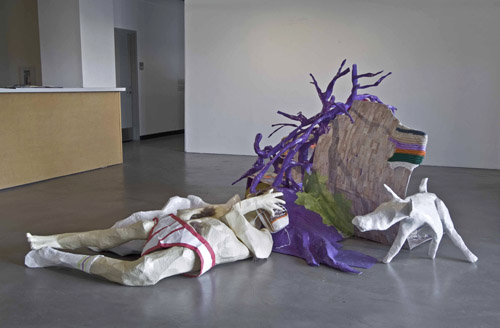 Out of the Woods, 2009. (Installation View) Cardboard, paper, fabric, masking tape.
Rochelle Botello will be participating in a group show, which opens August 22nd called, , . Obsessed. at Summercamp's Project Project in Los Angeles, and will be presenting a solo exhibition on October 1st at 643 Project Space in Ventura, Ca. For more information on the artist and her work, please visit her website at: RochelleBotello.com
Photo Credits: Gene Ogami