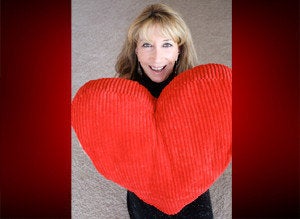 One of the reasons I started my website, Marlothomas.com, is that I wanted a place for women (including me!) to come together and dream. Women should know that they don't have to hang on to an old dream that has stopped nurturing them -- that there is always time to start a new dream. In that spirit, I'm so excited to introduce a new series called "It Ain't Over," profiling women who have pursued -- and fulfilled -- their dreams and passions, no matter what their age or circumstances. This week, in honor of Valentine's Day, we're talking about finding love. It may not always be around the corner -- but with a little help from Rochelle Peachey -- you could discover it across the pond.
They say love is where you find it, and Rochelle Peachey finds it everywhere. Inside of a taxi, where she found a nice man for her mother (the cabbie); or over the phone, where a personal ad she recorded for her girlfriend brought in more than 700 suitors.
Rochelle believes in love. She also believes that nothing -- not 3,000 miles, nor a six-hour plane ride -- should stand in its way.
She was lucky to find her own soul mate across a crowded bar in London, although admittedly it took him a year to make the big leap.
"I knew it on the first date, and he did, too, but he wasn't ready to settle down," Rochelle recalls, her charming British accent lending an almost musical lilt to her words. "He went out with another girl and I lost my mind. I refused to speak with him. He'd call my cell, and my girlfriends would answer and say we were at a club -- they'd turn up MTV and ask for another martini!"
Eventually the guy came to his senses, and 16 years later, Rochelle and Phil are living happily ever after, blissfully splitting their time between homes in Orlando and London. But in 2005, it was this same loving feeling that began keeping Rochelle up at night. She wanted everyone to feel the happiness she felt.
"People were always approaching me and saying 'I love your accent.' And men would say, 'I'd love to meet a British girl.' And, of course, everyone would ask me if I knew the Queen!" she says laughing. "Meanwhile, my British friends were just as intrigued with the idea of meeting an American. I would lie in bed thinking about ways that I could bring people from different parts of the world together. I'd wake up in the morning thinking about it. I'd dream about it."
At the time, Phil's business -- helping other happy English couples find vacation homes in Florida -- was booming. "We were doing quite well and I was happy to help," Rochelle says, "dotting the i's and crossing the t's and rushing home to fax documents when he was traveling abroad. But I needed something more. People kept telling me not to rock the boat, to be happy with our success. But I wanted something of my own."
Suddenly, though, the boat rocked on its own, without Rochelle's help. "When the recession began, it was like someone just turned off the faucet," she recalls. "People were trickling through. I wasn't needed as much in Phil's office, and you can only dust and cook so much."
And it was during this lull that Rochelle opened a window of opportunity for herself -- a window just large enough for Cupid's arrow to fit through. At age 45, she seized the idea that she'd been dreaming about and ran with it. She took to the web and launched ILoveYourAccent.com, a dating site that bridges the continental divide by bringing Brits and Americans together in holy matrimony -- or at least for a weekend.
"I brought in a web designer," she says, "but I didn't have $50,000 to hire a P.R. company. So I started blogging and posting on forums. I wasn't charging a dime at that point. I just wanted people to join. For months it wasn't working. I was checking every ten minutes -- just hoping for one new member."
What is it they say? That love will find you when you least expect it? Just before Valentine's Day, 2010, Cupid found Rochelle -- not with an arrow, but with an invitation to talk about her website on the London TV show BBC Breakfast. "Within 20 minutes of the time I was on the air, people were signing up, 650 people that day alone. I couldn't take my eyes off the computer screen!" Word started to spread, and today ILoveYourAccent.com has 10,000 members, nine marriages and three babies.
"I have one couple who must have conceived on their first date," Rochelle says, laughing. "But I'm careful to point out that this is a relationship site. It's not a site for people looking for a booty call. Also, there's a 99 percent chance you won't meet up with the person you're talking with that night, unless he happens to be a Brit living in New York. You've got to be serious, because one of you is going to have to get on a plane."
Yet as with all dating sites, one has to be wary. "I ask people nicely, don't lie too much," Rochelle warns. "Don't ever believe that a man who wants to meet a thin woman is going to change his mind, even if you're blonde and have a beautiful face. And if a man tells you he's 5'6 and then 5'7 and then 5'8, he's none of those. A tall man will just say 'I'm 5'10.'"
If you're going to date long distance, Rochelle recommends using Skype first. "If he keeps denying a Skype chat, he's hiding something. And I don't want to hear that you can't upload a picture. No! No! No! I'll help you with that. Who buys a pair of shoes from Macy's without seeing a picture?"
It's this kind of personal service that makes ILoveYourAccent.com special. Rochelle also finds herself occasionally doubling as a dating coach, interpreting the cultural differences that can sometimes get lost in translation.
"We don't all say 'luv' and 'cheerio,'" she teases. "And just because a guy is from Texas, doesn't mean he's going to meet you with a hunting rifle and cowboy hat. There was one girl from California who created a profile header that said 'Thick Girl in California Wants to Meet a Brit.' In England, thick means dumb, so they were reading it as 'Stupid Woman in California Wants to Meet a Brit.' I thought, 'Rubenesque' might be a better choice. And then there was the 'KY Queen' in Kentucky, you can imagine how that might translate!"
The hardest part for Rochelle, it seems, is to keep in mind that the members on her site are not close friends who she's setting up for Sunday brunch. "My husband has to remind me that these are not my children," she says "But I hate it when couples don't tell me they got together!" This is a woman who clearly loves a good love story.
"I heard from a British man in his mid-50's who had been chatting with a woman from New York. He'd mentioned early on that he believed he had relatives he'd never met in Buffalo. What he didn't know is that she'd been doing a little research on her own. So when he came to visit, she surprised him by taking him on a little road trip to Buffalo to meet his mother's brother and all of his cousins. They both knew they'd found true love on that first trip, and they got married last November -- on her birthday! He said to her, 'I'm so sorry it took me so long to come into your life.'"
It was the first marriage for both of them. The bride was 47.
Rochelle acknowledges that internet dating, no matter the distance, can be a little intimidating the first time around. "Things have changed for people who find themselves divorced at 45 and single for the first time in decades. But really, the internet is an easy way in. You can pour yourself a glass of wine and be dating three guys tonight -- one in New York, one in London and one in Manchester. Flirt a little and you'll get your confidence back. It's a gentle way to get back in and see how the dating world has changed."
Whether you're just getting back on the dating circuit or, like Rochelle, finding your way on a new business venture, there's no denying that it takes a little work to make the right connection. But when you do, says Rochelle, it'll be well worth the wait.
"I thought I'd be in St. Tropez by now, checking my bank balance," she jokes. "But I'm still working ten hours a day, getting the word out, answering questions, making sure that a man who has just posted 17 hunky pictures of himself isn't just clipping them out of a magazine.
"But I love it when someone says they found love," she concludes softly. "It's just lovely that you could be hoping and searching and dreaming and, there he is, on a website halfway around the world. Your entire life can change in a minute -- with just one click."
You can find more information about Rochelle and her intercontinental dating site at Iloveyouraccent.com.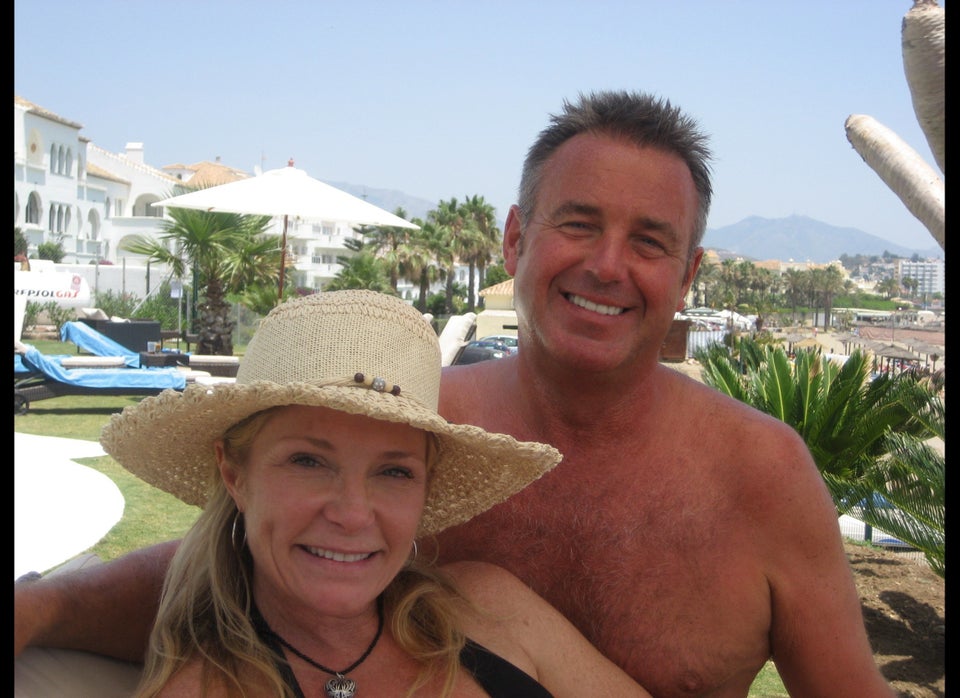 I Love Your Accent
Sign up to receive my email newsletter each week – It will keep you up-to-date on upcoming articles, Mondays with Marlo guests, videos, and more!
Popular in the Community