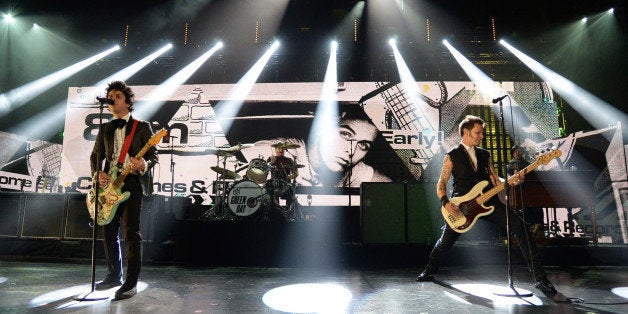 April was one hell of a month for music fans.
In California, almost 100,000 people ventured to the desert for the closing days of the Coachella festival, which featured not only headliners AC/DC, Jack White, and Drake, but also surprise appearances by Kanye West and Nicki Minaj. Meanwhile, in Washington, DC, an estimated 300,000 fans gathered at the National Mall for the Global Citizen Festival, with a bill topped by Usher and No Doubt.
In Dallas, the Academy of Country Music celebrated its 50th anniversary by moving its annual awards show to a sold-out Cowboy Stadium; the broadcast of the ceremony scored its highest ratings ever and was easily the most-watched TV program of the night. In addition, academics and journalists gathered in Seattle for the annual Experience Music Project's Pop Conference, and nationwide on the morning of April 18, collectors lined up before the crack of dawn, waiting for retailers to open their doors for Record Store Day so they could score prized, limited edition vinyl releases by their favorite artists.
So for all the wailing and gnashing of teeth we hear every day about the collapse of the music business, it's clear that passion for music itself remains strong. And right at the center of all this month's activities -- both geographically and spiritually -- was the 2015 Rock and Roll Hall of Fame induction ceremony, held on Saturday April 18 at Cleveland's Public Hall, welcoming this year's new Hall of Famers: Joan Jett and the Blackhearts, the Paul Butterfield Blues Band, Stevie Ray Vaughan and Double Trouble, Green Day, the 5 Royales, Lou Reed, Bill Withers, and Ringo Starr.
We all know that half the fun of any list is arguing about who should or shouldn't be there. I know every one of you feels some sense of outrage about which artist absolutely needs to be in the Hall of Fame--whether that's Yes or N.W.A, Cheap Trick or the Chantels, Depeche Mode or the Monkees, I hear you, I get it. Feel free to start pleading your case again as soon as we're done here, but let's at least try to pause for a minute and think about what a Hall of Fame actually means.
For me, the Hall (and, in many ways even more important, the museum in which it is located, which is so often left out of the arguments) offers the singular opportunity to present a full history of this music. It is a chance, not really available anywhere else, to capture the story of a sound, a movement, a culture, that has constantly shifted and modified over the course of the last 60-some years, but has also retained certain common threads--of independent expression, challenge to authority, dedication to constant innovation.
It was obviously thrilling to see legends meet onstage, to witness Paul McCartney and Ringo Starr, the greatest rhythm section of all time, playing together one more time; or to see Stevie Wonder and Bill Withers, two of history's most soulful voices, sit side-by-side while Wonder delivered a stunning solo performance of Withers's incomparable "Ain't No Sunshine."
Miley Cyrus -- admittedly, an unlikely choice at first glance -- gave a powerful speech in tribute to Joan Jett, describing how Jett served as an example of fearless commitment to her own vision. The gospel according to Joan Jett, Cyrus explained, is that "instead of changing for other people, if you don't like how the world is, change it yourself."
This is what the Hall of Fame illustrates. We can go back and forth endlessly about what constitutes "rock and roll," and whether Madonna and Public Enemy (who are in) or Willie Nelson and Kraftwerk (who aren't) belong under this category. If you believe that the selections in the Hall don't tell the story the way you would tell it, fair enough. Hopefully, arguing and articulating those points help you think about what you really do believe, and can help others consider music history a little differently. But the ability to amass a central collection that gathers this narrative, its artifacts and voices, in one place, is crucial, essential.
"Hail, hail, rock and roll/Deliver me from the days of old," Chuck Berry once sang, and that youth and freedom and forward motion will always be at the heart of the music, whatever its current style. But the "days of old" part has its place, too, now that the music has changed the world over and over, and has a legacy that has become so fundamental to understand.
For all the glitz and glamor of the induction ceremony, and the kick that always comes from seeing Jimi Hendrix's handwritten lyrics or Muddy Waters's guitars on display in the museum, perhaps the most enlightening moments I had were at the Rock and Roll Hall of Fame Library and Archives. Though I've donated some of my own papers and interview tapes over the years, I had never been to the facility.
A friend of mine came out to Cleveland a few days before my visit to do some research for a project involving Ahmet Ertegun, the legendary founder of Atlantic Records (and a driving force behind the Hall of Fame and Museum's creation). In a matter of minutes, he was delivered boxes full of Ertegun's correspondence, packed with notes and letters from luminaries around the globe, in the music community and beyond. On top of the collection seen by all visitors at the museum, these revelatory documents instantly brought home the significance of this place and its efforts, and the real impact of having a single location where future students of rock history will be able to find primary sources and inside information, with the attention and treatment they deserve and require.
"I come from a place where rock and roll means something," Joan Jett said in her 2015 Hall of Fame Induction acceptance speech. "It means more than music, more than fashion, more than the pose. Rock and roll is an idea and an ideal. Sometimes, because we love the music and we make the music, we forget the political impact it has around the world."
If we really still believe that -- and the Global Citizen Festival, with its vision of using music to spotlight the fight against poverty and climate change, seems proof that these ideals remain vital -- then that's what the Rock and Roll Hall of Fame has to mean. The group of Hall of Famers matters, and you should never be shy about fighting for your own version of history. But the greater mission ultimately matters more than any list, any old way you choose it.
Calling all HuffPost superfans!
Sign up for membership to become a founding member and help shape HuffPost's next chapter