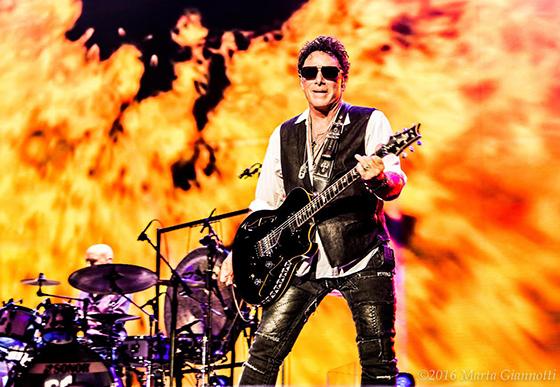 Journey became one of the bands that defined the 1980s when they hit their stride with hits like "Don't Stop Believin'", "Faithfully", and "Separate Ways", among other songs that would propel them into multi-platinum albums sales and sold out tours globally. It's Journey's humble beginnings that sometimes gets overlooked when in the early 1970s the band was formed around guitarist Neal Schon as a bit of offshoot of his time with Santana. Journey was originally more of a jam band for those first few albums, and while they were gaining popularity through touring, record label pressure forced them into a new musical direction where Steve Perry was added as a front man and soon the band would enjoy massive pop success.
Journey is still at it in 2016 with a new lead singer Arnel Pineda and as popular as ever with generations loving their vast discography. Recently, I was able to have a long discussion with the man that has been in the center of it all from the beginning, Neal Schon, about his time in Santana and the whole transition into Journey and how the band has been able to maintain its popularity after all these years.
You had some killer guitar work with Santana, especially on "Everybody's Everything" and "No One to Depend On" from Santana III, looking back, what's your best memories of that time with Santana?
Back hanging with those guys with the new record that we did Santana IV, it sounds like we just took off where we left off. That was such an amazing, eye opening, and so creative experience for me. It was like no other school you could go to for that type of education of world music. And Carlos [Santana], he is the guy for that. He is just amazing with the amount of music he always has like right next to him in his pocket. He pulls out music all the time. He's constantly playing new stuff. It's never changed. It was like that when I was 15 when I first met him and all through the years when we did hang and now just recently too. When I joined them, they were absolutely the biggest band in the world besides The Rolling Stones, so you can imagine when I came out of high school in the middle of my sophomore year and jumped into one of the biggest bands in the world. We traveled the world. Ya know, I never seen anything, except for New Jersey where I lived with my folks before we moved to California and the little town I was living in San Mateo and San Francisco after that.
Then as you transition into Journey, what do you think now about the whole process of getting this band formed in the first few years?
Herbie Herbert, Journey's manager, was actually Carlos and my guitar tech in Santana. He was like a one man army in the crew at that time because we had some people that were not so capable of piecing things together from what I recall. He was just well rounded. One day he'd be at the mixing board. The next day he'd be setting up the whole stage. He approached me a bit after we disbanded. He said "I want to manage you and I want to wrap a band around your guitar playing." That's what it started out being. Him and I started Journey. We were just playing jam music. We were known as one of the biggest jam bands in San Francisco. After three years of hard touring and having record labels threaten that they're going to drop us, which we weren't selling that many records anyways. If you look at it now, the first Journey record sold 150,000 copies. These days, that's a lot of records. Back then, if you didn't sell 500,000 to go Gold or a million to go Platinum, you weren't anything. We came from a very musical place. San Francisco was full of music for days back then. We weren't really thinking about the commerciality of it. Our label did, CBS at the time that is now Sony, and they sort of gave us an ultimatum. They said if you don't get a new front man or a new singer and change the direction so we can get something to radio, we're going to drop you guys. At that point, we just found a niche actually. We opened up for everyone from Emerson, Lake, & Palmer to Kiss when Kiss was first coming up they were headlining theaters. We played with Thin Lizzy that were headlining theaters. Cheech & Chong. You name it, we opened up for them. Charlie Daniels. You can imagine how we went over in the south back then. Then we met Lynyrd Skynyrd and it was really amazing because that was the band, their audience was our audience. Once we played on stage just as we were, we started captivating this audience like really amazingly well. We would get three strong ovation encores in front of them. I was like wow, we finally found the audience. About that time we got the ultimatum from the label to change the direction so we, Gregg Rolie and I, and everybody else, we were kind of split as far as how we felt because we knew we knew we were getting over with that audience, but then it was so tragic, they had the airplane crash. We did make the move obviously. Herbie Herbert was the one that made that choice really to bring Steve Perry in. At the time we didn't know what to think honestly. I thought he had a really amazing voice, but did I think it was us? I didn't really know. It was so different. The band that he was in The Alien Project that CBS was about to sign, when I heard it, it was a really good record. Gregg and I looked at each other 'I don't know man. What do you think?' and I go 'I don't know either!' Then Herbie brought Steve out on tour with us. Steve and I started hanging a lot. He didn't really come on stage with us. We were just hanging to see if we liked each other than I realized I had met him years and years ago when we first started. We played down in LA on Sunset Strip at The Rainbow or one of those clubs. Steve came backstage and he introduced himself. He said he was a singer and he really wanted to do something with me. I was like "We don't need a singer" (laughs). This is years before it all came together.
Were you ever disappointed with that first phase of Journey before adding Steve Perry as a front man and changing the direction?
We were truly struggling. We did 9 or 10 months for each of the first three years that we toured and the other months were taken to go into the studio and knock out a record. Each record progressively sold less records than the first one, but we were selling more tickets live. We pretty much lived on tour and were traveling around crammed into two station wagons. Luggage and everything, we had one tiny little mini truck that was carrying our equipment around. A lot of times, we just drive around for 8-10 hours to get to the next gig just to jump out of the car and jump on stage. Never any sound check. Never any of that. Just get up there and do it. We truly did pay some dues that I had never paid before. It was funny coming from Santana. I figured at the time this was going to be easy. Greg and I starting this other band and we're just going to automatically be huge. We had a lot of fans. We still have like an underground audience that didn't care for anything we did after that. When you weighed against what we've done and what we've accomplished throughout the years with all of the records we've made since Steve came in and now Arnel, it's really crazy. We're truly enjoying mega-success as big or bigger than we were at our height in the 80s with Arnel.

As time goes on, people have mixed feelings about the most popular of Journey songs, whether they absolutely love it or hate it, but Journey has always been a highly musical group. When needed, how did you approached always keeping highly skilled musicals in this band for so long?
We started out very musical. Hit first started with Herbie and myself. Herbie introduced me to Ross Valory and he was with Steve Miller before that. When I met him, he was playing with one of Miller's friends that had played in the Steve Miller Band, Bobby Winkelman.I went into the studio, met Ross, and they asked me to play on Bobby's record. At the time, they had Billy Connors who was with Return to Forever with Chick Corea right before. I love Billy, but I was like "I can't play next to that guy. That guy is going to eat my stuff up!" They really loved his playing but they wanted something more melodic and more bluesy, so I did that. That's where I met Ross. Then I met George Tickner, who was the guy that wrote a lot of the material on our very first record. Then Gregg Rolie was the third one to come in and then I had to find a drummer and I fell in love with The Tubes drummer Prairie Prince. I tried to sway him away from The Tubes, but he just would not go. He was very loyal and I had to respect him for that. We had some real magic going on with Prairie. I remember going to see Frank Zappa with Flo & Eddie at Berkeley Community Theater and Aynsley Dunbar was playing with them. I told Herbie "Man I saw this drummer last night and he was incredible!" Herbie set out to find Aynsley and ask him if he'd be interested in joining. Aynsley was very receptive and came. That's where we started. We had amazing musicianship to start out with. After Steve came in the band, then Greg Rolie decided to step down, after we had made seven records with him, four of them were multi-platinum, and selling out everywhere. We were two and three times platinum with Infinity, Evolution, Departure, and then Captured, which was a recorded double live record in Cobo Hall in Detroit. Detroit is where we busted out of live. All of the rest of the radio followed Detroit at that point. Gregg just decided, he'd been on tour constantly all those years before me with Santana, and he was a bit burned. He wanted to start a family. So The Babys were opening up for Journey and I got to be friends with Jonathan Cain. Him and I hung out quite a lot while we were on tour. I realized he had a lot to offer as a keyboardist. I liked the fact he played rhythm guitar. He sounded like a really solid band player. He was my first choice when Gregg decided to step down. It's funny, I've kind of handpicked all these people that have come in throughout all the years and all the changes we've had. Arnel, of course, is one of the main ones that I found. At the time, everyone thought I was crazy. They were basically laughing at me. I found him on YouTube after searching for about two days. Just about when I was about to give up, I heard this voice. I could just tell he had such amazing tone and full and thick. I could tell he had big pipes. We needed someone that could sing all of our material and someone that we could move forward with, and also someone that would be like a warrior on stage. This stuff is not easy to sing. Jon was like "Does he even speak English?" I go "I spoke to him on the phone last night and he speaks well enough and if he doesn't, he'll learn." He sings in perfect English. I listened to the band he was playing with The Zoo. He covered everyone. I actually never heard a singer before that was such a chameleon as Arnel. One second he's doing Sting, the next second he's doing Robert Plant, the next second he's doing Steven Tyler, and then the next second he's doing The Beatles. He does everybody! He does Nat King Cole for Christ sakes. He morphs his voice and to get the tone and emulate the whole thing. I think he's way, way beyond karaoke singer as some people will tag him. He's not at all. We have a whole new audience with him. A lot younger of any audience. I look out now and I'm seeing four generations of kids, our older audience.
In general, what do you think the overall message is of the music of Journey?
It's about hope, faith, good times, and love. Feel good stuff that makes people feel good. We're in such crazy times. It gives people hope.
You're the only original member of Journey that's been a constant throughout. How much longer do you feel like you'll do this? How do you keep this thing going?
I was here when it started and the only one that's been on every record throughout the whole duration from late '72 to right now. I feel that I'll be here until it's done. I don't know when it's done. We've gone through so many changes and I think that the one cool thing about the name Journey that John Villanueva gave us is that it means travel. It's okay for changes to happen. We've already proven that we can withstand any changes, at least I can. I have no reason to stop, unless nobody shows up to see us anymore.
Journey will be performing along with The Doobie Brothers and special guest Dave Mason at DTE Energy Music Theatre in Clarkston, Michigan on Thursday, August 4th. For more information, visit journeymusic.com.
REAL LIFE. REAL NEWS. REAL VOICES.
Help us tell more of the stories that matter from voices that too often remain unheard.