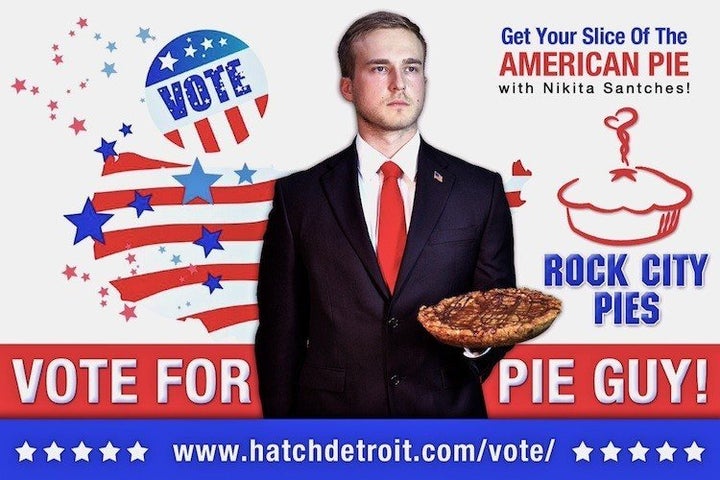 Detroiters aren't content with eating run-of-the-mill cherry and apple pastries -- at least that's what Nikita Santches is banking on with Rock City Pies.
An entrepreneur and experimental baker, Santches sells offbeat pies like sweet potato whiskey at Ferndale's Rust Belt Market, but he's looking to expand and move to the city.
A semifinalist in the Comerica Hatch Detroit contest, he hopes to win the grand prize of $50,000 and open a brick-and-mortar retail space in the city. Santches would plan to sell sweet and savory creations to hungry customers, as well as distribute the pies wholesale.
The Hatch finalists is determined by public voting through Sept. 18, and a final round of judge and public decision-making at the end of the month will determine the winner.
HuffPost Detroit asked the baker a few questions about how being an immigrant prepared him to open a business, what makes Rock City Pies stand out from other sweet shops, and what on earth is in the decadent "White Trash Pie."
Why should Detroit have a pie storefront? Are your ideal customers Detroiters, your repeat customers from Ferndale, or someone else?

Not only is this different than any other dessert place in the city, it is different than any dessert place in the entire Metro area. It will also consist of more than just dessert pie. There will be savory pies, pocket pies and pizza pies as well. Because there will be something for every palette, it will be geared toward suburban crowds who enjoy downtown dining, tourists, business people who need a quick lunch, and anyone else who loves Detroit and the fine food it has to offer.
You emigrated to Michigan from Russia at a young age. What experiences and lessons do you bring from Russian culture, and how did your industriousness at a young age turn you into an entrepreneur?
Because I moved here at such a young age, I experienced seeing my parents work extremely hard to build a life in a brand new place. It is this work ethic and the strong values that they taught me that I put into the things that I do and plan to accomplish.
You said you want to open your storefront in Midtown. Why does that neighborhood appeal to you?

I am still keeping my eyes open to other opportunities for a great location in the city. ] I like the industrial vibe of Midtown, because the vision that I have for my spot is very industrial-chic. I want a building with great structure and history. Detroit is rich with history and great structure. It is just a matter of finding the perfect fit.
Is using locally-sourced ingredients an important part of your business model? Can you keep prices affordable while using quality products?

Using local and quality ingredients is always important to me. Keeping things affordable, however, is also very close to my heart. I will always use local ingredients when they are in season. Like any other locally-sourced restaurant, I will only use ingredients from other locations when I absolutely have to.
How would your store contribute to Detroit's food scene -- and to making the city better, in general, to contribute to what you call the 'REAL Renaissance'?

I'll bring quality food made from scratch with a real, creative spin. I want to go back to uniqueness and the old-fashioned way of making things fresh, by hand. The city needs this, and people will appreciate something truly different for a change.
We have to ask ... what's in a White Trash Pie?

It's a spin on a Southern holiday snack (sometimes known as "Texas Trash") which consists of pretzels, Chex cereal and peanuts covered in white chocolate. I take it a step further and I throw in Cap'n Crunch and peanut M&Ms.
Check out this slideshow of all 10 Hatch Detroit 2012 semifinalists. Vote for Rock City Pies here.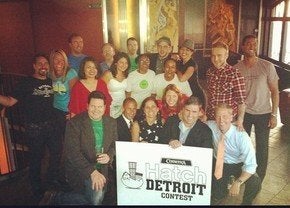 Hatch Detroit 2012 Semifinalists
Popular in the Community