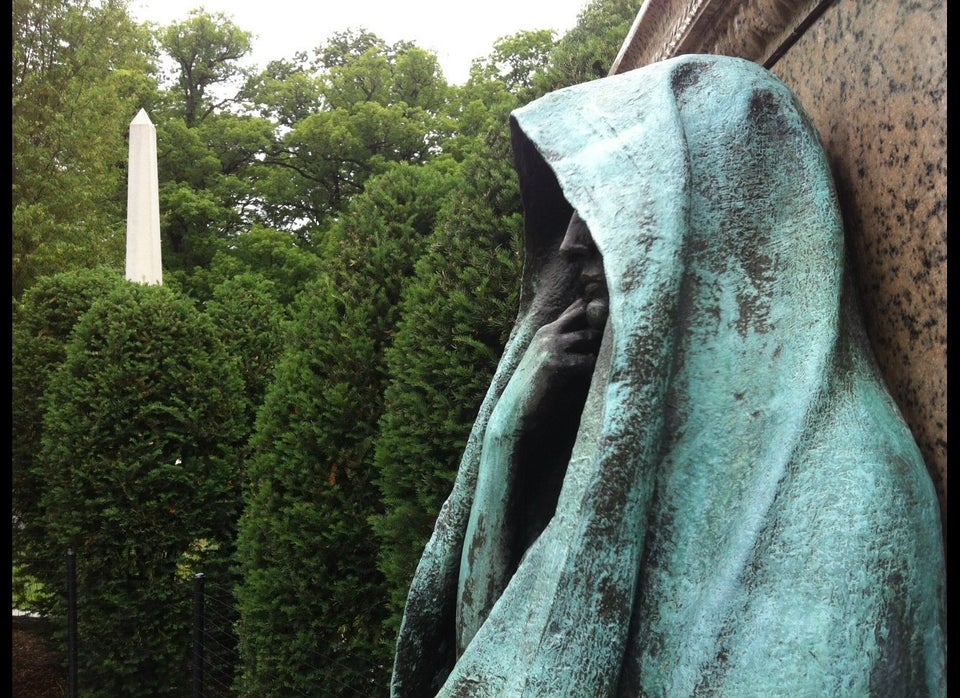 Rock Creek Cemetery
WASHINGTON -- While Arlington National Cemetery may be the No. 1 burial site on visitors' travel checklists in the nation's capital, it's by no means the only cemetery worth visiting.
D.C.'s Congressional Cemetery, at the far eastern end of Capitol Hill, is home to the graves of longtime FBI Director J. Edgar Hoover, Washington Monument architect Robert Mills and Elbridge Gerry, the statesman and former vice president whose name is better known today in the word "gerrymandering."
But if you're appreciate great sculpture, a visit to Rock Creek Cemetery, a gigantic hilly expanse of land adjacent to the Petworth neighborhood, should be on your list, regardless if you're a tourist or a local.
Why? it's the home to a famous Augustus Saint-Gaudens sculpture that honors Clover Adams, the wife of essayist Henry Adams who committed suicide in 1885 by drinking photographic chemicals.
[Henry] Adams, who steadfastly refused to discuss his wife's death, commissioned Augustus Saint-Gaudens to create a memorial that would express the Buddhist idea of nirvana, a state of being beyond joy and sorrow. In Adams's circle of artists and writers, the old Christian certainties seemed inadequate after the violence of the Civil War, the industrialization of America, and Darwin's theories of evolution. Saint-Gaudens's ambiguous figure reflects the search for new insights into the mysteries of life and death. The shrouded being is neither male nor female, neither triumphant nor downcast. Its message is inscrutable.
If you're looking for the memorial, it can be tough to find -- it's shrouded by shrubbery on a hillside in the eastern section of the cemetery.
In the 1830s, the church opened the cemetery up for public burials. (Where did the "Rock Creek" name come from? The parish was located along the old road that led to Rock Creek, parts of which today are still named "Rock Creek Church Road.")
Planning on visiting Rock Creek Cemetery? It's easiest to drive or bike, but via public transportation, two Metrobus routes, the 60 and H8, stop at its gates at Webster Street NW and Rock Creek Church Road. Dogs are not allowed in the cemetery.
Related
Popular in the Community