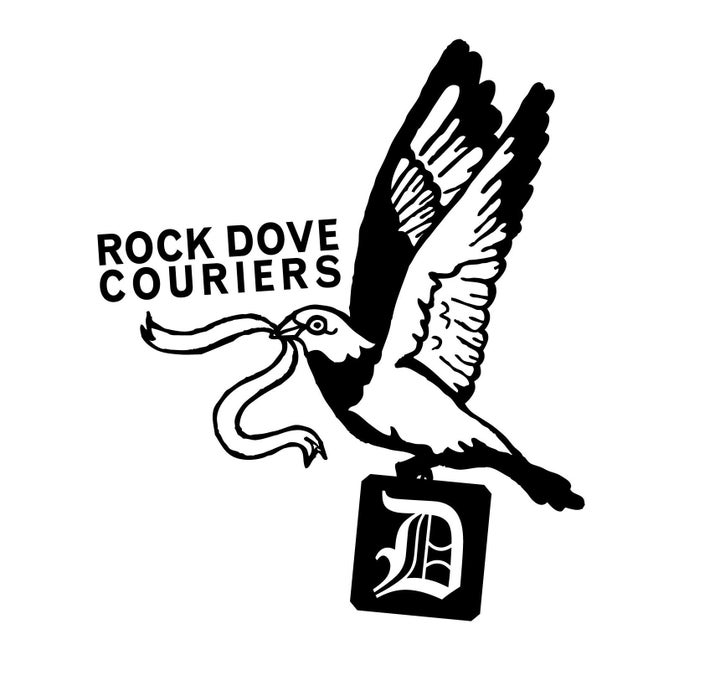 Detroit's bicycle messengers form a tight-knit group; they don't have the numbers of counterparts in San Francisco or New York City, or the trappings of culture that those places offer -- zines, unions or flashy Messenger Appreciation Day celebrations. Compared to other large cities, Detroit's bike messenger population is pretty low, and pretty low-key.
In fact, it consists of just three people, according to Joey Landis, who runs Detroit's only bike-exclusive messenger service, Rock Dove Couriers, with co-owners Tim and Melissa Sargent. The worker cooperative is named for a carrier pigeon used during the Second World War.
Landis and Tim Sargent handle the runs, while Melissa takes care of the accounting and other paperwork. Landis told The Huffington Post he's thrilled with the job. "I love it. I get to be outside. Get to ride my bike. No boss -- I'm the boss!"
Although the messengers are few, their territory is vast. Landis said from Rock Dove's downtown base, he's delivered as far as Grosse Pointe to the east and Dearborn to the west, and will head as far north as the New Center neighborhood. The majority of Rock Dove's clients, however, are clustered downtown.
Landis said 80 percent of the company's business comes from lawyers and 10 percent from accountants. The rest are a hodge-podge of clients who have heard about the messengers through word of mouth.
Landis starts his day by getting a cup of coffee downtown and then waits for his phone to ring. Sometimes, he rides off at 8:30 a.m. in the morning. Other days, he'll just sit around sipping java until 10 a.m.
"Earlier in the day, before 3 o'clock, it's all legal work, and then later in the day it's more emergency runs, like envelopes to executives," he said. Landis often hand-delivers confidential envelopes, "and sometimes I end up racing to get a dozen cucumbers for a restaurant and then back to serving a sandwich or serving a subpoena or something like that."
Sometimes the messengers' line of work can put them into some unusual situations, like a run-in Sargent had a few years back involving former Detroit Mayor Kwame Kilpatrick.
"I was trying to serve him [with a subpoena] when he was coming out of trial at Frank Murphy [Hall of Justice]," Sargent said. "I met him in a little doorway, [but] he just told his guards to keep me away from him, when I announced I had a subpoena for him."
Ultimately, the guards foiled Sargent's attempt to serve the mayor. The case involved the demotion of a police officer named Alvin Brown, but it was dismissed by the judge due to a lack of evidence.
Rock Dove's business has been up and down lately, according to Sargent. March was the company's busiest month of the year, but April was slower.
"The courts are transferring to electronic filing and taking away some of our work," he explained.
Rock Dove got its official start in 2006, but Sargent has been a courier in the city since 2001. He started with a company called Reliable Delivery, which is still active in Detroit, but no longer offers bike delivery.
In 2004, some of the couriers at Reliable broke off to start their own messenger service under the name Moxie Messenger. The founders left town in 2006, but some of their former colleagues from Reliable took over, incorporated the service and re-named it Rock Dove.
"It was really scary because the initial volume of work was not very much," Chodoroff said of Rock Dove's early days. "We were all pretty young and didn't have a ton of business experience. We tried funny promotions: T-shirts, fliers. We made a website for the company. It was a scramble, but slowly but surely we picked up clients."
He said clients contracted the service after being intrigued by the novelty of seeing the bike messengers on court runs.
"Bike-based businesses don't take a lot of money to start," he says, "and it's a great way to stay in shape."
Related
Popular in the Community