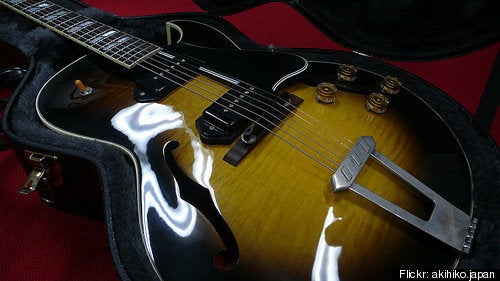 Any of you old enough to remember the classic rock tune "My City Was Gone" by the Pretenders? Like singer Chrissie Hynde, I go back to Ohio, but my city (Akron, aka The Rubber City) is not gone. Can you imagine my surprise to find a great organic restaurant, VegiTERRANEAN, by none other than Chrissie Hynde herself, on my last visit?
While other little girls were into Barbie, I was idolizing Chrissie as the world's coolest rock chick. I think of her as a true pioneer, back in the day when MTV actually played videos. "Back on The Chain Gang" and "Middle of the Road" may have been bigger hits, but the anti-development anthem "My City Was Gone" has a blues rock riff that still inspires me.
My mother told me about VegiTERRANEAN and I was immediately on board. I must admit that despite my green leanings, kicking the meat habit has not been easy. Nevertheless, onward we went for our vegan meal.
Surprisingly, VegiTERRANEAN is not a tribute to Chrissie Hynde and the Pretenders. There are a select few bits of memorabilia, a guitar on the wall type of thing, but Hard Rock Café it is not. The room is loft-style, swank by most city standards, with concrete floors, curved chain link walls and subdued blue lighting. It is dominated by a long bar serving a great selection of local microbrews and some organic wines. A little bit of SoHo in Akron.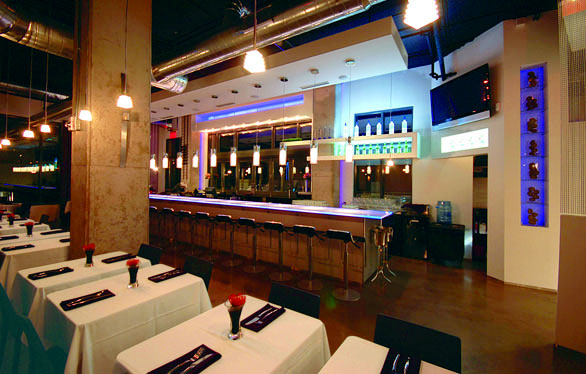 The interior of VegiTERRANEAN.
Intrigued by my outstanding meal of garbanzo beans and tomatoes, I set up an interview with Chrissie. I wanted to get the scope on the little veggie haunt in Akron. She is a real rock star, so I have, well, edited her comments a bit to clean up the language, lots of F-bombs. Hynde is not your typical celebrity turned restauranteur, however. She made it clear: "I am not in this to make money." Her cause celeb is to reduce meat eating and its negative impact on humans and the environment.
"The vastness of American geography and the car culture have made everything less dense, why should you always have to drive to get some groceries? Why don't we eliminate factory farming?" She spreads the word through her music. "It was never supposed to be man vs. nature," she told me by phone from VegiTERRANEAN's bar. "We are meant to be stewards of the environment. A meat eater on a bicycle has a worse impact on the environment than a vegetarian driving a Hummer. Your body is confused as a meat eater."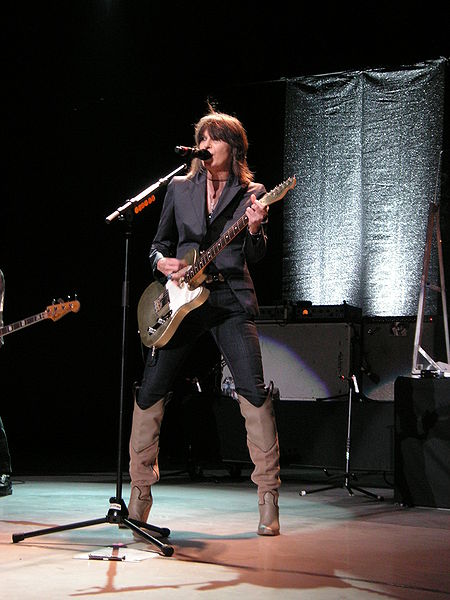 Chrissie Hynde performing.
She may well be right about this. Recent articles in The New York Times and London Times examine the wide-ranging environmental impact of raising cows, slaughtering them and delivering the meat to market. Scary stuff that can convince you to come over to the meatless side. I will admit that since reading The New York Times article, I have sworn off my previously beloved hamburgers and have dramatically reduced my meat intake across the board.
So how was my meal at VegiTERRANEAN? Spiced tomatoes and chick peas with baby arugula, tofu feta and crustini. Fresh tomato and artichoke bisque with fresh dill. For the main course, fresh whole wheat linguini carbonara with smoked "gardein" chicken, asparagus and leeks. "Gardein" is a type of garden grown protein, actually quite tasty and fulfilling in a tofu sort of way for us "gotta have meat" types. Prices are moderate, the food was fabulous -- kudos to executive chef J. Scot Jones -- but the service was on the uneven side at best. Let's just say the kitchen operations could use a tune up.
VegiTERRANEAN is kosher and vegan friendly. Let's hope this type of eatery becomes more common, organic food is a great alternative for lowering the methane emitted during meat processing. To date, Karyn's Raw Foods in Chicago and VegiTERRANEAN in Akron are my two favorites. When I asked Chrissie about plans for expansion - she said "definitely but in a better economy." Two places that could use a VegiTERRANEAN or like concept -- Las Vegas and downtown Los Angeles -- both had appeal to her. She liked the idea of "tricking people into vegetarianism through good food". Through her hard work, dedication to animal rights, and understanding ecological systems -- she is certainly on the path to helping us all eat better.
If you are curious about what she is doing musically these days, check out Chrissie out jamming in Paris in June 2009:
If any of you have favorite organic restaurants in your area, please comment to let others know about them. Thanks for reading!
Calling all HuffPost superfans!
Sign up for membership to become a founding member and help shape HuffPost's next chapter