There's a reason I'm not a music writer.
While I live for the stuff, my ability to describe what I hear runs the gamut from "that kinda sucked" to "that was fucking amazing." Lacking the intricate knowledge and niched vocabulary of someone who can actually tell the difference between New Wave and post-punk, I'm completely unqualified to evaluate my musical experience when a show comes to town. So I've banned myself from doing it.
But I'm breaking my own rules this time, because the Pixies were just that good.
The iconic foursome, who legends like Kurt Cobain and David Bowie credit as inspirations, recently stopped by Napa's Uptown Theater to play their breakout record, 1989's Doolittle, from start to finish. It was their second-to-last stop on the second leg of their "Doolittle World Tour," which began two years ago to commemorate the album's twentieth anniversary.
You know how sometimes, watching live music, you forget where you are? And you just drown in the sounds as they bubble up inside you? And you can act like a complete idiot and dance and scream and sing along and get completely lost? And you're overwhelmed by feelings of utter joy? The Pixies put on that kind of show.
It was simply remarkable, from start to finish. In a musical climate overrun with electronica this and synthesize that, it's refreshing to know good, old-fashioned alternative rock can still be brought to life. (And moderately depressing to think of alternative rock as "old-fashioned.")
Or as my brother observed afterwards, "Rock is dead. But you can still see some of the bands that were making it when it was alive."
The Boston-born band decided to spend the second incarnation of the "Doolittle" tour playing only secondary markets, and watching the set unfold in the intimate Uptown setting, glass of local Pinot in hand, was a real treat. "I don't know if we've ever been here before!" bassist Kim Deal exclaimed giddily at the beginning of the show.
And for an outfit plagued by decades of infighting, breakups and clashes of creativity, their energy remained surprisingly palpable from start to finish. Frontman Frank Black's signature high-pitched yowl sounds just like it did in the 80s -- maybe even clearer. The group seamlessly made its way through all the big hits, from the upbeat, poppy "Here Comes Your Man" and the silly, jazzy "La La Love You" (the only song ever penned by drummer David Lovering) to the biblical shout-ballad "Hey" and "Monkey Gone To Heaven," an early nod to environmentalism.
The quartet kept things surprising by beginning the set with a handful of B sides, including "Dancing at the Manta Ray" and "Bailey's Walk." They closed out the night with an encore of more classics, including two of my favorites, "Caribou" and the popular end-of-Fight-Club anthem "Where Is My Mind?" An array of video clips, arranged by longtime Pixies lighting designer Myles Mangino, beamed behind them as they played, projecting footage that ranged from a happy animated heart to 1920s film noir.
So there you have it. Readers in the Bay Area and beyond who like live music and other awesome things: Go see the Pixies the next time they come to your town. You won't regret it.
In the mean time, whet your musical appetite with images from the "Doolittle" tour below (and a few of my favorite songs thrown in for good measure):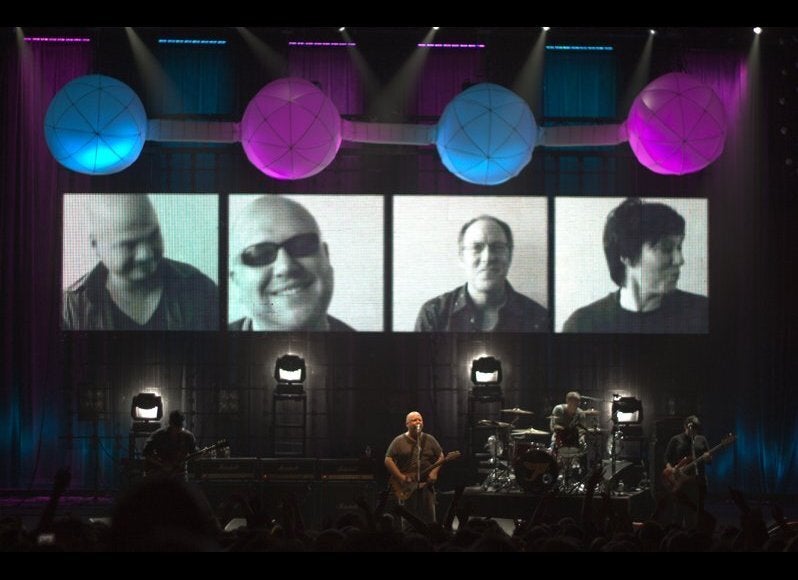 Popular in the Community