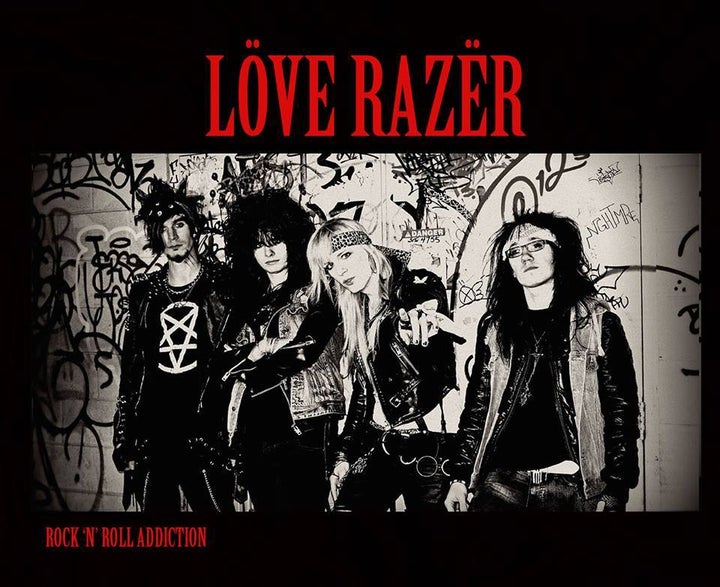 Once upon a time, many, many years ago there existed a magical place called the Sunset Strip. Throughout the 1980's, the "strip" was the epicenter of a long-gone era, when music was actually fun! Rock stars looked like rock stars, they partied like rock stars (or at least made you believe they did) and they rocked the stages with presence and showmanship. It was the decade of decadence and the golden age of party rock and although I lived thousands of miles from Hollywood, the music from that scene exploded globally and we all shared in the fun and debauchery of the music and the killer live shows. Unfortunately the denim and leather, the studs and spandex were to be replaced in a sea of plaid and sadness.
Fast forward some thirty years later and I have reason to believe that some sort of time-shift portal has opened up somewhere in Windsor, ON, Canada. How else would you explain the new Rock 'N' Roll Addiction EP from Windsor's Löve Razër? Just one look at the CD cover and my first thought was how did I ever not see these guys back in the day? You can imagine my shock when I learned this was a 2016 release. Their look is a blend of Motley Crue 84' and Faster Pussycat 87'. This could be fun, where are my headphones?
From the opening riff of "First Class Bitch" I was fist in the air and looking for my studded wristbands. This is exactly what is advertised by the photo on their CD cover. An absolute blast of 80's style metal full of big choruses, big riffs and enough snot and attitude to help erase the horrible memories of the aforementioned plaid era. "All Time Sleaze" keeps the party rocking full tilt. Head banging, air-guitaring good times, someone pass me a Jack Daniels and Coke. Their website claims, "We are the band Löve Razër and we are on a musical quest to bring back the flash and high energy of rock 'n' roll!" Who would have thought in 2016, that they would be referring to a time when Ratt, L.A. Guns, and Salty Dog reigned, but I love it! "Turn It Up" pays homage to the early Crue, in fact the intro riff mirrors "Knock em Dead" so close I almost thought it was a cover. Yet another balls out rocker, these guys could teach Steel Panther a thing or two. I am convinced that possibly Satan himself grew depressed at the retirement of Motley Crue and delivered to the world Löve Razër in order to balance the universe. If you were a fan of everything the Sunset Strip had to offer in the mid-80's then you should definitely to check this out. One thing is for sure I want, no f*ck that, I NEED to see this band live!
Related
Popular in the Community