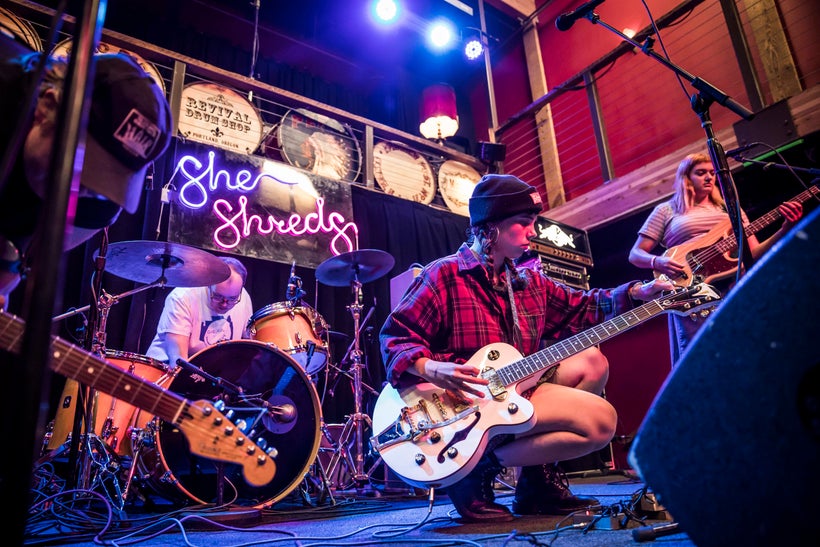 It's like a triumphant scene out of a movie: women standing strongly on the stage under the nighttime neon lights at Mississippi Studios in Portland like a middle finger counter to the narrative often promoted in society. The stage tonight is a reunion for these guitarists, bassists, drummers, and strong voices collaborating to promote the belief that girls can unite and rock hardly and freely. On September 14, She Shreds Magazine, a magazine dedicated to women guitarists and bassists, teamed up with Red Bull Sound Select to put on an event headlined by the band Bully in support of the Rock 'N Roll Camp for Girls in Portland.
Why have an event to support the Rock 'N Roll Camp for Girls in Portland? The lineup for the event is an answer to that question, as members of bands Black Belt Eagle Scout and Surfer Rosie and the founder of She Shreds Magazine have a love for music that was fostered at the Portland Rock 'N Roll Camp for Girls. It is a love that has continued years later.
"I have longtime friends from that camp," said Katherine Paul of Black Belt Eagle Scout. Now the Board Chair of the Rock 'N Roll Camp for Girls in Portland, Paul was a camper, an intern and drum instructor at the camp.
"I picked a college here because I wanted to be involved in the camp," Paul said.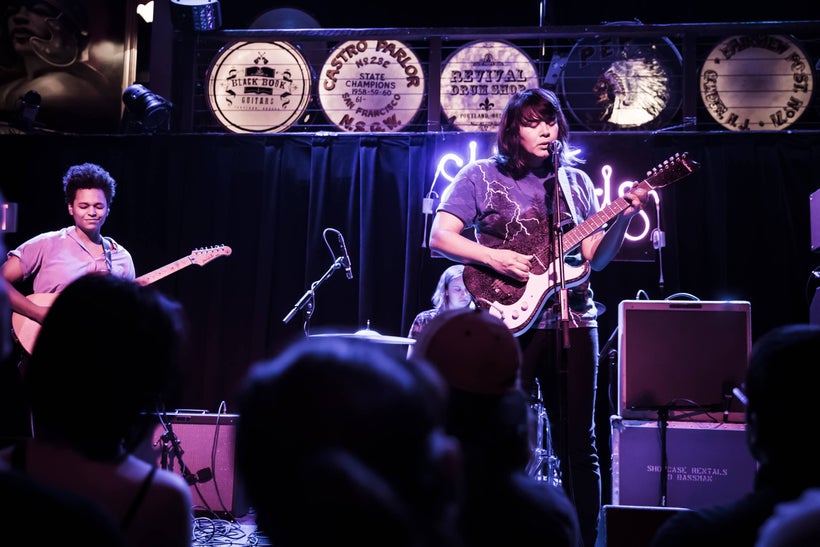 Originally a summer day camp started by a Portland State University student in 2001, the Rock 'N Roll Camp for Girls program has expanded extensively, offering multi-genre musical exposure with a message of inclusiviness, welcoming all: trans (regardless of identity), or gender non-conforming.
"Summer Camp is what we look forward to all year long," said Kristi Balzer, Executive Director of Rock 'N Roll Camp for Girls in Portland.
Kids of all levels learn musical instruments and song writing within a week of camp and perform out publicly at the end of the week. One transformation that she enjoys seeing is the children experimenting with their creative expression after a short time at the camp. Some often choose to dye their hair after only a few days at camp.
"It's awesome when you can give kids a space and tell them that they can be themselves," Balzer said.
Another program, Ladies Rock Camp, is an adult camp that encourages musical exploration like the upcoming "Strings Retreat" on October 13-15.
"It's a place where community is created," Paul said.
Some of the aspects that keeps Paul of Black Belt Eagle Scout involved in the camp in Portland is her personal experience of it providing needed mentorship from people she could relate to growing up. Another joy is seeing the progression of empowerment from nervous camper to owners of their expression in creative ways as an instructor.
"I see all these young girls and women find their voice," Paul said.
The message of empowerment through the Rock 'N Roll Camp for Girls in Portland was even the subject of a documentary, Girls Rock! The Movie, in 2005.
Gilly Avina, guitarist for Surfer Rosie was in the documentary.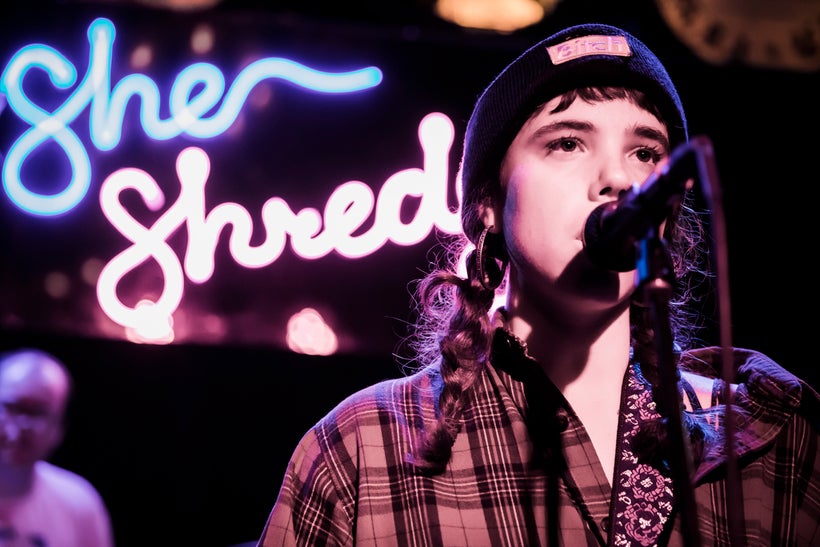 "It's weird to see it all come full circle," Avina said of performing at an event over a decade later with other fellow Rock 'N Roll Camp for Girls in Portland alums. Everyone in the band Surfer Rosie has been involved in the camp either as campers as children or as instructors.
"My favorite bands I have ever seen came out of the camp," Noah Johanson, Surfer Rosie Drummer said. Johanson appreciates the community through music that the camp fosters; both music and his band members are companions during tough times.
Beyond music, Laura Daegling, vocalist and guitarist of Surfer Rosie, sees participation in the Rock 'N Roll Camp for Girls in Portland as way to learn valuable interpersonal skills.
"They learn skill sets like respectful communication," Daegling said.
Children learn about respecting other people's gender pronouns and conflict resolution. The Rock "N Roll Camp for Girls in Portland is a safe place that seeks to ease angst for those who fill overwhelmed by the gender binary. They have pronoun buttons that children can pick from and express however they feel.
Although the band is taking a break to work on music, and Gill Brase is taking an outdoor educational opportunity in the mountains, they plan on continuing their musical relationship.
"We are really grateful for rock camp," Brase said, other members of Surfer Rosie nodding in agreement.
Calling all HuffPost superfans!
Sign up for membership to become a founding member and help shape HuffPost's next chapter
This post was published on the now-closed HuffPost Contributor platform. Contributors control their own work and posted freely to our site. If you need to flag this entry as abusive,
send us an email
.