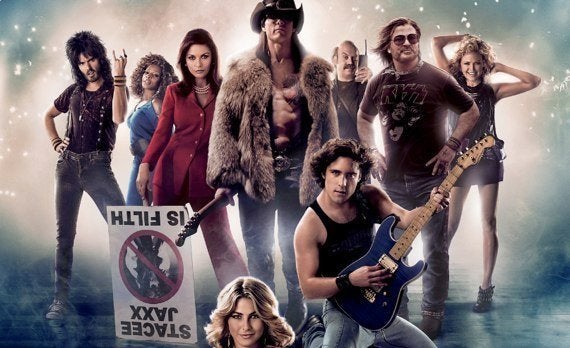 It's another summer in Chicago, so that means a visit from the touring production of the hit head-banger musical Rock of Ages. This crowd-pleasing show, which is now a major motion picture, kick started its national tour in Chicago in 2010. Then, last year, the non-Equity version of that tour played for a short stint at the Cadillac Palace. And now, that tour is back with a vengeance, rocking out for the summer in the much cozier Broadway Playhouse next to Chicago's Water Tower Place. And this go 'round, it has finally found a home that fits like a leather, fingerless glove, complete with buckles and metal studs.
The show, which is set in the late 1980s on the seedy Sunset Strip of West Hollywood, celebrates all those glam rock bands that have been pounded into our subconsciousness, such as Poison, Whitesnake, Starship, Journey and Twisted Sister. Big hair, big voices and big attitude come with the territory.
To keep things grounded in this frenzied storm of perms and pleather, there's a tale-as-old-as-time love story. Wanna-be rocker Drew (Dominique Scott) falls for fresh-off-the-bus Sherrie (Shannon Mullen), but doesn't have the heart to tell her. He goes off to realize his rocker dream, while she falls prey to the seedy nightlife as only a young girl with great legs and bottle-blonde hair in Hollywood can.
Meanwhile, a team of greedy German investor types are looking to bulldoze down Sunset Strip to build a mini mall or something. The resident rockers are none too happy about this, and protest (cue "We're Not Gonna Take It!").
You can guess the rest -- it all ends with a final head bang and a jazz hand our two. To keep the rocking going, our narrator for the evening, Lonny (Justin Colombo) gives us his very best Jack Black impersonation -- and it worked for me. The character is annoying as written, but Colombo manages to strike the right tone of awkward introvert who's overcompensating as a flamboyant ego-maniac.
Rock of Ages is a great time and the energy level works in the smaller Broadway Playhouse -- you feel like you're part of the party. However, this being a non-Equity tour, the cast doesn't quite have the requisite attitude and power vocals to, as they say, melt our faces. Take for example Scott's Drew, with his pleasing tenor and delicate features that seem to wince in anticipation of the power notes. In the first national tour, original star and American Idol finalist Constantine Maroulis attacked the songs like a maniac. You believed Maroulis' Drew could be the front-man to a Poison-like metal band. I missed that power here. Greatly.
Still, the show is a crowd pleaser, and the audience rocks out with abandon.
"Rock of Ages" plays at the Broadway Playhouse through August 5. More info here.
Popular in the Community