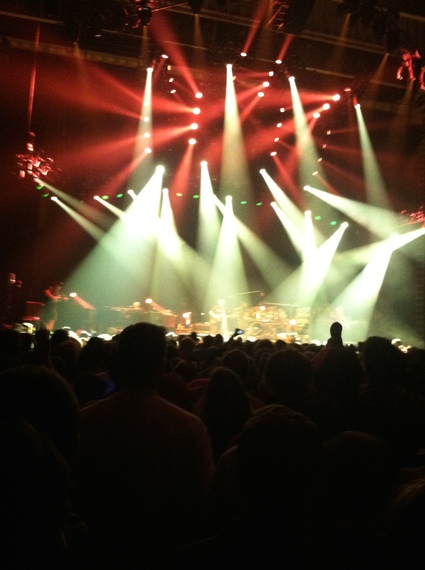 What DOES it for you? What is that thing that elates you, sets your soul on fire, allows you to feel vibrant, present, and alive?
Howard Thurman said: "Don't ask what the world needs. Ask what makes you come alive, and go do it. Because what the world needs is people who have come alive."
Cultivating, honoring, and connecting to those things that "make you come alive" will allow you to show up in this world as your most true and unique version of yourself. You will shine brighter as a teacher, light worker, parent, child, and person in general because you are regularly tapping into your unique experiences that make your soul sing.
Here, I'll share my own experience of how I rock out to realign with my soul and thus feel more connected, true, inspired, and on purpose.
In July of 1999, the summer of 11th grade, I was piled into a van with five of my best friends headed to Oswego, N.Y. Little did I know that I was embarking on an irreversible path of creativity, music, beauty, fun, light, and unequivocal soul connection.
I was headed to my first Phish show.
The entire experience was life-changing. I was blown away by the sense of community, connection, and of course the music. And thus began my 15-years-and-counting love affair.
For me, one of the many reasons I feel so connected to their music is the band's ability to take the fan on such a journey. A popular zen proverb, which is also paraphrased often by bassist Mike Gordon, is: "It's the space between the bars that holds the tigers and the silence between the notes that makes the music."
So many of their songs, jams, and grooves can veer off into the place of blissful chaos and out-of-control creativity. Sprinkled in are the seeds of the familiar, which often blossom to that epical crescendo that takes me to that place of light, beauty, connection and Home.
This journey spanning decades and close to 100 live Phish shows still has me in a place of an acute soul connection to the music, experience and community.
I have grown and evolved so much during this time as well, this past May I celebrated three years of sobriety, and now I get to experience the band in a whole new way.
Last Aug. 4, the final day of a three-day run in San Francisco at the Bill Grahm, I had an experience that I have had many times before. The second set was alive, and during the Bob Dylan cover of "Quinn the Eskimo," the music started to hit me particularly hard.
My toils and cares evaporated. My to-do list... gone. I danced harder. Then the friends I was with seemed to disappear. After that my own identity, occupation, name, and gender started to disintegrate as well. I was stripped down of everything and left with an acute sense of pure presence that can only be described as LOVE.
I am still riding that wave. It felt especially acute for the few moths following. I immediately felt a creative shift and increased inspiration. I was showing up as a more aligned and inspired yoga teacher, a more fun friend, and a more authentic member of my family. I felt like somehow it was universal conformation that I was on the right path.
I feel as though it is almost obligatory to go to shows as often as I can, so I can continue to show up as this most vibrant, glowing, radiant, and unique version of Carolyn.
When the band covers The Velvet Underground's song "Rock & Roll," keyboardist Page McConnell sings: "She started dancin' to that FINE FINE music, you know her life was saved by rock 'n' roll."
Ahhh... the sweet wound of words that absolutely reflect my truth.
I would love to hear from you. What is that thing for you? What does it? How do you plan to cultivate more of it?
I wish the beginning of your summer to be filled with your unique soul experiences that rock your socks off.
So much LOVE and authentic thrill,
Photo Credit: Carolyn Roney