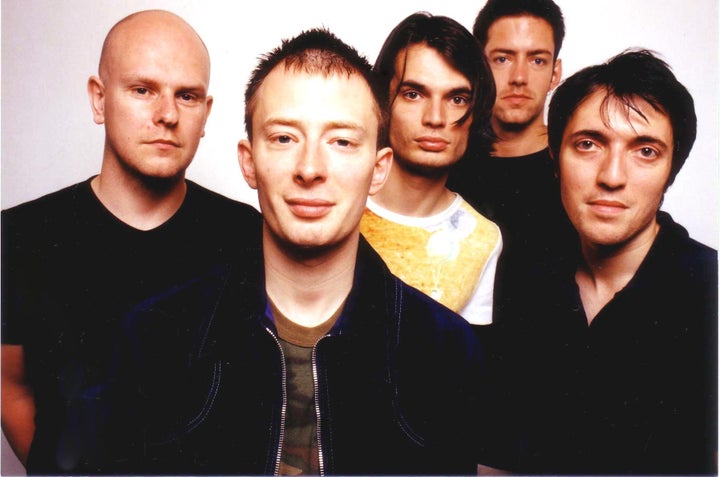 On Thursday, the Rock & Roll Hall of Fame announced the list of nominees for induction into the institution for 2018. Bon Jovi, Judas Priest and LL Cool J are among the acts up for consideration next year.
Radiohead made the list of 19 nominees in the band's first year of eligibility for inclusion into the Cleveland institution (to be considered, musicians "must have released its first single or album at least 25 years prior to the year of nomination," according to Hall of Fame's rules). However, it's a distinction they might not be too pleased about.
In June 2017, Rolling Stone published an interview with Radiohead where the band expressed extreme indifference to the idea of getting inducted into the Rock & Roll Hall of Fame.
"I don't care," lead guitarist and keyboardist Johnny Greenwood said. "Maybe it's a cultural thing that I really don't understand. I mean, from the outside it looks like ... it's quite a self-regarding profession anyway. And anything that heightens that just makes me feel even more uncomfortable."
Multiple band members doubted whether they'd even attend an induction ceremony. Bassist and Johnny's brother, Colin Greenwood, mused at the time that he might be the only one who would attend.
"It might be me just doing bass versions of everything like, 'Come on, you know this one!'" Greenwood told the outlet. "I'd have to play the bass part to 'Creep' five times."
Now, there's a decent chance you'll get to see Greenwood play that bizarre rendition of Radiohead's repertoire.
The other acts nominated for the first time are Kate Bush, Dire Straits, Eurythmics, Moody Blues, Judas Priest, Rage Against the Machine, Nina Simone and Sister Rosetta Tharpe.
Here is the full list of 2018 Rock & Roll Hall of Fame Nominees in alphabetical order:
Bon Jovi
Kate Bush
The Cars
Depeche Mode
Dire Straits
Eurythmics
J. Geils Band
Judas Priest
LL Cool J
MC5
The Meters
Moody Blues
Radiohead
Rage Against the Machine
Rufus featuring Chaka Khan
Nina Simone
Sister Rosetta Tharpe
Link Wray
The Zombies
Popular in the Community