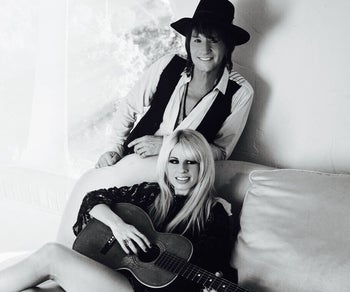 Richie Sambora has written some of the greatest rock and roll anthems of all time. As part of Bon Jovi, he has sold more than 130 million albums. Over three decades, whether we were "Livin' on a Prayer" or telling someone "You Give Love a Bad Name" or declaring "It's My Life," Sambora's songwriting kept the hits coming.
All of that changed in 2013 when Sambora walked away from Bon Jovi and the glaring lights of sold-out stadiums and arenas to hit the reset button on his life.
"When you're in such a big thing that's moving like a UFO across the planet for 30 years, you miss a lot of life. I've gained a lot of life now," says Sambora.
One of the gains in Sambora's life is his relationship with Australian-born guitarist Orianthi, whom he met in Maui while visiting his friend and fellow rocker Alice Cooper.
Orianthi was the first woman to ever play in Cooper's band. Sambora says he took one look at her and asked Cooper, "Who the hell is that?" That night on stage, Sambora and Orianthi jammed together on Bill Wither's classic song "Lean on Me." He did. And their story began.
While Orianthi might not be a household name in the U.S., she is hailed by music's toughest critics as a "guitar goddess." She's also known as a music industry maverick having played with Carrie Underwood, Prince and Michael Jackson to name a few. In 2012, her song "According to You" became a platinum-selling single around the world.
Last month, Sambora and Orianthi released a new five-track EP titled Rise under their acronym RSO. Rise is only a small sampling of their labor of love. According to Sambora, there are four more EPs coming. The music on Rise explores Sambora and Orianthi's relationship through various genres.
"It's been a lot of ups and downs and a lot of work. I'm so happy I've met Richie, and we've made this beautiful music together," Orianthi says.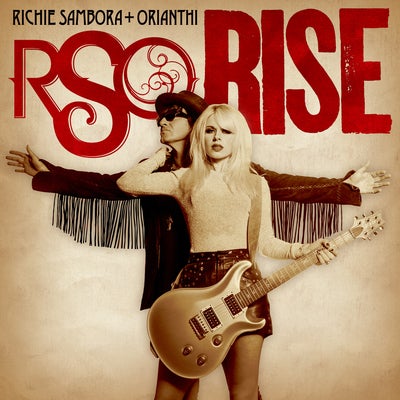 Sambora says their new songs on Rise are an exploration of what he and Orianthi have gone through as a couple. Nearly all of the songs on the EP were among the first 10 songs Sambora and Orianthi wrote together. Sambora says the songs show the embryonic stage of their partnership.
"Part of that is because we started to record in our own house and work hard in our kitchen," Sambora says. "It's a daily music conversation and then our regular human to human conversation. There are always songs that come out of that."
One song is a delicate melody called "Truth." Throughout the song, Sambora and Orianthi sing the song in unison, displaying the bond they share for music and each other.
"We tried to describe the moment when you're really falling in love," Sambora says. "Your vulnerability just drops. When you find true love, you can't even kiss it away."
Sambora is also touching lives beyond his music. Earlier this year, he launched CSNAPS, an app that monetizes shared images and personal stories to raise funds for charities. By sharing in something together, fans can take pictures, Fan CSNAPS, with celebrities while making a donation to registered charities.
"The opportunity to give is probably the most extraordinary thing you can do," Sambora says. "I've been so lucky. I would find it hard not to give back. When it comes to children, I've got to say 'yes.' When it comes to cancer, I've got to say 'yes.' When it comes to the troops, I've got to say 'yes.'"
It's hard to imagine the musician who circles the globe performing to tens of thousands of fans found himself – and the great love of his life – while sitting around the kitchen table exploring his own heart.
"Rise" is available today. Follow Orianthi and Richie Sambora on Twitter: @orianthi and @TheRealSambora. For more on CSNAPS, visit https://csnaps.org/
Calling all HuffPost superfans!
Sign up for membership to become a founding member and help shape HuffPost's next chapter