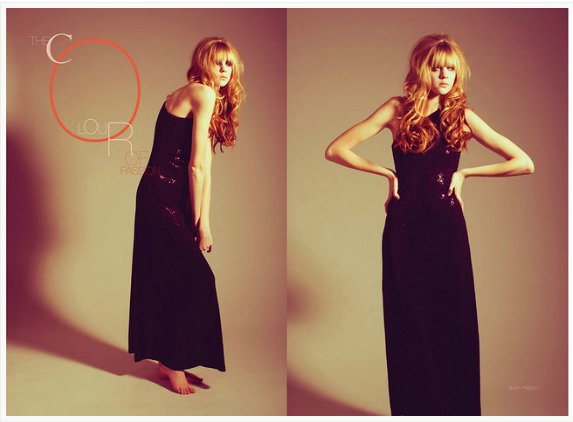 Growing up as a natural redhead, it was always a nightmare shopping for prom and graduation because not many knew how to cater to my redhead needs. I commonly heard from sales clerks, "You should stick to brown and copper clothing because it will compliment your [pale] skin."
After hours of fumbling through choices at department stores, I would sluggishly look in the mirror in the dressing room, disappointed in the so-called "dresses that complimented my skin." My biggest mistake was listening to the sales clerk and not myself. I wanted to express myself! I wanted to rock it like a redhead -- and boring, plain tones was not the way to do so.
Looking back on my past fashion choices (proms, weddings, special events), there was not one dress that fit my fun, vibrant personality. Instead of making my red hair stand out by rocking deep greens and bright reds, I chose boring earth-toned colors that made me blend in with the rest of crowd.
And who would ever want to blend in with the rest of the world?
We redheads were put on this Earth for a very special reason -- to be different, unique and let our red hair shine. Those horrible days of bad fashion choices are over for me ... and if you have/had this issue, you too!
I now have the self-confidence to rock whatever color -- black, red, pinks, oranges, greens (and more) -- I want, while always keeping in mind some tips and tricks to enhance my red hues.
Do you have an important occasion coming up and not sure what fashion piece will compliment you and your red hair? Here are my top five tips to keep in mind:
1. Have fun with colors. Play around with cobalt blues, deep purples, reds and emerald greens. Depending on what shade of red you have, choose a color and that flatters your skin and hair at the same time.
2. Exude confidence. You never want to buy a dress that you don't feel 110% confident wearing. If you can picture yourself rocking it on stage in front of thousands, you can rock it at your event!
3. Play around with textures and different styles. Your dress doesn't have to be a solid two-strapped dress. Some of my favorites are sequins, high collar, strapless and python print. Remember, your choices are endless!
4. Work with the length. My two favorite choices this season are elegantly long and mid-length.
5. Accessorize the right way. Your main accessory is your hair. Make sure to opt for the right makeup (light dress=darker makeup; darker dress=you can get away with light toned makeup). Also, choose the right hairstyle. If your dress is high at the neckline, wear your hair in an updo. If you're opting for an open back dress, wear your hair down with lots of curls or off to the side in a subtle ponytail.
Fashionably rock it -- redhead style!

Image courtesy of How to be a Redhead! Photo by Kara Kochalko.
Related