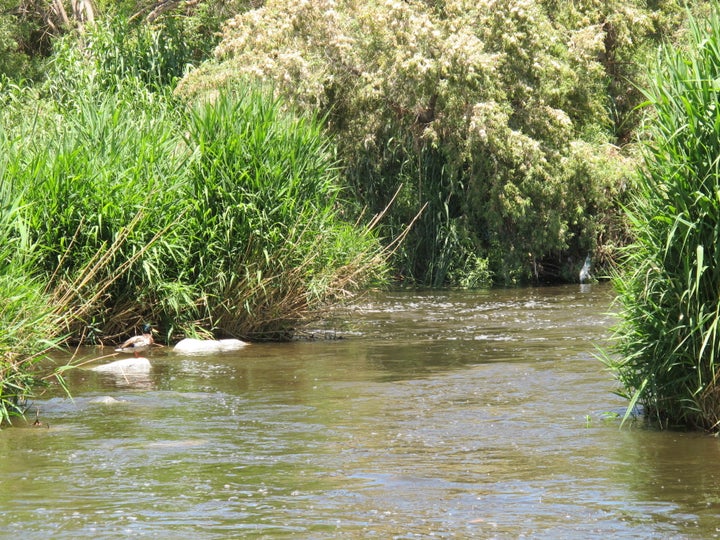 The Los Angeles River may be most famous as a film set for chases down its concrete path in The Terminator, but there is a new film in the works that actually stars the Los Angeles River. Like The Terminator, Rock the Boat, features plenty of action, including a helicopter chase. Rock the Boat is a documentary about a small band of environmental activists who decide to challenge the system and navigate the Los Angeles River, despite the Army Corps of Engineers' determination that the river was "unnavigable," and despite police warnings to stay out. Their trip and the resulting federal designation of the L.A. River and its tributaries as navigable, and thus protected by the Clean Water Act, is thrilling to watch and real documented proof that each one of us can indeed change the world.
George Wolfe, Writer/Editor

What inspired you to organize a kayaking trip down the L.A. River?

About six years ago, I met Jenny Price at a writers' event and I was curious to go on her L.A. River walking tour. On her tour, I realized that a person could actually boat the fabled L.A. River. I found another insane boater (Marcus Ericksen, of the Algalita Marine Research Foundation) who was eager to explore the river. We twisted the arms of two buddies to join us. We got about halfway down before the police arrived and told us to get out. Later, Jeffrey Tipton decided to do a tongue-in-cheek short film about a man who gets so fed up with traffic on his way to work that he takes to the river in a kayak and business suit. After Jeff put George's River Commute on Youtube , it was fun to witness Angelenos trying to wrap their brains around the concept of boating on a river that they hadn't acknowledged as really existing in the first place (some suspected that parts must've been created with special effects or shot at another location -- one with actual water). We decided that the next illogical step for our wacky business was to lead a trip down the whole river. In the midst of planning that, we started getting strange calls at odd hours from a woman who claimed to be a disgruntled biologist from the Army Corps of Engineers. We were convinced she was a mole sent to disrupt our plans. As it turned out, she was a disgruntled biologist from the Army Corps of Engineers. This was whistleblower Heather Wiley, who had spotted the YouTube short and saw the potential of proving the river to be "navigable" so that it might be legally protected. She inquired if we knew of other such boaters. So we started gathering them and taking our trip plans more seriously. When the Los Angeles Times, KCRW ("This Way L.A.") and other media tuned into the brewing controversy with the Army Corps, there was no turning back -- despite getting brushed off by L.A. County and the Army Corps when we tried to get actual permits.

How did you organize the L.A. River Expedition?

With great difficulty. It took two months of increasingly time-sucking logistics: meetings, getting boats & gear, spending money, sorting through the legalities, and keeping the fledgling group together despite everyone having misgivings about getting into trouble. Of course, my wife and her new business partner thought all of this would make wonderful fodder for a 5 or 10 minute film that would likely climax with Jeff and me sitting in a county jail handcuffed to a couple of kayaks (or beefy guys).

What did you discover when you made your 51 mile journey down the river?

Our eyes were opened to the gamut of the life on this peculiar urban river: plant, animal & human wildlife -- you name it and you can probably find it there. It's surreal.

Surprises?

The film shows many of them, including our inevitable encounter with LAPD and the tirades of local Atwater Village character, Duckman.

Most shocking sight?

The elaborate homeless encampments on some of the islands in Glendale Narrows / Elysian Valley stretch... a 300-lb. naked woman bathing in the river... a foot-long carp [fish], that was docile enough to allow me to just pick it up... a pelican with a big ol' fishing tackle stuck in his beak like some sort of punk-wildlife creature... -- you know, your typical L.A. stuff.

How did your trip influence policy and legislation?

Doing the trip was one thing, but we also extensively documented the experience in a 30-page report that we submitted to the EPA (after it took over the case of the LA River from the Army Corps of Engineers in Aug., 2008). Two years later, the EPA declared it a river protected under the Clean Water Act (i.e., protecting the water & the watershed). When the EPA published their report, we were surprised that we appeared to be integral to their argument to declare the whole river, essentially, a "real river."

How has media helped in bringing attention to your cause?

The media has, all along, given us wonderful support and has, generally, been pro-river. The media is very important, as they're key to changing hearts & minds re: perceptions about what the river could be for our city. After the EPA decision in July 2010, I organized a trip w/ an LA Times crew, after which I got hundreds of requests to take people on the river. Now it's closer to 1,000. People are chomping at the bit to get access to this [semi-]natural resource in the heart of L.A.

What are your plans for the future concerning the LA River?

Through L.A. River Expeditions (the organization I founded after our 2008 trip), I'm now working with some local non-profits and city, county and Army Corps departments to get a pilot, non-motorized boating program going this summer. It'll be for the regular public (& city visitors) to be able to enjoy guided, safe trips down select stretches of the river. It's less about activism and more about coming to the table and working through obstacles together so that everyone can benefit.

What's it like to work with your wife making Rock the Boat?

It's really her baby. I'm just the "talent."

First film together?

Yes.

Will you do it again?

I doubt it -- I think she's disappointed that, in all this, I haven't managed to get arrested.
Thea Mercouffer, Filmmaker
When did the idea for a documentary about the L.A. River occur to you?

I never sat down and decided to make a doc about the LA River. I didn't even know LA had
a river. Then, in the summer of 2008 there was this big controversy about navigability, and my husband, George, began organizing an illicit expedition down the entire length of the river to prove its navigability with a bunch of kayaks and canoes. I thought for sure he'd get arrested, and that would make for really good footage. So we started shooting the expedition, and our crew was prepared for any police confrontation. After that, we went around asking others about the river, and what the fuss was all about. And the more we filmed on it, and the more we talked to people, the more involved our questions became. Some subjects have a way of drawing you in and not letting go until you tell their story right. The LA River is finally drawing a lot of people in to tell its story.

Does George take direction?

George only follows his own direction.

What have been the biggest challenges? Biggest surprises?

The biggest challenge has been fundraising. We've had no trouble finding editors and musicians and animators working for us for free, compelled by the story and the mission of the film. But we've had a harder time convincing corporations and grant-makers to become involved. We've raised much of our budget from enthusiastic individuals at house parties and events around town and that's been an exciting, gratifying process.

The biggest surprise was when the EPA Administrator came to LA and announced that our river was indeed navigable and therefore deserving of protection under the Clean Water Act. It was really exciting to find that the kayakers' 30-page report plus our footage and photos proved to be the tipping point in the navigability debate.


Where are you now in terms of completion of the film?

So close! We are at the stage where we need some serious time in a post-production studio. I'm also looking for a talented animator to create a lively, funny map of the LA River and the region, so we can orient people on where the boaters are at different moments in the film. Additionally, we need to acquire music and archival footage rights. So now we're looking for finishing funds to make all the tweaks that will result in a polished, effective, and entertaining film. We have a non-profit fiscal sponsor, which allows all contributions to be tax-deductible.

What innovative means have you used to raise funds to make you film?

We're selling LA River water, bottled at the source. Turns out to be a great novelty item. Just don't drink it.

What are your aspirations for the film? Who is your target audience? How will you approach distribution?

I believe Rock the Boat will be a great megaphone for the countless activists, visionaries and organizations who've been working tirelessly for decades to restore the image of the LA River. The film presents numerous solutions and ideas about how individuals, neighbors, businesses and institutions can brighten and broaden their immediate and long-term relationship to the environment.
Our major goal is to move people to action whether they live in LA or elsewhere. Every community has environmental conflicts that can be addressed at the grassroots level.

We are working with Film Collaborative and developing an extensive marketing and publicity strategy. We'll distribute the film everywhere from foreign film festivals to cable television to projecting the film on a warehouse wall in Compton. Our 10-minute film, "Heather and Goliath", cut from early river footage won Grand Prize at the Lagos Environmental Film Festival. It has been making the international festival circuit ever since.

The most exciting part of our distribution plan is the shorter version we'll cut for middle and high-schoolers. It will focus on the kayak expedition and how rivers work and why they are essential to human survival.

Can a documentary film make a real impact on culture?

A good documentary triggers all kinds of debate and conversation that can inspire tiny as well as major actions by those who see it. We've found in showing clips of "Rock the Boat: There's a River in LA!" that people are engaged and curious and entertained (yes, really!) and want
to know what they can do about the river and about our water supply.

For more information and to make a tax-deductable contribution please visit www.rocktheboatfilm.com.
Support HuffPost
The Stakes Have Never Been Higher
Related
Popular in the Community