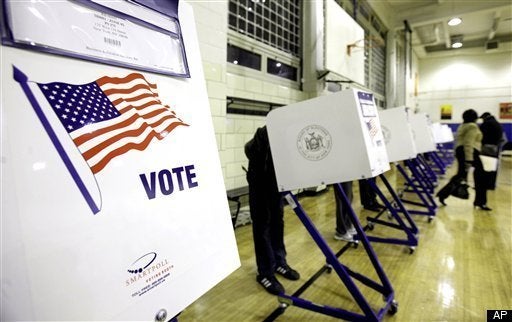 I never imagined myself on the same teams as a Major League soccer player, but last week I teamed up with Chivas soccer pro Jimmy Conrad to tackle an important issue together -- teaching high school students about the importance of exercising their right to vote.
We went to Academia Avance High School in Los Angeles to teach Rock the Vote's Democracy Class. It's a one-class-period program that uses pop culture, video, a classroom discussion, and a mock election to teach young people how to get registered, participate in elections and pay attention to the issues that impact them.
It was exciting for us to see that the kids were eager to get involved. I even had the chance to register with them myself, since I've got a new address now that I'm with the Buffalo Bills.
I can't emphasize enough the importance of teaching young people about their right to vote, and Rock the Vote is a great campaign to be a part of to get this message across. A new study from the National Assessment of Educational Progress indicates that about one-third of our nation's 12th graders did not learn about elections and voting in 2010. We've got to change that and make sure young people know their rights and have their voices heard.
The class Jimmy and I taught was part of a larger national outreach effort. Democracy Class has been taught in more than 1,100 schools this spring in all 50 states, with stars like my NFL colleague, Vikings wide receiver Bernard Berrian, Glee's Darren Criss, The New Boyz, Kat Graham, Jermaine Dupri and others heading to schools in cities around the country from Detroit to Atlanta to raise awareness for high school civics.
I'm proud to be a part of this effort. (And also proud that I arm-wrestled Jimmy to the ground. Don't mess with Lights Out, buddy.)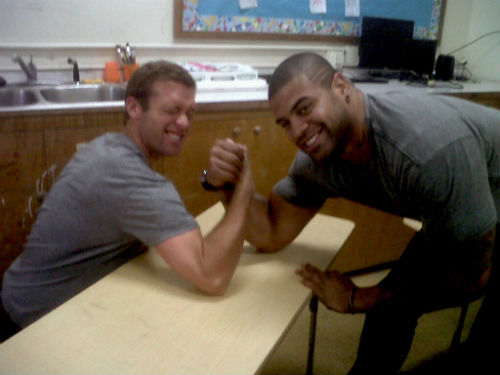 Popular in the Community