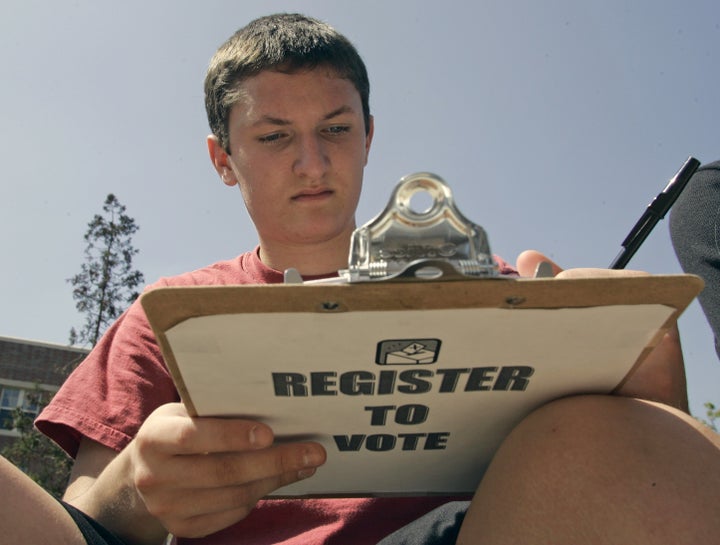 Young Republicans are more energized about upcoming elections and more likely to show up on Election Day than their Democratic counterparts, according to a Rock the Vote poll released Wednesday afternoon.
The GOP enjoys a nine-point enthusiasm advantage over Democrats: 60 percent of young Republicans indicated they are very likely to vote, as compared to 51 percent of young Democrats. They also have a five-point interest advantage -- 20 percent to 15 percent -- among young voters who say they are paying a lot of attention to the election.
With all their "insurgent" candidates, Republicans should be able to turn these findings to their advantage, GOP pollster Brian Nienaber said.
Seeking to gauge youth interest in the November elections, Rock the Vote worked in conjunction with Republican Tarrance Group, where Nienaber is a vice president, and the Democratic firm Anzalone Liszt Research to poll 1,000 18- to 29-year-olds nationwide.
"These are voters similar to people in other age cohorts who are frustrated with the status quo, and we've got a real opportunity to reach out to them with something different," Nienaber said.
The poll also looked at young voters' attitudes toward national leaders, as well as their positions on issues likely to be central to the 2010 midterm election cycle, such as deficit spending and unemployment.
John Anzalone of Anzalone Liszt Research cautioned that Democrats must not take the youth vote for granted. "It's not enough to have a website or do some social media on Facebook," Anzalone told reporters on a conference call Wednesday. "You have to have a strategic plan, and it's expensive. It wasn't just that Obama was a hip candidate -- they spent a tremendous about of money..."
Though Obama no longer enjoys the rock-star status he had in 2008, he remains relatively popular among young voters. Fifty-six percent polled view the President favorably, and half said they would be more likely to support a candidate given his endorsement. Only 26 percent of respondents said the same about Sarah Palin.
Top issues for young people included unemployment and the national debt, at 96 percent and 93 percent respectively. Eighty-six percent said they were concerned about the influence of special interests on politics.
Anzalone said he was surprised the national debt was so high on the list. He theorized that young voters are responding to Republican suggestions that their generation will have to pay for deficit spending.
"Across the board, despite the cynicism, [young people] do still have a strong desire to make change and are paying close attention," Rock the Vote President Heather Smith said.
The statistics back Smith's statement. While nearly 60 percent say they're more cynical about politics than they were two years ago, their spirit is not broken yet. A full 77 percent of young voters stated they were "somewhat likely" to vote, and 83 percent reported believing they have the power to change things in this country.
Still, Rock the Vote will have its work cut out this fall. In an interview Tuesday night, Rock the Vote Field Director Eric Zoberman told the Huffington Post that 9 million voters who were too young to vote in 2008 are now eligible, and one-third of voters under age 30 have moved since 2008 and need to be registered again.
"We'll go out and do our piece in educating and turning them out," said Smith, "but it's also up to the parties and the candidates."
Calling all HuffPost superfans!
Sign up for membership to become a founding member and help shape HuffPost's next chapter