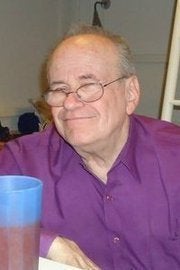 When the water came, everything went calm.
For hours, giant waves crashed against Rockaway Beach, making a tremendous roar that could be heard up and down the 11-mile peninsula. "We kept constant watch on the boardwalk," said Diane Hudson, who lives on a high floor in a building about a half block from the Atlantic Ocean. "There was no water on it, so we thought we were OK."
Then she got a call from her boss, and close friend, David Gotthelf, who had just moved into a ground-floor apartment about a mile and a half away, on Beach 115th Street.
"The water is coming in," Hudson said Gotthelf told her. "What do I do? What do I do?"
Hudson looked out the window. In a matter of just a few minutes, the dark ocean had filled the parking lot. The boardwalk was gone. "Just get up on a high place," she said she told her friend. "Get on your bed."
That was the last time anyone talked to Gotthelf, who died Monday night or Tuesday morning, as far as Hudson knows. Gotthelf was 73, a widower without children or close family. He had cerebral palsy, and in recent years found it hard to get around on his two canes. Increasingly reliant on a wheelchair, Gotthelf probably was not strong enough to pull himself to an area higher than his bed -- such as the kitchen countertop -- when the storm water came, Hudson speculated.
No one really knows for sure what happened in those last final minutes, she said. "I just want everyone to know what a wonderful man he was," Hudson said. "He was kind and generous. Despite his disability, he would do anything for anybody. He didn't let you feel sorry for him."
The death toll from the storm in New York as of Saturday had reached 40, including at least four people in the Rockaways, according to news reports and the New York Police Department. It's not clear whether Gotthelf is included in that count. The New York Fire Department received a call about an elderly disabled man at his address in distress Monday night, according to a spokesman. But the spokesman had no additional information. The Office of the Chief Medical Examiner confirmed that Gotthelf died in a drowning accident.
Though the Manhattan skyline is clearly visible from the backside of the Rockaway Peninsula, this neighborhood is a world apart -- a mostly poor and working-class beach community of two-family homes and a sprinkling of high-rise buildings, including a large public housing project. During the height of the storm, as much as 4 feet of flood water invaded from the bay and the ocean, swamping basements, homes and cars.
There is no way to tell how many evacuated in advance of the storm, but most residents interviewed over the past week -- people now getting by without electricity, heat, and in some cases, enough food or blankets -- said they stayed, even though they knew the storm was coming.
On Friday and Saturday, residents of the stricken neighborhood were unable to give a concise answer about why they ignored the mandatory evacuation order, though there was one constant: They didn't think it was going to be this bad.
"I've lived here 40 years, and none of us ever expected to see anything like this," said Lou Daniels, Hudson's father, who was wandering down Rockaway Beach Boulevard Friday afternoon carrying a large yellow flashlight.
Daniels was headed south to see what was left of a strip of businesses and homes that burned down during the peak of the storm, about a mile away. Both of his cars were trashed. One had a piece of the boardwalk on top of it.
Some locals said they took their cues from the city itself, which didn't evacuate more than a dozen nursing homes on the peninsula, even though many are on the beach directly facing the ocean.
"I guess we were all jerks," said Diane Castiglone, who lives half a block from Park Nursing Home in a two-story home with a flooded-out basement. "But when the city didn't come for the patients, I figured it must not be too bad."
Castiglone's home is just a few doors down from the fire that raged out of control on Monday night. "I'm worried they are going to find bodies in there," she said, pointing to the charred remains of ramshackle bungalows where many Spanish-speaking immigrants lived.
Lisa Fortuna lives in a condo building, on a floor well above the surging water. Her answer was typical: She figured, correctly, that she was high enough up to avoid flooding. She didn't want to go to a crowded shelter, where there is no privacy and no water for bathing, she said. She realizes now that she is fortunate that the fire didn't spread in the whipping winds across the peninsula. "We were lucky," she said.
Others were not. Hudson's boyfriend, Jose Alonso, rushed downstairs to get his car so he could drive over to Gotthelf's apartment. It was too late. Cars in the parking lot were already floating.
Upstairs, Hudson and friends in Brooklyn made desperate calls -- to 911, to local fire stations, to the landlord who owned Gotthelf's building. But the emergency response system was overwhelmed. "I would get put on hold, then disconnected," she recalled. "I would call again and have to start from scratch. My friends were doing the same."
The next morning, Alonso told Hudson to wait outside while he went into Gotthelf's apartment. A giant hole had been punched in the kitchen wall, likely from the force of water built up in the garage on the other side, which is a little lower. He found the body in the bedroom.
"I wish we had made him come stay with us," Hudson said. But the same independent streak that caused him to ignore offers of help with his disability had proved fatal.
Hudson has had a few days to reflect. "I know everyone thinks we were crazy not to leave," she said. "But there is a big difference from being in a place, and watching what was happening, and hearing it on the news."
She left for Hurricane Irene to stay with friends in Ulster County, N.Y., a Catskills region that was actually hit harder by the storm than the city. That played into her decision, and she said she also didn't know that there were evacuation busses lined up to take people to shelters. She didn't hear anything from official sources other than what she heard on TV.
Now, she understands that it was a mistake, one she can't take back. The day after the storm, she found a black hobby horse. For the first time during several interviews, she began to cry.
"I dug it out of the mud," she said. "I held it all day. People don't understand the destruction here."
*************************
The Huffington Post is eager for insights from our community, especially people with experience in power, infrastructure and engineering, on the adequacy of emergency preparation in advance of Hurricane Sandy, and the degree to which past disasters have informed adequate planning and construction. Please send a note to sandytips@huffingtonpost.com with insights and suggestions for the important questions that need to be asked of relevant private sector and government officials, and point us toward stories that need to be pursued.
Popular in the Community