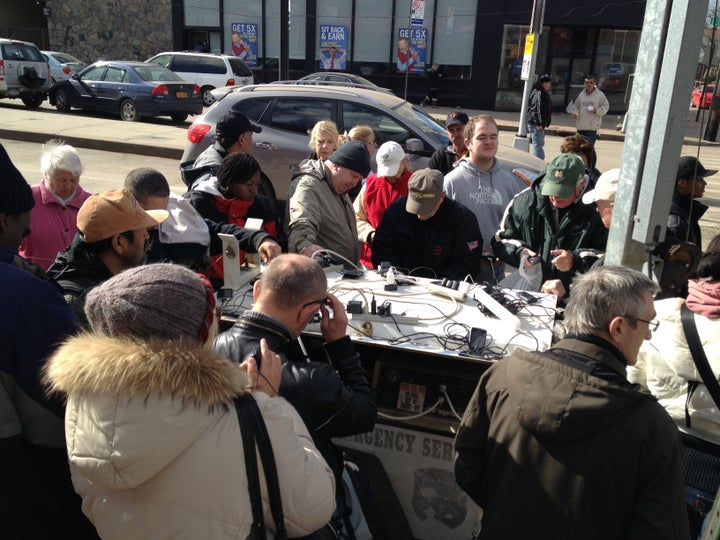 ROCKAWAY, N.Y. -- On Thursday afternoon, firemen set up a few grills near an intersection here and cooked burgers for hungry residents in this beach community devastated by Hurricane Sandy.
On Friday afternoon, the grills were gone. The firemen were now training a hose on a row of businesses and homes around the corner that had burned down at the height of the storm. The only lunch option for those in need was a small pile of packaged goods dumped in a unappetizing heap on the dirty ground near a crowded mobile phone charging station set up by police. The nearest hot meal was more than a mile away, past the smoldering ruins, at an intersection where Ajay Singh and three other Sikh men from Queens had come of their own initiative to dole out steaming bowls of rice and beans and toasted bread made in their church kitchen.
"We have no electricity, no water and some of us don't have enough food," said Melissa Lopez, who was waiting with more than a dozen others for her phone to charge. "When are we going to get help?"
Four days since as much as four feet of stormwater from the ocean and Jamaica Bay on the other side flooded into this poor and working-class neighborhood on the outskirts of New York, residents say the community response -- neighbors helping neighbors, outside groups from elsewhere in the city showing up to lend a hand -- has been terrific.
The official response from state and federal authorities, they say, is another story.
Laura O'Connor lives on Beach 93rd Street, a few blocks from where the Sikh men were feeding residents. "We're being ignored down here," she said, after hitching a ride in a reporter's car to go help friends clean out their home 30 blocks away. "Where can our people get food?"
The New York Office of Emergency Management, which coordinates relief operations, did not respond to a request for comment.
Authorities here are dealing with many challenges at once -- restoring power, maintaining public safety, plowing sand out of the roads and removing downed trees, to name a few. And there are some signs of improvement. Water distribution is better, residents say, and on Friday afternoon, the National Guard began distributing Meals Ready to Eat at three locations in the Rockaways.
But the response, people here say, has been slow and is insufficient to meet the need. The food stations are a long walk away for many people whose cars were destroyed by the storm, and many residents said they hadn't heard about them.
Phillip Goldfelder represents the district that includes the Rockaways in the New York State Assembly. "I get that it is tough to coordinate the cleanup, but it is not tough to coordinate bringing in food," he said. "We are not asking for anything complicated. We are begging for food, begging for blankets."
Many residents have left to stay with family or friends. Some are in a city shelter. But many of those who remain said they are determined to stick it out. A cot in a gym is an unappealing option, and they are afraid of what will happen if they leave, they said.
"If everyone went to a shelter, what would be left here when we got back?" asked Diane Castiglone, who has lived in the neighborhood for 23 years. "There's no one around at night."
Jerry, who didn't give his last name and lives in an apartment next door to Castiglone, said he had used tap water to boil some hot dogs that had been in his freezer the night before, and this morning he had been sick. "You used the water?" Castiglone asked, incredulously. "Don't do that."
The previous few nights in New York have been quite cold, and temperatures are expected to plunge into the 30s over the weekend.
"I slept under a pile of blankets and coats last night," said Ray Velez, who lives on Beach 115th Street across from the burned-out section of stores and homes. At the height of the storm, as water flooded the peninsula, Velez was rescued from his home by firefighters in a boat as high winds whipped the flames around. Like other residents, he said he was grateful for the efforts of first responders, but surprised that priority hadn't been given to food and clothing aid.
One block from Velez and the burned businesses, 182 residents and dozens of staffers of Park Nursing Home were getting through another day.
The lobby of the building is a sodden, sandy mess, flooded by several feet of ocean water. So are a few dozen rooms and offices on the ground level.
Patrick Russell, the manager, said that the Office of Emergency Management did not try to move residents out of the nursing home before the storm. As The Huffington Post previously reported, the office did not evacuate any of the multiple nursing homes in the Rockaways ahead of the storm, even though the entire peninsula was in a mandatory evacuation zone.
But the facility in many ways is fortunate: The kitchen, though also on the ground floor, is on the uphill side of the building, and was spared from the flooding. So was the generator. There is plenty of food and heat, though hallways are dark and elevators aren't running. After the storm, his staff delivered 200 cream cheese and jelly sandwiches to the residents of another nursing home across the street, which had lost all power and were evacuated later that day.
Back up the block, near the business district, about 30 people were lined up to wait for the cross-bay bus to take them to Brooklyn. One of them, Anthony, who declined to give his last name, was carrying a blue suitcase. Anthony had survived four cold and hungry days in his apartment at the end of his block, he said, near the memorial to American Airlines Flight 587, which crashed here 11 years ago, killing 260 passengers and crew and five people on the ground. He was leaving to stay with friends in New Jersey. He'd had enough.
"This is some hard living right now," he said.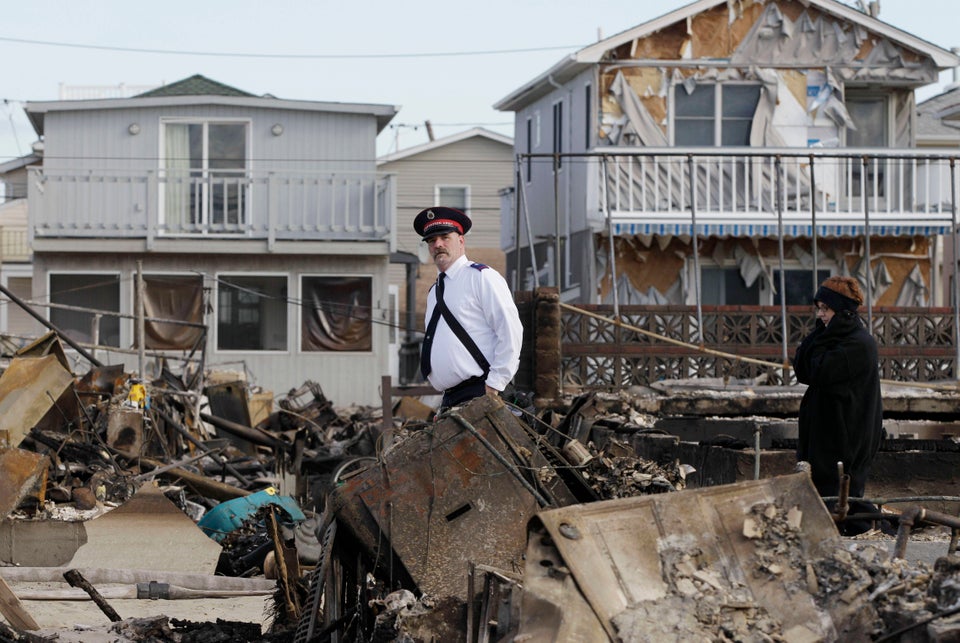 Hurricane Sandy
Popular in the Community