Rockdrive began four years ago with the vision of creating a philanthropic concert series that was a bit different. Unlike the highly publicized, how-big-can-we-go charity concerts that we're used to hearing about every so often, typically benefitting communities that are continents away or noble, but intangibly long-term issues like global warming, Rockdrive began with the simple wish to use the power of music to give where you live -- looking at needs within local communities and focusing efforts there.
Born out of a humble toy drive I ran during one of my shows in December of 2008, just one year later, Rockdrive '09 was held at LA's iconic Hotel Cafe with a roster featuring some of the biggest artists in the country -- including Bruno Mars, Andy Grammer and more. Our sold-out event raised money to benefit the LA Unified School District -- specifically through organizations including Communities in Schools and The Story Project. In 2010, Rockdrive was brought to LA's Troubadour, again with a staggering roster of musical talent, and again, completely sold-out, benefitting the same charities.
In 2011, I had a vision of Rockdrive becoming the world's first fully-collaborative charity concert series: A self-sustaining movement that empowers and encourages fans to throw Rockdrives anytime, anywhere in the world and for any cause. This vision came to life with Rockdrive Miami, benefitting Techo, and Rockdrive Nashville, benefitting the Nashville Rescue Mission -- literally changing the world, one stage at a time.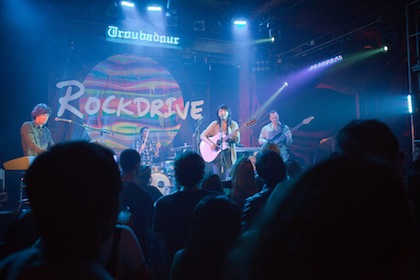 This year, Rockdrive is happening once again at Hotel Cafe, my favorite venue in Los Angeles, with an entire nights' lineup of amazing music. Cary Brothers, Meiko, Joe Purdy and many more will grace the stage, along with some very special friends jumping in for surprise performances. It will not be a night to miss. The event is on December 2, and proceeds will benefit the American Red Cross' Hurricane Sandy relief efforts. Tickets are available now, but act quick as the event will quickly sell out!
To get involved with Rockdrive, purchase tickets for the LA event, host your own, or just to get in touch, visit Rockdrive.org. Help us change the world, one stage at a time!
Calling all HuffPost superfans!
Sign up for membership to become a founding member and help shape HuffPost's next chapter