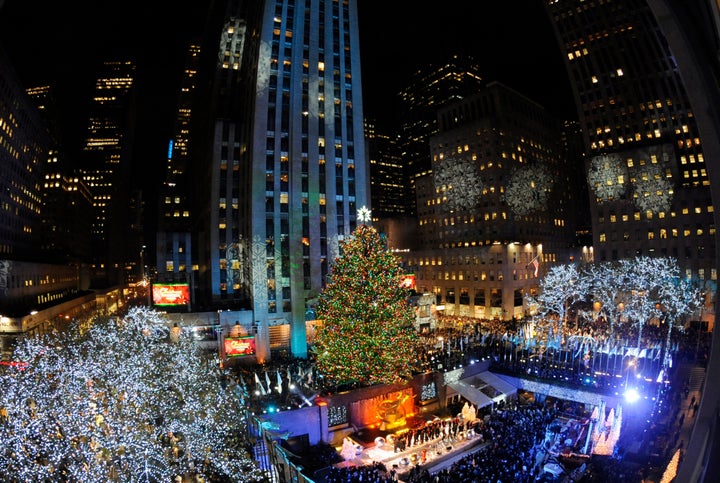 This year's Christmas tree at Rockefeller Center is 75 years old, 74' tall and weighs 10 tons. The lighting ceremony was watched by millions of people, and it is estimated that 750,000 people will visit the tree every day. To make the process more "green," the tree was cut down using a hand saw, and lit with 30,000 energy efficient LED lights which reduce energy use. When the holiday is over, the trunk will be milled and the lumber donated to Habitat For Humanity; the leaves and branches will be turned to mulch, to be used by the Parks Department.
While adults know there is no Santa Claus, they are less knowledgeable about the difference between green practices and green washing -- the act of saying something is green, instead of it actually being green.
There is nothing green about taking helicopter flights over the NY, CT, VT, and NH to locate a perfect tree. There is nothing green about trucking a tree into Manhattan even if it was cut down by a hand saw. There is nothing green about using 1,297 kilowatts-a-day to light up a tree even if the lights are LEDs. The only thing green on this tree are the pine needles, which are about to be turned into mulch.
It is irresponsible for the management of Rockefeller Center to discuss greening of the tree, with inaccurate claims about green practices, this comes off as faux-responsible environmental stewardship from smart sophisticated people who know better.
The tree at Rockefeller Center is not like the trees that are sold on every street corner in Manhattan and used to decorate New Yorkers' apartments. Those trees are farmed, and in many ways are more like a harvestable crop than a 75-year-old member of the same genus. These smaller farmed trees are fragrant, have the ability to transform space, and announce the presence of the holidays.
The Rockefeller tree represents something completely different. The tree is a tree, but the tree is also a symbol and symbols have meanings.
So lets talk about that meaning. This tradition was born in era of unthoughtful resource exploitation. As society progresses, certain societal traditions no longer reflect the values of our society. Cutting down a 75-year-old perfect specimen of a Norway Spruce tree and trucking it to NYC to put it on display with five miles of wires and lights, for a couple of weeks, before turning it into framing lumber and mulch, is such a tradition.
To their credit, people involved in this outdated practice, are thinking about this. This is why the tree is now lit with energy efficient LED lights. But doesn't this seem like avoiding an elephant in a room? If they are truly concerned about the environmental, and the impact of their actions they need to ask if this wonderful, and beloved 80-year urban tradition is still relevant?
The obvious answer is no. So what do we do? We can either stop it, or evolve it to reflect current values and thinking about best sustainable practices.
Here is one possible solution. Perhaps a permanent tree could be planted at Rockefeller Center and decorated every year. The story of decorating a living a tree instead of killing one can be a new tradition and symbol for our times. This seems like a more meaningful message to pass on to the kids doesn't it?

Popular in the Community