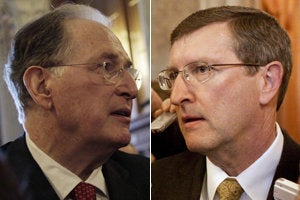 It's a Congressional paradox: The closer negotiators get to a deal, the rougher and more personal the rhetoric becomes. By that measure, Senate Democrats are getting awfully close to some type of health care agreement.
On Monday, Sen. Jay Rockefeller called into question whether his colleague Kent Conrad has the best interest of the nation at heart, charging that for the North Dakota Democrat, "it's always about North Dakota and it's never about any other part of the country."
Earlier in the day, Conrad had said that when it comes to a plan allowing people younger than 65 to buy in to Medicare, he has "many of the same problems I had with previous variations of the public option, which is that then ties you to Medicare levels of reimbursement for a whole new population. For states like mine, that's a big problem."
Rockefeller is leading the push for opening Medicare. When HuffPost told him of Conrad's objections, the West Virginia Democrat let loose.
"That's fine," said Rockefeller. "He probably ties it to everything he talks about. I mean, I'm really very tired of hearing about that from him. And it's always about North Dakota and it's never about any other part of the country. And I thought that, you know, that's what we were trying to do, we were trying to do the best thing for the country."
The Medicare buy-in for those above 50 or 55 is emerging as a real possibility in negotiations between liberal and conservative Democratic senators. Rockefeller added that some hospitals in his home state of West Virginia wouldn't do as well under Medicare-reimbursement rates, but that it was the right thing to do for the country, for patients and for the federal deficit, as the rate structure saves the government money.
Conrad and Sen. Max Baucus (D-Mont.) teamed up in the Senate Finance Committee to decouple the public plan from Medicare rates.
That still rankles Rockefeller. "It's not very popular because it contains costs, oddly enough," he said. "They're wrong. They're really wrong."
Popular in the Community