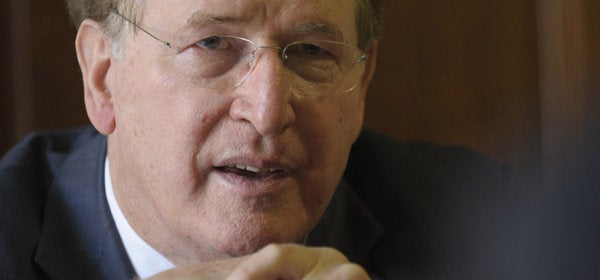 Three Republicans dragging out health care negotiations in the Senate Finance Committee probably won't vote for the compromise bill anyway, a key committee Democrat said Wednesday.
Senate efforts at reform will remain paralyzed during the August recess, with three committee senators from each party still hashing out a deal. Repeated delays have left Democrats grumbling that Chairman Max Baucus (D-Mont.) is leaving the majority out of the conversation. Changes to the bill have been frustrating, Sen. Jay Rockefeller (D-W.V.) told reporters at a press conference, particularly given that the Republicans -- Mike Enzi of Wyoming, Chuck Grassley of Iowa and Olympia Snowe of Maine -- are, in his opinion, just stalling for time.
"You just watch as the bill diminishes in its scope, in its coverage, in its ferocity to try to attack the problem. I don't know where it will come out," Rockefeller said. "My own personal view is that those three Republicans won't be there to vote it out of committee when it comes right down to it, so that this all will have been a three-or-four-month delay game, which is exactly what the Republicans want."
That doesn't mean Baucus should give up on bipartisanship, Rockefeller said. "The president was very clear about that," he said. "He has always said from the very beginning this should be a bipartisan effort." But Rockefeller said Obama's meeting with Senate Democrats Tuesday suggested that patience is starting to wear thin.
"The Republican response is just 'no,' they're against it. Anything we do, they're against," he said. "I think what'll happen is we'll come to the point and the chairman will come to the point, and the president very skillfully handled this yesterday, where if by a certain early date in the fall, say September, we haven't achieved anything, then we'll look at other options."
Despite solidifying their majority in the Senate this past year, Democrats have been forced by party disunity, illness and Norm Coleman to lasso a handful of Republicans on most key votes, from the stimulus bill to Judge Sonia Sotomayor's nomination for the Supreme Court. During Wednesday's press conference, Sens. Sherrod Brown (D-Ohio) and Sheldon Whitehouse (D-R.I.) predicted greater party unity when it comes down to a final vote on health care. "I don't think any Democrat wants to be responsible, even on a procedural vote, for taking this down," Brown said.
Brown, Whitehouse and Rockefeller all support a strong public health insurance option, which has been a particular bone of contention in the Finance Committee talks. Like Brown and Whitehouse, Rockefeller said he expects -- and a prospective reform bill requires -- "a congealing of Democrats" to secure passage, but he said the more recalcitrant Republicans aren't feeling enough pressure to tell consumers "why they're getting shafted."
"Everything is being focused on, "Will three Republicans cooperate, or will they not?'" he said. "None of what I read is taking on the 37 Republicans who refuse to do anything, who feel that the status quo is just fine, who don't care if Cigna is purging -- along with other insurance companies -- purging thousands and thousands of people from their rolls. I think that's a pretty big abrogation of responsibility, and it makes me very angry."
Popular in the Community