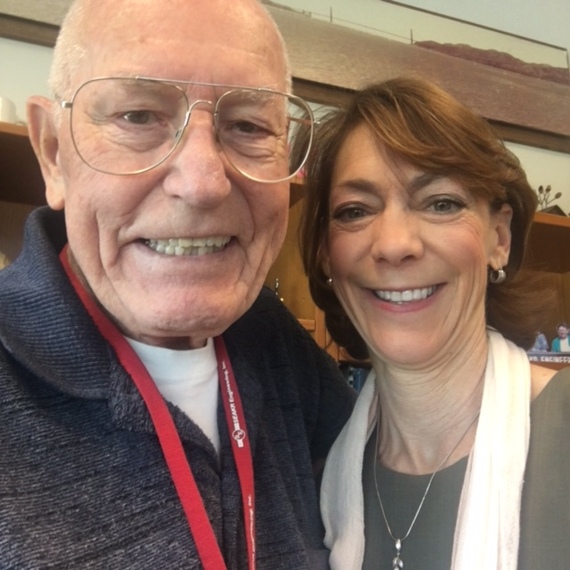 Today, many companies want to be inclusive, diverse and promote people of all backgrounds equitably but often struggle to take a homogeneous culture and make it represent our nation and our world. From recruiting to developing diverse talent that is already part of the company, Presidents and CEOs are often vexed by how more women and minorities can succeed in today's business world. A recent Harvard Business Review article entitled, "Why Diversity Programs Fail," outlines these many foiled efforts despite the best of intentions through training programs and other initiatives.
One leader and founder stands out in a field that, above others, lacks diversity--aerospace. Retired Air Force colonel, Ray Anderson is the founder and CEO of SEAKR Engineering, a company he founded with his two sons in 1983 and is still run as a family business employing more than 500 people. Although he is in his late eighties, Ray has the energy, passion and enthusiasm of a millennial, often working six days a week as he did when the company was young. If aging is a process which pulls people toward the ground, then Ray metaphorically defies gravity through his efforts in remarkable space achievements, his soaring vision, his unwavering results and his passion for people. He also defies diversity gravity because he has one of the most interesting, inclusive employee cultures in a field of traditionally white males. Insight to his personal story reveals how his culture became inclusive as defined by his upbringing, personal ingenuity and indefatigable spirit.
"We were raised poor by parents who received a tenth grade education," Rays says. "My Dad worked in the lumber mill and I worked alongside him after high school." When I graduated in 1946, I enrolled in a community college near the family home in Ontario, California because it was the only option I could afford." Ray set his sights far beyond the town where he grew up and the confines of the minimum wage world in which he was raised by his hard-working parents.
"I had some of the best education I've ever had at the community college," Ray shares. "My math instructor could make you understand anything and that was the beginning of my career in rocket science." He transferred and received his Bachelor of Science degree in Mechanical Engineering from UC, Berkeley and Master of Science from UT, Austin. In 1953, he got his Air Force wings during the Korean War. In his next post when he served in the Air Force for Special Projects, he learned the ins and outs of classified satellite work. He served for 28 years and retired as an Air Force Colonel where people of all backgrounds are valued and respected as equals.
Following that, he worked for Rockwell (now Boeing) in Seal Beach, CA but he was turned off by the large, impersonal corporate culture. His true grit and family values led him to a more rewarding path for his dreams and goals. "If you have lemons, make lemonade," Anderson says, referring to his less than ideal fit with a company the size of Rockwell and the more traditional, good-old-boy culture of the time.
In 1983, he and his two sons, Scott and Eric, were sitting at the kitchen table when they decided to start SEAKR with the goal of using emerging solid-state technologies as an alternative data storage media for space craft memory systems. The Defense Meteorological Satellite Program (DMSP)was the genesis of SEAKR. Although it took about ten years for the company to truly launch profitably, they eventually launched big and have delivered over 150 spacecraft memory/processing systems with Ray as the fearless leader.
I learned of Ray from one of his outstanding employees, Zyola Mix, who was one of our featured speakers at GlobalMindED. As a native Hawaiian and African American female, she shared how diverse and supportive SEAKR is for graduates like her who are first generation to college--just like Ray. When I asked Ray how he grew this culture of gender and racial diversity in the homogenous field of aerospace he responded, "It wasn't by design. We took the best person for the job. Since I grew up with humble beginnings, I look for others who are humble, hard-working and have a strong attitude of success no matter what is happening."
"Thinking back, my Dad hardly ever said much to me. My mom was always supportive. I've never wanted to have a big company attitude, no matter how large we become or how much we grow. I look for people who like what they do, they work hard and they do great things for themselves, the company and for each other." It is clear that Ray values outcome over ego, status or hierarchy.
What strikes me the most about Ray, in addition to his successful financial achievements are the following:
1) He is a successful entrepreneur launched from the military, a great base for starting a business
2) He is a model of his own high standard of corporate culture with fairness to all with humility
3) He is a pioneer for diverse people in the aerospace industry-25% women/minority employees
4) He is someone who knows how to make the best out of any setback or challenge
Finally, the company started a Foundation that supports Colorado military families whose spouse or parent has been killed in Iraq or Afghanistan. They also work with Project Sanctuary, a supportive community in the mountains to help heal, restore and inspire those whom they serve.
As a role model for First Generation College students, millennials and those who serve or have served in the military, Ray can be credited with redefining business success for a quadruple bottom line: military leadership, innovation through entrepreneurship, diversity standard-setter, and service to the community through a courageous spirit of generosity. Perhaps the fact that Ray was raised in poverty and created all of his advantages in life on his own is the secret to his ability to understand and appreciate others with talent who lack the means others might have.
It was an absolute honor and pleasure to spend time with this remarkable man who is redefining fulfillment as he approaches 90 years old. I hope we will have him as our guest next year at the GlobalMindED conference as he embodies every value that we stand for and fight for in our nation and the world. With a model like Ray, we know what is possible for all First Generation College students in the US and around the world.
REAL LIFE. REAL NEWS. REAL VOICES.
Help us tell more of the stories that matter from voices that too often remain unheard.