 When Oklahoma City traded James Harden to Houston before the season began, Harden instantly became the number-one option for the Rockets. Gone is the brittle Kevin Martin, as is rookie swingman Jeremy Lamb. Harden, in his first primary scoring role since his college days at Arizona State, has flourished, averaging 26 points per game (third best in the NBA) along with five rebounds and five assists. Maybe more impressively, he is attempting nearly 10 free throws a night, which is remarkable for a big man, let alone a wing.
Of course, talent has never been the question for Harden. Coming off the bench alongside Kevin Durant and Russell Westbrook, however, simply left a limited availability of looks to go around. The flip-side of that situation meant that he benefited greatly from the defensive attention those two scorers demanded. Defenses naturally shade and double, leaving a plethora of spot-up and overly rotated defenses for Harden to attack. And yet, as the primary scoring option with the Thunder -- when both KD and Westbrook were on the bench -- Harden was still better, averaging a robust 32.6 points per 36 minutes while shooting 53 percent, according to NBA.com's advanced statistics.
It's barely mid-November and injuries can always play a significant role, but the 23-year-old Harden and his torrid scoring output may actually improve. Through seven games (the Rockets are 3-4), he is shooting under 26 percent from distance, nearly 11 percentage points off his career average. Even if he increases that rate by just 5 percent, he could be a legitimate contender for league scoring champ by season's end.
While playing off the ball, Harden has developed an ability to secure high-quality looks. Houston runs a barrage of double and staggered screens to free him up, and recently inked point guard Jeremy Lin has done a nice job of finding him. More importantly, Harden, for such a young guard, is a thinking player and understands how defenses want to play him and what they want to take away.
The dramatic improvement to Harden's game this season has been the pick-and-roll. With the Thunder, he proved at times to be a dynamic threat in such situations. But this season, he has shown a very precise comprehension of how to attack slower bigs who hedge on the perimeter, while also splitting and knifing his way into the paint. And, with all due respect to Omer Asik and Patrick Patterson, he's doing so without an elite big man as a threat. Per Synergy Sports Technology, Harden -- who uses pick-and-roll more than any other component of his game (e.g., isolation) -- is shooting almost 49 percent from the floor, putting him in the upper third of the league for efficiency. The southpaw loves to start right and then come back to his dominant hand, and defenses know it. The cagey Harden, however, has made it his signature move to extend the ball, exposing it to the defense and drawing the foul.
GM Daryl Morey and the Rockets took a giant gamble in acquiring Harden for $80 million, mortgaging draft picks and a potential gem in the rookie Lamb. But Harden has the makings of a superstar -- and is not even close to having reached his peak. So far, the move is paying tremendous dividends.
Email me at jordan.schultz@huffingtonpost.com or ask me questions about anything sports-related at @Schultz_Report.
Before You Go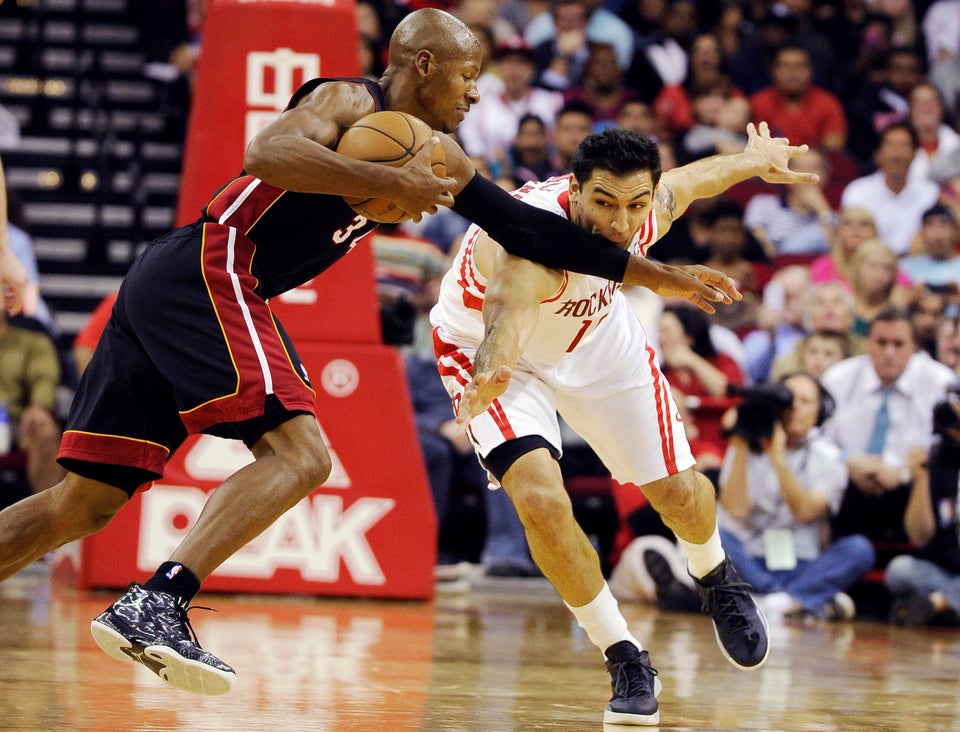 Heat vs. Rockets - 11/12/12
Popular in the Community