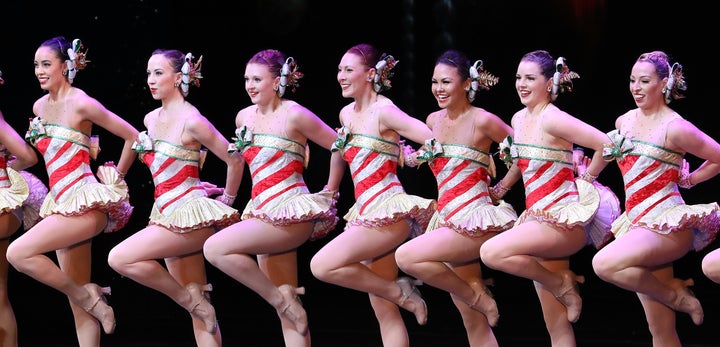 On Dec. 22, news broke that the Rockettes would be performing at President-elect Donald Trump's inauguration in January.
Initially, it was reported that some of the dancers were contractually obligated to perform at the ceremony, despite expressing that they did not want to. The Madison Square Garden Company pushed back on that on Friday, announcing in a statement that every Rockette must "voluntarily sign up" for every event she performs in.  
In an interview with Marie Claire published Tuesday, a Rockette ― using the pseudonym "Mary" to protect her identity ―  discussed the turmoil going on behind the scenes in the wake of the famous dance troupe's commitment to perform at Trump's inauguration.
"This is making our show, our job, our name, branded as right-wing. An extreme right-wing," Mary told Marie Claire. "There's a reason why everyone else is turning this down. Why are we not?"
This is making our show, our job, our name, branded as right-wing. An extreme right-wing.
Mary told Marie Claire that many of the dancers first found out about the performance through text messages sent from friends. One dancer felt as though she was being "forced to perform for this monster," Mary said, while another woman reportedly wrote in an email to the dancers: "I wouldn't feel comfortable standing near a man like that in our costumes." (The Rockettes often perform in revealing costumes, and Trump has both bragged about grabbing women "by the pussy" without their consent and been accused of sexual assault by more than a dozen women.) 
According to Mary, some of the dancers initially were obligated to perform at the inauguration. But after the backlash on social media from dancers and fans, the company quickly made participation optional. 
Unfortunately, many of the dancers are still afraid they'll be penalized for not performing at inauguration. "It will be interesting to see who doesn't get their job back," Mary said. "If I had to lose my job over this, I would. It's too important. And I think the rest of the performing arts community would happily stand behind me." 
Mary admitted that the lack of women of color in the kick line is "embarrassing" already, adding that, "it's almost worse to have 18 pretty white girls behind this man who supports so many hate groups." 
The Rockette said that this performance is not about politics, it's about human rights. "This is not a Republican or Democrat issue ― this is a women's rights issue," she said. "This is an issue of racism and sexism, something that's much bigger than politics."
Calling all HuffPost superfans!
Sign up for membership to become a founding member and help shape HuffPost's next chapter
BEFORE YOU GO
PHOTO GALLERY
Donald Trump's Sexist Messages On Naked Bodies