I'm an African-American woman and my age falls within the range of 25 to 34. The number one killer of women with in my demographic is HIV/AIDS and it can easily be avoided.
This killer does not look for its victims based on race, age, or sex; however it is my demographic that falls victim to this killer more than any other. There are many reasons as to why this killer has become the main reason for deaths among African American women between the age of 24 and 35.
These reasons cover everything ranging from:
•education
•socioeconomic status
•access to resources
•lack of involvement from politicians
•not enough organizations effectively addressing the issues
•lack of communication
I could go on and on; in fact many researchers don't know exactly why black women in America have such an abnormally high rate of infection and death. The statistics are alarming and frightening to the point that it makes me wonder how in the world an epidemic like this could ever be stopped. One thing that is for certain is that with any social issue, in order for there to be an effectual change or impact there must first be an effective dialogue that has to takes place.
It is organizations like the Red Pump Project/The Red Project Collective that give me hope for the change against this epidemic that affects African American women and AIDS/HIV. Founded by Luvvie Ajayi and Karyn Brianne Watkins, The Red Pump Project is an organization based in Chicago, IL. The purpose behind this movement was to create and encourage dialogue about HIV/AIDS and raise the awareness about the impact of HIV/AIDS on minority girls and woman. These two young women also created The Red Pump Project for raising awareness among minority women because African-American and Latina women account for more than 80 percent of new AIDS cases in the United States. The Red Pump Project also has a counterpart, The Red Tie Project, which both fall under the umbrella organization The Red Project Collective respectively. The Red Tie Project is an initiative to raise awareness about HIV/AIDS and issues pertaining to boys and men. The Red Pump Project has ambassadors in over 20 different states across the country that helps spread awareness within the community. These numbers of ambassadors are still growing. Their biggest event to date was "The Red Pump and Tie Affair" which was held in Charlotte, North Carolina by a Red Pump ambassador for World AIDS Day. At these events, women are encouraged to "rock red pumps" (hence the name).
Not only does The Red Pump Project do groundwork in ensuring women are empowered and educated about HIV/AIDS, they have created a movement among social media and the blogging community. One of the innovative ways The Red Pump Project creates awareness and informing others is with their "Rocking the Red Pump™" campaign. On January 19, they launched their second annual "Rocking the Red Pump™" campaign. They are on a mission to get 500 bloggers in 50 days to "Rock the Red Pump™" leading up to March 10, 2010 which is National Women and Girls HIV/AIDS Awareness Day. These 500 hundred bloggers will encourage dialogue about HIV/AIDS and use their voices and influence to get people to talk about the issue, which is riddled with stigma. The Red Pump Project has raised over $3500 for other organizations such as the Chicago Women's AIDS Project, AIDS Foundation of Chicago, and Project VIDA.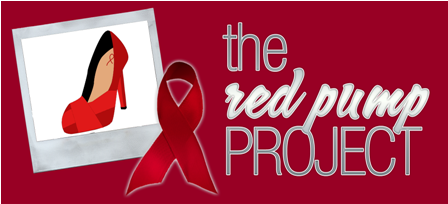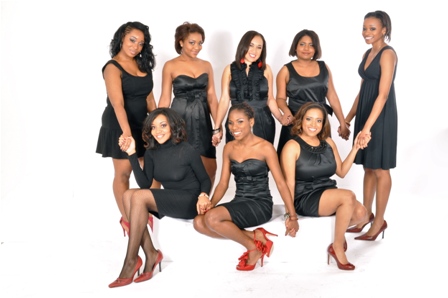 The Red Pump Project Team
Because I know that HIV/AIDS is the number one killer of African-American women in my age group, I feel as if I should be part of the solution... and so should you, regardless of your age, sex, race, or sexual orientation. HIV/AIDS does not discriminate who it infects; therefore you should not procrastinate when you choose to get involved, because this disease could potentially take the life of someone you know unexpectedly. Get protected, don't be afraid or timid to ask your partner questions, and don't be afraid to talk about SEX. In order to create change or some sort of impact it requires communicating the issues. Many people are still afraid to talk about sex and HIV/AIDS. It's almost as if they believe that ignoring the issue will make it disappear, I think not. I honestly think that it has made it worse. Co-founder Luvvie Ajayi states:
"Since I've started this, I think I've learned that people are still standoffish about discussing the issue of safe sex with their partners. There is still an element of stigma that comes with it that I thought would be significantly less. We're supposedly a sexually-liberated generation, yet we're still unable to be candid about our behavior..."
February 7 and March 10is National Black HIV/AIDS Awareness Day, what will you be doing to create an awareness? I'll be "Rocking the Red Pump™".
Calling all HuffPost superfans!
Sign up for membership to become a founding member and help shape HuffPost's next chapter