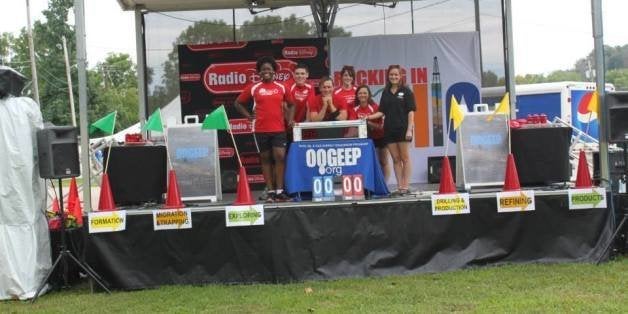 Radio Disney, "home of the hottest kids' music," is teaming up with Ohio's oil and gas industry to teach school kids that pipelines are awesome.
"Rocking In Ohio" is an interactive, game show-like presentation entirely funded by the Ohio Oil and Gas Association and presented jointly with Radio Disney. This "special partnership," as they call it, "highlights the importance of Ohio's oil and gas industry, and why science, technology, engineering and math (STEM) are crucial in developing energy resources in Ohio," according to the association.
Hosted by a master of ceremonies and three staffers from Cleveland's Radio Disney affiliate WWMK, the hour-long event challenges kids, families and dads to head-to-head games that explain the science behind resource extraction and tout the benefits of products made from fossil fuels. Children run, dance and answer questions, and are given prizes from Disney movies and the Radio Disney brand.
Disney representatives did not respond to requests for comment in time for publication.
The traveling show is part of an industry-funded outreach program called the Ohio Oil and Gas Energy Education Program (OOGEEP), which partners industry representatives with science teachers in the state. "Rocking In Ohio" was performed at the Ohio State Fair in August, and since then the show has made at least 26 stops at county fairs, science centers and schools.
The show features a pipeline-building competition for children. At a stop at the Wayne County Fair in September, Radio Disney emcee "Jag" told kids they would be "literally creating our own pipeline," to show "how we get oil and gas to your home," reported the Wooster Daily Record.
"Cheer these guys on like crazy," Jag said, as students pushed pingpong balls through their pipelines.
"We want kids to get excited about science," OOGEEEP executive director Rhonda Reda told the Newark Advocate. "It allows science to be fun. Who better to help than Radio Disney?"
Reda said that if this fall's pilot program is successful, it will be rolled out throughout Ohio in 2014.
Environmental activists are less enthusiastic about the partnership. "Disney should be warm and fuzzy and dreamland, not promoting oil and gas. That's just wrong," Teresa Mills, an activist and staffer at the Center for Health, Environment and Justice, recently told the Akron Beacon Journal. "It's about brainwashing our children."
Among the show's stops was a visit to Youngstown's OH WOW!, a children's science and technology center that opened in 2011. Youngstown previously saw a whole year of "rocking in Ohio" as the city was struck by 167 earthquakes between January 2011 and February 2012. A recent study published in the Journal of Geophysical Research concluded the quakes were linked to an injection well that was used for disposing of the wastewater from oil and gas operations. No earthquakes had been recorded in Youngstown between the late 18th century and 2010, and the tremors have stopped since the well was shut down.
"The sole intent of the collaboration between Radio Disney and the nonprofit Rocking in Ohio educational initiative was to foster kids' interest in science and technology," a Radio Disney spokesperson said in an emailed statement to The Huffington Post. "Having been inadvertently drawn into a debate that has no connection with this goal, Radio Disney has decided to withdraw from the few remaining installments of the program."
Before You Go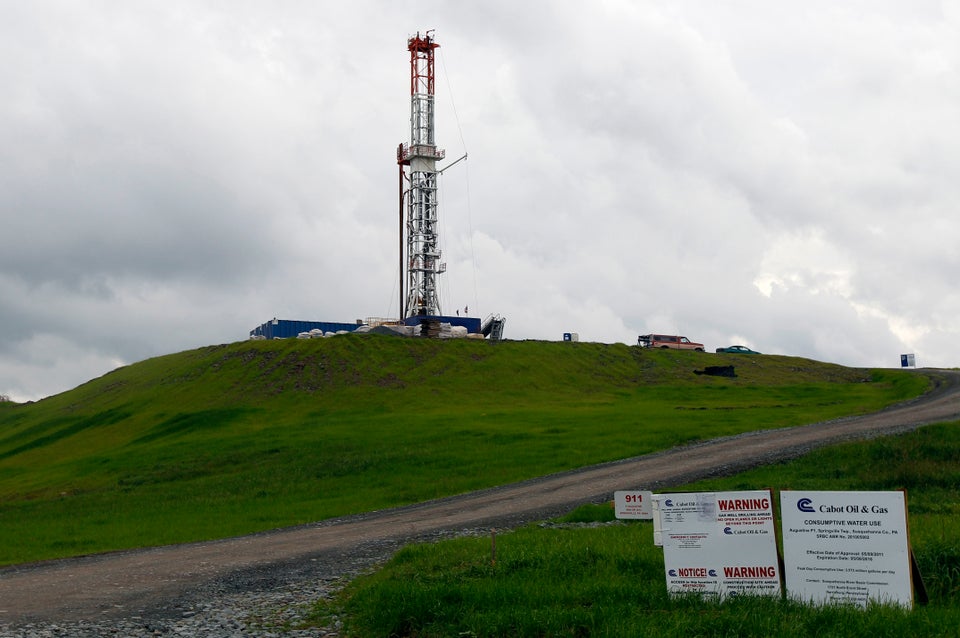 Drilling And Fracking Photos
Popular in the Community