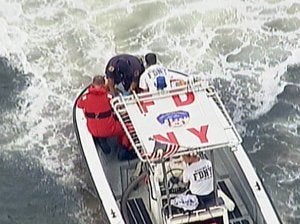 Conventional wisdom (not to mention 70's pop music) tells us that "rocking the boat" can be risky business. However, a Bronx organization that bears that very name believes disrupting the status quo, so to speak, for at-risk kids is exactly the right thing to do.
Rocking the Boat uses traditional wooden boatbuilding and on-water education to help young people develop into empowered and responsible adults. Their programs serve more than 2,000 students and community members primarily from the South Bronx. RTB's motto is "kids don't just build boats, boats build kids."
I'm telling you all this just in case you see a small flotilla of wooden boats rowing around Manhattan on Saturday. And when I say "around" Manhattan, I literally mean around. I'm just one of many intrepid souls who've volunteered to put our backs into a fund raising effort called Rocking Manhattan.
Saturday morning, eight teams of four man crews will launch from Pier 40 at West Houston Street. We'll row into the harbor, around the southern tip of the island, up the East River, across the Harlem River and back down the Hudson. Sounds simple right? Well, depending on the tides it could take up to eight hours. If you'd like to know where I "got the notion" I could do something like that (getting back to the song), frankly, I have no idea.
If you'd like to learn more about the organization or the event check out this website
And if you see us rowing, cheer us on, it's for a good cause.
Calling all HuffPost superfans!
Sign up for membership to become a founding member and help shape HuffPost's next chapter